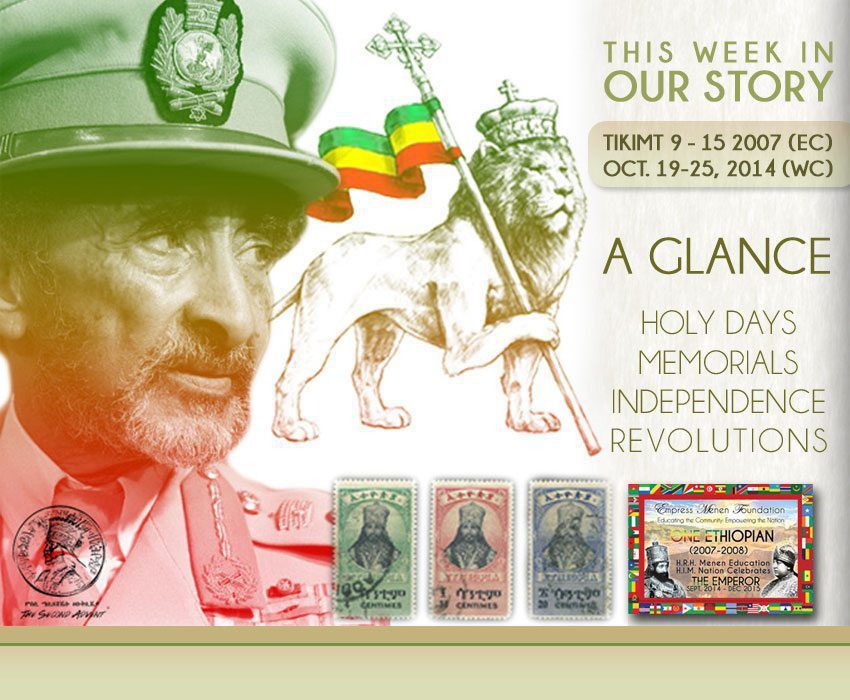 Calendar: This Week in Our Story, Tikimt 9-15, 2007 (EC) | October 19-25, 2014 (WC)
"Teach us to number our days, that we may gain a heart of wisdom." Psalm 90:12.
Tikimt 9 Ehud | October 19 Sunday
On this day is commemorated David King of Ethiopia, who was called the "fan of the wicked and the wall of adamant." On this day died the holy father Abba Liwaryos (Liberius), Archbishop of the city of Rome.
On this day died Abba Athanasius, Archbishop of Antioch On this day also died Stephen, the son of Nikomion and brother of Basilides On this day also, in the nine hundred and eighty-fifth year of the holy martyrs [(A.D. 1269) the Bodleian ms. has A.M. 388], in the reign of Iyob Kher, and in the days when Abba Cyril held office, a stupendous and marvelous thing happened in the world, which terrified those who beheld it, and those who heard thereof on that day.
On this day also is commemorated Abba Simeon the Archbishop [or Bishop].
1925: Discovery of sea-shells in Algeria proves that the Sahara was once partially submerged. 1942: "Durham Manifesto" ~ is issued by 60 Blacks calling for reform in racial relations 1951: British troops seize Suez canal zone in a swift dawn raid.
1960: John F. Kennedy, Democratic presidential candidate, called Mrs. Martin Luther King Jr. and expressed his concern about the imprisonment of Dr. King.
1960: Martin Luther King Jr. arrested in Atlanta sit-in and ordered to serve four months in the Georgia State Prison for violating a probated traffic sentence.
1977: South Africa, Apartheid Government declares 19 organisations unlawful
1987: It is widely reported that British Prime Minister Margaret Thatcher criticised the ANC, calling it a terrorist organisation

Tikimt 10 Segno | October 20 Monday
On this day fifty nuns, who were pure and holy virgins, together with their mother Sofia, became martyrs.
On this day also a General Council of the Saints took place in the days of Victor, Archbishop of the city of Rome, and in the days of Demetrius, Archbishop of the city of Alexandria.
On this day Paul and his three companions became martyrs.
1983: Maurice Bishop ~ (Prime Minister of Grenada) is assassinated
1893: Jomo Kenyatta ~ (first president of Kenya) is born
1898: John Merrick starts the North Carolina Mutual Life Insurance Company
1942: Sixty leading Southern Blacks issued "Durham Manifesto" calling for fundamental changes in race relations after a Durham, North Carolina, meeting.

Tikimt 11 Maksegno | October 21 Tuesday
On this day died the pure and righteous woman Hannah, the mother of our Lady, the holy Virgin Mary, the God-bearer.
On this day also are commemorated Saint Archelaus the martyr, and Elisa the abbot, and Saint Pachomius, and Minas the martyr, and his mother Urania
1865: George William Gordon ~ (Jamaican national hero) is unfairly arrested and sentenced to death
1986: Patent # 4,618,380 Alcorn; George E. (Reston, VA); Burgess; Andre S. (Forestville, MD). Method of fabricating an imaging X-ray spectrometer 1980: Valerie Thomas invented the illusion transmitter.
1952: Jomo Kenyatta, president of the Kenyan African Union is arrested as UK gets tough with Kenyan Mau Mau.
1979: The Black Fashion Museum is opened in Harlem by Lois Alexander to highlight the achievements and contributions of African Americans to fashion.
1996: The UN reports that over 200,000 Hutu refugees are fleeing into the hills to escape the conflict between the Zaire military and Tutsi guerrillas.

Tikimt 12 Erob | October 22 Wednesday
HOLY DAY:  St. Michaels Day : On this day is celebrated the commemorative feast of the glorious angel, Michael the archangel. On this day God sent Michael to Samuel the prophet whilst he was in the sanctuary, and commanded him to go to the house of Jesse, the father of David, in Bethlehem to anoint his son David king over the children of Israel.

And Samuel went to Jesse, and he said unto him, "Bring hither all thy sons": and Jesse brought them [all] with the exception of David, who was tending the sheep in the fields. When Samuel raised the horn of oil of kings over the heads of the sons of Jesse, [he saw that] God was not pleased with them. And Samuel said unto Jesse, "Does there not remain unto thee some other son?" And Jesse said unto him, "There remains the youth, the youngest of them, who is herding the sheep in the fields." And Samuel said unto him, "Bring him here"; and Jesse brought him. And straightway Samuel took up the horn of oil of kings, and anointed him,  and God was pleased with him, and he reigned over the children of Israel.

And on this day also God sent Saint Michael the archangel to David the prophet, and he helped him and gave him strength to slay Goliath, the giant of the Philistines, and deliver the children of Israel. For this reason the doctors of the Church have commanded and ordained that the people shall keep a festival in honor of Saint Michael on the (twenty-second?) day of this month. Salutation to Saint Michael.
On this day Saint Matthew the apostle and evangelist, one of the Twelve Apostles, became a martyr, after he had preached in the cities of the priests, and converted them to the knowledge of God.
On this day also died the holy father, the pure virgin, the fighter of lusts, the vanquisher of natural appetites, Abba Demetrius the twelfth Archbishop of the city of Alexandria.
On this day also are commemorated the righteous men Peter, and Dionymus (or Diyonas), and the strife of Ya'ekob, and Abu Tefa, and Theodore.
1906: Three thousand Blacks demonstrated and rioted in Philadelphia to protest a theatrical presentation of Thomas Dixon's The Clansman. Sixty-two Blacks reported lynched.
1936 :Bobby Seale, Black Panther Co-founder, born Birthday of Bobby Seale in Dallas, TX, co-founder and former chairman of the Black Panther Party.
1955: The first black post office open, Atlanta GA,
1955 1962: Nelson Mandela pleads "not guilty" to charges of "incitement and leaving South Africa illegally" at the start of his trial in Pretoria, South Africa.
1963: Chicago schools boycotted ~ 225,000 boycott Chicago schools to protest segregation

Tikimt 13 Hamus | October 23 Thursday
On this day Saint Ptolemachus and his brethren became martyrs.
On this day also died the holy father Abba Zachariah the monk.
On this day also are commemorated 'Eulana, and Eulacius (Eulochius?), and Theodore, and 'Ablas and his brethren, and Nitolaus, and 'Abela.
1911: Italy completes its occupation of Turkish held Tripoli with a bombardment of Benghazi.
1977: President Vorster says "there will be no move towards black majority rule" regardless of international pressure.
1984: NBC airs BBC footage of Ethiopian famine 1940: In Tres Coracoes, in the Brazilian state of Minas Gerais, Edson Arantes do Nascimento, generally known as Pelé, is born.
1947: NAACP petition on racism, "An Appeal to the World," presented to United Nations at Lake Success.
1955: South Africa walks out of the UN Assembly debate on "the racial conflict in South Africa resulting from the policies of apartheid".
Tikimt 14 Arb | October 24 Friday
FEAST DAY:  Debra Damo (Feast of Saint Aragawi) |  On this day is commemorated our holy Father Aragawi, who is surnamed Za-Mikael.  This holy man became a guide to the servants of God on the road. And he went up to the holy Dabra Damo holding the tail of a serpent, and there he fought countless noble fights. And God graciously made a covenant with him concerning the man who should call upon his name, and the man who should celebrate his commemoration, and then he was hidden from the face of death by the grace of God. He established among his children the Rules for the Monastic Life, which he had learned in the house of his father Pachomius. Salutation to Za-Mikael who was surnamed "'Aragawi."
On this day died the holy Apostle Philip who was one of the seventy-two disciples On this day also died the holy Father Moses, the man of God. This holy man was a native of the city of Byzantium; his father's name was Euphemianus, and his mother's name was Aglaias.
1892: In New Orleans, 25,000 Black workers strike. On this day also died Saint Gabra Krestos, the son of Theodosius, Emperor of Constantine.
On this day is commemorated Tarakwa the martyr, and those who were with him, and Damatius, and Emraya the martyr, and the four hundred and thirty-one martyrs who were with her.
1892: Brown, L. F. Bridle bit Oct. 25, 1892 Patent No. 484,994
1915: Atty. James L. Curtis named minister of Liberia.
1923: Department of Labor said some 500,000 Blacks had left the South in the preceding twelve months
1935: Italy invaded Ethiopia. American Blacks held mass meetings of protest and raised funds for the Ethiopian defenders.
1935: Langston Hughes ~ Mulatto opens, the first Black-authored play to become a long-run Broadway hit 1948: Birthday of Activist, Rep. Kweisi Mfume who was born Frizzell Gray in Baltimore, Maryland. In 1996 Mfume became president of the NAACP.
1964: Zambia proclaimed independent. 2005: Rosa Parks ~ (initiator of the Montgomery Bus Boycott) dies

Tikimt 15 Kidame | October 25 Saturday
On this days the holy and honorable Bilamon became a martyr.
On this day also five hundred and sixty people who formed the company of Saint Pantaleon became martyrs.
On this day also died Salation, and 'Atrakius, and Abba Yarpes (Iphrasius), and Andronicus, and Armolius (Hermolius), and Hermes, and Harmoktis, and the holy women Admania and Samata, and Father Isaiah, and Silas the disciple of Paul.
1958: Ten thousand students, led by Jackie Robinson, Harry Belfonte and A. Phillip Randolph, participated in the Youth March for Integrated Schools in Washington.
1925 – Emmett W. Chappelle: Biochemist Born in Phoenix, Arizona. 1976: Transkei becomes the first black homeland, or Bantustan, to be given independence in South Africa.
1988: Two units of the Ku Klux Klan and eleven individuals are ordered to pay $ 1 million to African Americans who were attacked during a brotherhood rally in Forsythe County, GA 1997: Million Woman March ~ is held in Philadelphia, Pennsylvania. It drew almost two million Black women
Sources:  Empress Menen Calendar, Ethiopian Synaxarium (Ancient Manuscript and Calendar of The Holy Saints) Art by Ras Nehemya.  Give Thanks!
A Special Thank you to Mama Askale Selassie with The Empress Menen Foundation who provided us with the New Ethiopian Calendars for our team.   The Empress Menen Calendar will soon be available on RTV.  Stay tuned!