The lost castles of Ethiopia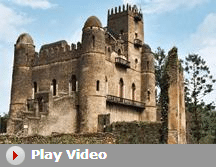 Ethiopia prides itself on its rich and diverse history. But for many travellers, medieval castles aren't the first thing that comes to mind. However that's exactly what you'll find in the northern town of Gonder, once home to one of Africa's most powerful kingdoms.
Looking at these magnificent castles, one could think you were somewhere in Europe, possibly England, or France – but you'd be wrong. This is Africa, the northern town of Gonder in Ethiopia, to be exact.
Known as the 'Camelot of Africa' this was once the capital of Ethiopia, the seat of the royal family and one of the most powerful kingdoms in Africa. Now it's one of the countries biggest tourist attractions, best known for its 17th Century castles and palaces.
Abebe Melash is a local guide within the royal enclosure.
Q: "So where are we now?"
Gonder tour guide Abebe Melash said, "We are in King Fasilidas palace particularly the formal reception of King Fasilidas."
Q:These castles you usually see in Europe and places like that, where did the influence for them in Ethiopia come from?
Abebe Melash said, "The influence came from the Portuguese people because the Portuguese missionaries came in the 16th century, in order to expand Catholicism. So we get the influence from here."
Emperor Fasilidas founded the city in 1635. The castles are now a UNESCO world heritage site, and despite numerous battles, natural disasters, and the Italian occupation of Gonder during the Second World War, much of the original structure has been kept in tact.
In fact the one the last rulers of Ethiopia to use this site was Emperor Haile Selassie, who like his predecessors kept lions on the compound – a symbol of status and power in Ethiopia
Abebe Melash said, "Here this was the lion cage during the royal families of Gonder dynasty. And they kept the lions for two critical reasons. The first one is in order to symbolize the Solomonic dynasty, that's the lion of Judah. And the second one is, the Lionis the king of wild animals, and Jesus Christ is the creator and lord of human beings. For these two reasons, they keep the lions around their palace. "
Within the royal enclosure were 7 castles, apart from the lions den there was also alibrary that housed important historical chronicles. Also present was a steam bath used exclusively King Fasilidas and his family. In fact clothes hooks made from cow horn can still be seen in tact on the wall today.
Reporter: "Like the castles of Europe the ones here in Gonder used the host the nobility the Ethiopian royal family, despite the ruins you can see around us it acts as a poignant reminder to the once powerful dynasty that ruled as far as the red sea to the border of Kenya."
Gondar still remains one of the Ethiopia's most important towns. With a population of over 214,000, it is the fourth largest city in the country. And it continues to be a popular destination for historians and travellers from around the world
Abebe Melash said, "Gondar is very important for Ethiopia, because of different reasons, the first reason is that Gonder is the centre of different castles and architectural styles we have, at the same time, we have different historical sites like monasteries. And Gonder is important not only important for Ethiopia, for Africa in particular, and for the world in general."