Chinese Premier Li Keqiang (R) meets with Ethiopian President Mulatu Teshome (L) in Beijing, capital of China, July 8, 2014. Mulatu came to China to attend the Eco Forum Global Annual Conference 2014 held in southwest China's Guiyang. (Xinhua/Rao Aimin)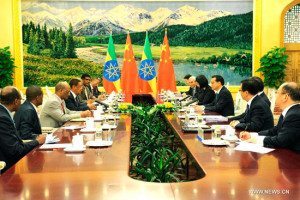 BEIJING, July 8 (Xinhua) — Chinese Premier Li Keqiang met with Ethiopian President Mulatu Teshome in Beijing on Tuesday, vowing closer cooperation.
Li recalled his trip to Ethiopia in May, during which he reached broad consensus with the Ethiopian side on friendly cooperation.
China hopes to help with Ethiopia's transportation and power infrastructure through a regional aviation center, manufacturing center and a demonstration center of development and poverty reduction, Li said.
He proposed more projects including economic and industrial zone, expanded energy exploration, personnel training and agricultural cooperation, to set an example for China-Africa cooperation.
Hailing cooperation between China and Africa, Li said China hopes to work with African countries and the African Union to build railway, highway and aviation networks.
Mulatu, on his first China trip since taking office last October, said Li's Ethiopia visit has promoted bilateral ties to a new level.
Ethiopia-China relations are based on mutual understanding, trust and mutual benefits, he said.
Calling China a best cooperation partner, he vowed joint efforts with China to implement the achievements of Li's visit to promote greater progress of bilateral ties as well
Source:  CCTV:s Africa-China cooperation.