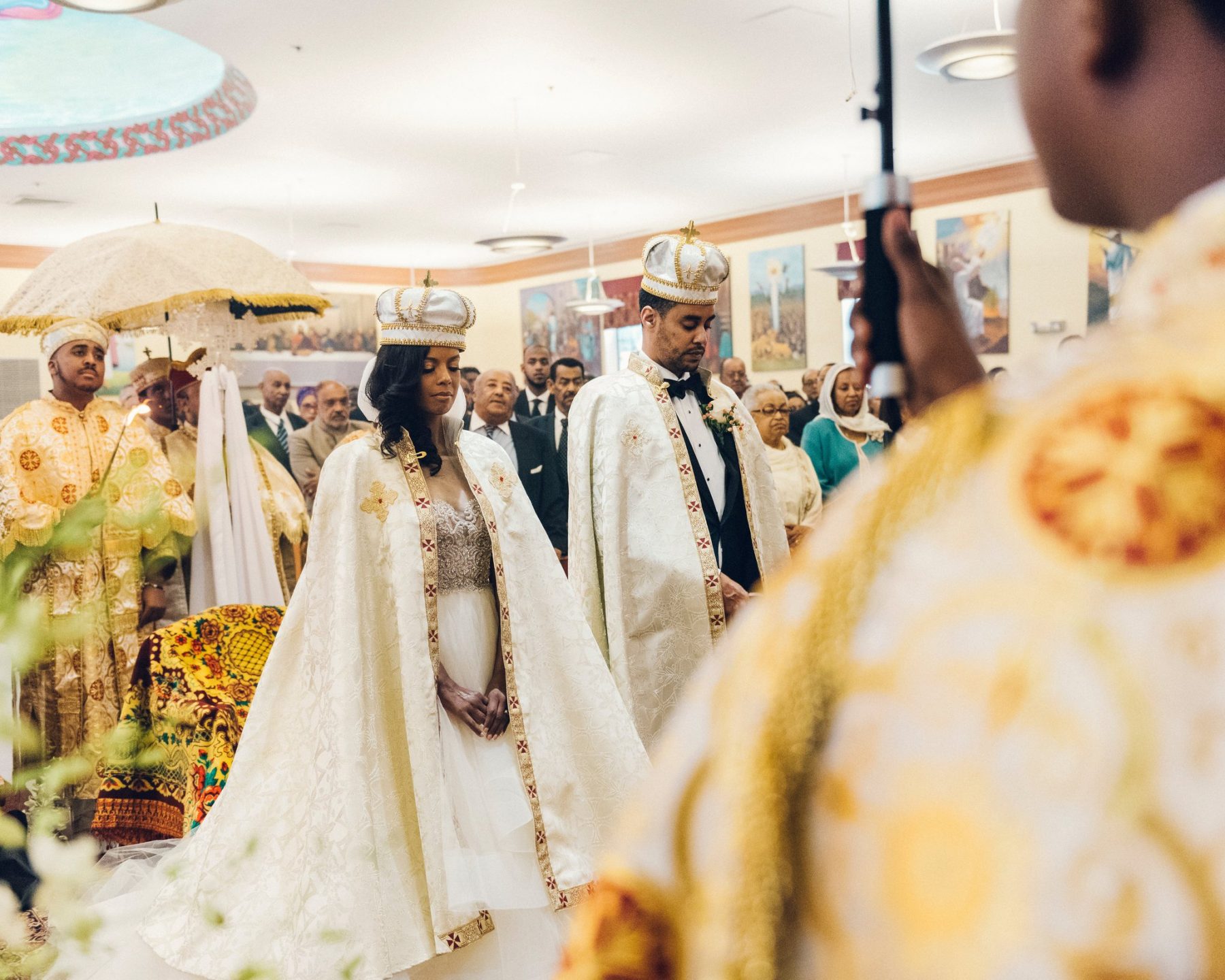 She Met Her Prince (for Real!) at a D.C. Nightclub, Guyanese + Ethiopia Roots
Few love stories resemble a fairy tale as much as the courtship and marriage of Ariana Austin and Joel Makonnen. Of course, it helped that the groom is an actual prince and the bride has a prominent lineage of her own.
Mr. Makonnen, known as Prince Yoel, is the 35-year-old great-grandson of Haile Selassie, the last emperor of Ethiopia. And Ms. Austin, 33, is of African-American and Guyanese descent; her maternal grandfather was a lord mayor of Georgetown, the capital of Guyana.
As the couple noted on their wedding website, their union happened when "Old World aristocracy met New World charm." The old and new combined on Sept. 9, in a marathon day of events that lasted from 11 a.m. until late in the evening, and took place within two states.
The festivities began with a ceremony at the Debre Genet Medhane Alem Ethiopian Orthodox Tewahedo Church in Temple Hills, Md. In an incense-filled sanctuary, guests in stockinged feet watched as at least 13 priests and clergymen helped officiate the Ethiopian Orthodox ceremony between Mr. Makonnen and Ms. Austin, who just days before had converted to the religion. Hours after the ceremony, the pair celebrated with a formal reception at Foxchase Manor in Manassas, Va., with 307 guests, amid gold sequins, platters of Ethiopian food and preboxed slices of Guyanese black cake for people to take home.
Their marriage had been more than a decade in the making. In the nearly 12 years since they first met on a dance floor at the Washington nightclub Pearl, in December 2005, Mr. Makonnen and Ms. Austin have pursued degrees, jobs and, at times, each other. Eventually, planning a wedding just became the next item on this ambitious couple's to-do list.
"I think we both had this feeling that this was our destiny," Ms. Austin said. "But I felt like I had things that I had to do."
When the two met, Mr. Makonnen didn't tell Ms. Austin about his royal background, and Ms. Austin, who was 21 at the time, wasn't necessarily looking to meet her future husband. She was in the middle of a time in her life she fondly referred to as "the summer that never ended." Mr. Makonnen, himself in bachelor mode, approached Ms. Austin and her friend Jami Ramberan, and told the two women that they looked like models for a brand of alcohol.
"I said, 'You guys look like an ad for Bombay Sapphire,' or whatever the gin was," Mr. Makonnen recalled of the pickup line, one now infamous with Ms. Austin's family. (At the wedding, even Ms. Ramberan, a bridesmaid, recalled the strangeness of that evening: "You don't expect to meet the person you're going to marry at Pearl.")
Mr. Makonnen quickly focused on Ms. Austin: "Not even five minutes later I said, 'You're going to be my girlfriend.' "
His premonition proved correct.
Ms. Austin remembered being impressed with Mr. Makonnen's worldliness. He was born in Rome while his parents, Prince David Makonnen and Princess Adey Imru Makonnen, were living in exile from Ethiopia. He grew up in Switzerland; his father died in 1989.
"He talked about weighty things as a young man," Ms. Austin said. "He mentioned the revolution. Things that sound heavy for someone who was 23."
Mr. Makonnen's family is part of the Solomonic dynasty, whose reign ended in 1974. That year, a civil war in Ethiopia broke out after Haile Selassie, the 225th emperor of Ethiopia, was deposed by a Marxist Derg military coup. By the time of his death under mysterious circumstances in 1975, it was clear that Mr. Selassie had presided over a country divided by his legacy. He was deposed after months of political unrest directed at his administration, which was accused of being spendthrift and out of touch. The civil war lasted until a coalition of rebel groups overthrew the government in 1991.
The emperor, though, had been a powerful proponent of African anticolonialism, a leader adept at securing foreign aid for his country and pushing education initiatives. He was forced into exile when the Italians invaded Ethiopia in 1936, but returned in 1941 after convincing the British to aid him in a fight to secure his country's independence.
Ms. Austin said she has marveled at the lore surrounding her new family, one whose lineage was said to reach back to the biblical King Solomon and the Queen of Sheba. "It's unbeatable heritage and history," Ms. Austin said. "It combines sheer black power and ancient Christian tradition."
For ambitious couples, meeting and falling in love at a young age can quickly present the kind of timing problems that can doom a relationship. And Mr. Makonnen and Ms. Austin found themselves circling the globe without each other, though they remained in touch. After graduating from American University in 2006, Mr. Makonnen took a six-month internship in France.
Then Ms. Austin went to Paris for a year. In 2008, Mr. Makonnen returned to France and went on to Ethiopia, where he joined his uncle in starting Alchemy World, an organization meant to provide young Ethiopians with business and educational opportunities.
By the time Ms. Austin left to attend Harvard University in 2012 for a master's degree in arts education, both had grown tired of the rotation. They took some time off from each other that year. But they were back together by Valentine's Day in 2014. Mr. Makonnen, who was finishing up his law degree at Howard University, bought a princess-cut diamond ring and showed up at the home of Ms. Austin's parents with the bauble in one hand and balloons in another.
Perhaps a bit nervous, he knocked too loudly, leading Ms. Austin to think the house was being burglarized. She called her parents, who were returning home from a dinner party.
"She thought somebody was trying to break in," said Bobby Austin, Ms. Austin's father. "And it was just the poor guy trying to propose to her."
Ms. Austin remembered the episode with a laugh: "He was aggressively knocking so I didn't answer. He came back, and then I opened the door."
Finally, nearly a decade after they had met, both were in the same region.
"I think I said, 'Let's take this journey together,' " Mr. Makonnen said. "When I proposed she was like, 'It's about time.' "
They said they owed it to each other to try and set down roots, and both have settled into life in the Washington area. Mr. Makonnen works in the legal department of Otsuka America Pharmaceutical, and Ms. Austin works in philanthropy at the Executives' Alliance for Boys and Men of Color, a division of Rockefeller Philanthropy Advisors.
Both have tried to use their skills to help each other. When Ms. Austin founded Art All Night, an overnight arts festival in Washington, she said, Mr. Makonnen gave her ideas for the project. And she wants to help him create a documentary about his great-grandfather. "A biopic is definitely on our agenda," Ms. Austin said.
Despite all of the globe-trotting, those close to the couple say there were never doubts that the two would end up together.
"In many ways it feels like this day was written," Sushama Austin-Connor, Ms. Austin's older sister, said during the reception. "Ever since I have seen them together they always have been connected to each other. They have a deep-rooted friendship beyond anything else."
Yaphet Kifle, a groomsman, said the two families had come together seamlessly. "You can tell they both value the same things: deep respect for families and their elders, and the value of marriage," he said.
The couple say that the merging of their families came with only minor growing pains. Ms. Austin and her family had negotiated to bring her wishes into the tradition of an Ethiopian Orthodox ceremony. She had pushed for her father to walk her down the aisle, an unusual custom in this church. She was successful. Mr. Austin took his daughter's arm as they entered the sanctuary, the train of her ivory Lazaro dress flowing behind her.
"It was a happy melding, I think," said Ms. Austin's mother, Joy Austin, the executive director of HumanitiesDC, an affiliate of the National Endowment for the Humanities. "We, as the New World, felt that the Old World was very receptive of us, and we were of them."
Of the reception, Mr. Austin, the president of the Neighborhood Associates Corporation, a group focused on community engagement in Washington, said that it had been "a little bit daunting" to throw a multiday party that drew several members from one of the oldest families in the world. But he relaxed as he jokingly chided his three daughters for dancing and thanked several high-profile guests for attending.
Mr. Makonnen's mother, a retired United Nations international officer, was among those in attendance. Other guests included several of Mr. Makonnen's relatives who have connections to the family dynasty; Brandon T. Todd, a council member of Washington's Fourth Ward; Eleanor W. Traylor, a scholar of African-American literature; and J. R. Deep Ford, Guyana's ambassador to the United Nations. Muriel Bowser, the mayor of Washington, could not attend but sent along her best wishes.
"Saturdays are prime politician days," Mr. Todd said from his seat near the reception dance floor. "I had five things I canceled to be here. When Bobby and Joy ask you to show up, you show up."
The reception came complete with a photo booth, a candy table and Bob Marley, Marvin Gaye and Bruno Mars hits. After the dancing died down, Mr. Makonnen and Ms. Austin, true to form, were planning to turn to the next thing on their to-do list: moving in together in Washington. On their wedding day, Ms. Austin still lived with a roommate in Washington, and Mr. Makonnen was in Alexandria, Va.
"If the wedding didn't take so much time," Mr. Makonnen joked, "we would have moved out already."
via: NY Times