Recipe: Save Money, DIY: Make Your Own Organic Homemade Body Wash
So how about getting an all-over clean feeling with a little homemade body wash? It's simple! This simple homemade body wash recipe – creates a rich, bubbly lather, moisturizes while cleansing. Let's take a closer look at some of the ingredients you can use, shall we?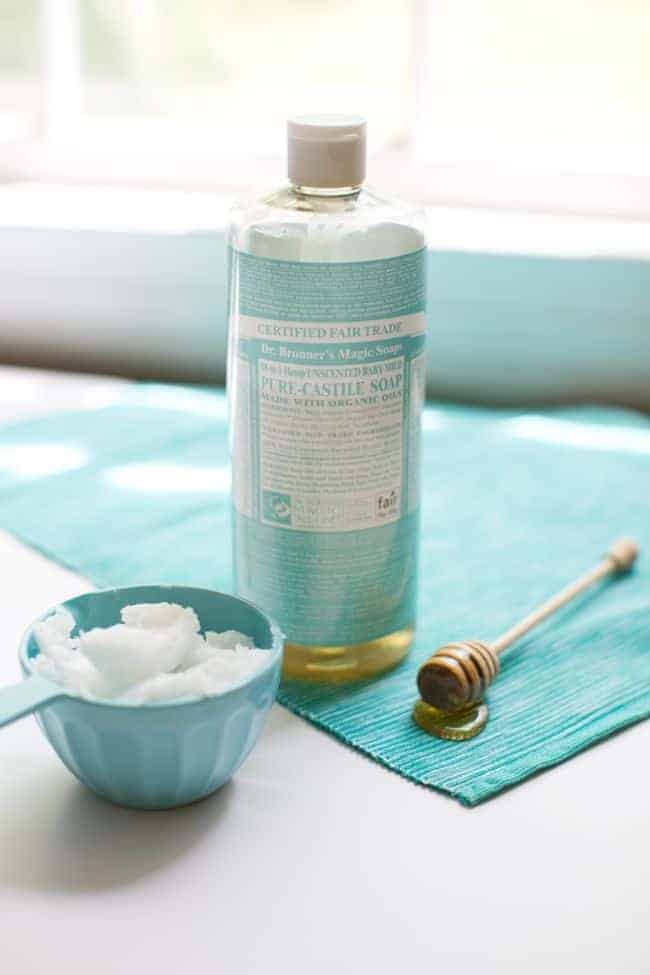 Homemade Body Wash Ingredients
Liquid Castille Soap
Made from pure olive, coconut and/or hemp oil, castile soap is incredibly gentle – many with sensitive skin use it exclusively.  Using a pure liquid castile soap will ensure your homemade body wash has enough suds, without the addition of any chemical foaming agents. Feel free to use scented or unscented castile soap. If using scented castile soap you can omit the essential oils, or go ahead and add them for their therapeutic benefits. (Note: Peppermint castile soap may be a little uncomfortably tingly on sensitive areas for some.)
Raw Honey
Honey is the secret ingredient in this recipe.  Contrary to what you might expect, honey adds moisture and lather without being at all sticky. It's equally loved by all skin types for its infusion of nutrients: Vitamins B, C, E & K, beta-carotene, magnesium, sulfur, phosphorus, iron, calcium, potassium, copper and manganese. In this recipe it also thickens the mixture and promotes lather. Honey has amazing benefits for the body, inside and out. Honey helps your skin retain moisture and elasticity without drying it out. This makes honey perfect for mature, dry, itchy, or damaged skin. It can also help speed the healing of blemished skin. Instead of making the body wash sticky, honey just makes it nice and smooth. Be sure to use raw, unfiltered honey.
Moisturizing Oil
Soap can be drying, so it's important to add a natural moisturizer such as olive, avocado, or almond oil to this recipe to replenish skin's moisture.  Adding an oil that is easily absorbed by the skin makes this body wash extra moisturizing.  Coconut, oilive, jojoba and grapeseed oil are some of my favorites. You may even find you don't need to apply additional moisturizer after using the body wash.
Vitamin E oil – Vitamin E is repairing and moisturizing. This ingredient is an antioxidant and can help elongate the shelf life of homemade personal care products. Perfect as an addition to products during the summer or winter months when our skin may be more stressed from extreme temperatures and weather.
Essential oils
When making your body wash, keep your particular skin type in mind and find a scent you enjoy.  Many essential oils are perfect for troublesome skin conditions. Some of them soothe, repair, heal, disinfect, or deodorize skin. See suggestions at the end of the article for beneficial essential oils to use in your body wash.
If you're using this body wash for your baby, you may want to omit the essential oils altogether, or just add a few drops of chamomile or lavender essential oil. If children will be using the body wash, use half the suggested amount of essential oils.
Here are some suggestions:
Chamomile (German and Roman) – Great for dry and sensitive skin, acne, eczema, and dermatitis.
Geranium – Great for oily complexions, acne, mature skin, eczema, dermatitis, and other problematic skin conditions. It also brightens and revitalizes dull skin.
Grapefruit – This essential oil tones the skin and is extremely cleansing for oily skin. If using the amount suggested in the above recipe, there is no phototoxic concern.
Lavender – Very gentle and good for all skin types, including very sensitive skin. Perfect for mature skin, acne, eczema, and psoriasis. Effective in soothing itchy skin.
Palmarosa – Stimulates new cell growth, moisturizes skin, and regulates oil production. This makes it a valuable essential oil for use in any DIY skin products.
Patchouli – Antimicrobial, astringent, fungicidal, and deodorant. Great for acne, cracked and chapped skin, eczema, oily skin, and mature skin.
Peppermint –  Since peppermint is very strong, use only half the amount recommended in the recipe (or less). Cooling, refreshing, and stimulating. Has astringent properties, making it perfect for acneic skin. (Note: Avoid during first 4 months of pregnancy.)
Rosemary – Rosemary is stimulating and restorative. Useful for acne, eczema, and dermatitis. (Note: Avoid during pregnancy. Do not use if you are epileptic or have high blood pressure.)
Sandalwood – Useful for acne, dry, cracked, and chapped skin. Also great for wrinkles and mature skin.
Sweet orange – One of the only citrus essential oils that is not phototoxic, sweet orange is helpful for dull or oily skin.
Tea tree – This antibacterial oil can be nicely blended with others like lavender and peppermint. May be useful for acne, oily skin, rashes, and inflamed skin. Using too much may actually create a drying effect. You may need to experiment a little to find the right amount for your skin.
Ylang ylang – Great for general skin care, irritated skin, oily skin, or acne. Since this oil is a strong scent, add a few drops at a time until the desired aroma is achieved. (You will need much less than the amount suggested in the above recipe.)
Make it your own
Don't limit yourself to the essential oils or ingredients recommended in this recipe.  Experiment with your favorite ingredients, and be sure to let us know how it turns out!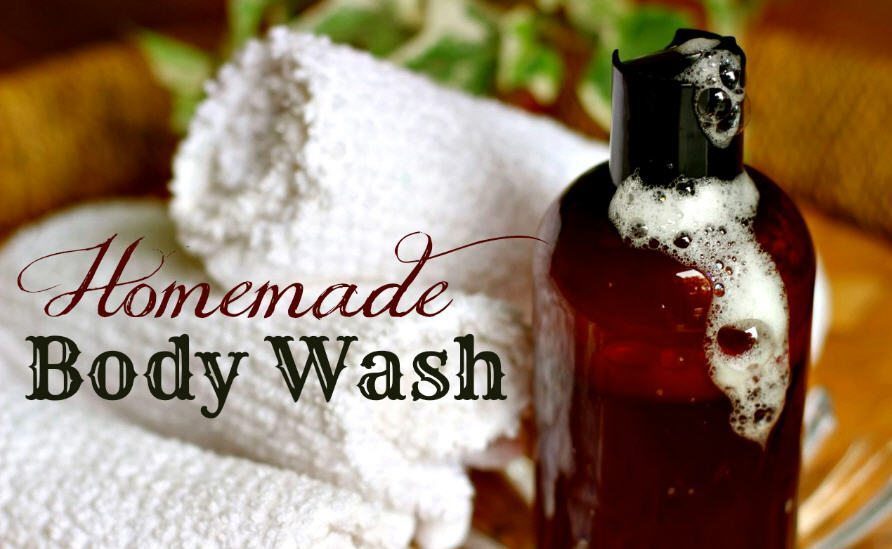 Homemade Body Wash Recipe
INGREDIENTS
1/3 cup castile soap
1/3 cup honey, preferably raw
1/3 cup olive, jojoba, refined avocado, or almond oil
30-60 drops essential oil, optional. I usually don't add anything because the body wash already has a light, honey scent. However, if I do it's something kid-friendly, like sweet orange, vanilla, lavender, this sweet dreams blend, or any essential oil blend.
TO MAKE
Add all ingredients in a bowl and mix until thoroughly combined.
TO USE
Measure out all ingredients and combine in a bottle with a squirt top, shaking to mix. Shake gently before each use. To use, squirt onto a washcloth, a soft natural sponge, bath pouf or loofah sponge or directly onto body.
STORAGE/SHELF LIFE
Since this recipe doesn't contain water, it has a long shelf life of up to a year.
Note: If your raw honey is creamy and thick, warm it a bit to liquefy before combining with other ingredients. This will allow for thorough mixing of ingredients.