Aloo (Potato) Pie – Cousins of  Samosa with the most Amazing dough- Crispy and Crunchy – filled with a tasty combination of potatoes, corn and peas. Baked or Fried.   Many people vary the use of herbs and spices in this recipe.  The video above gives another good variation; however, the you can follow or mix steps with the basic recipe below.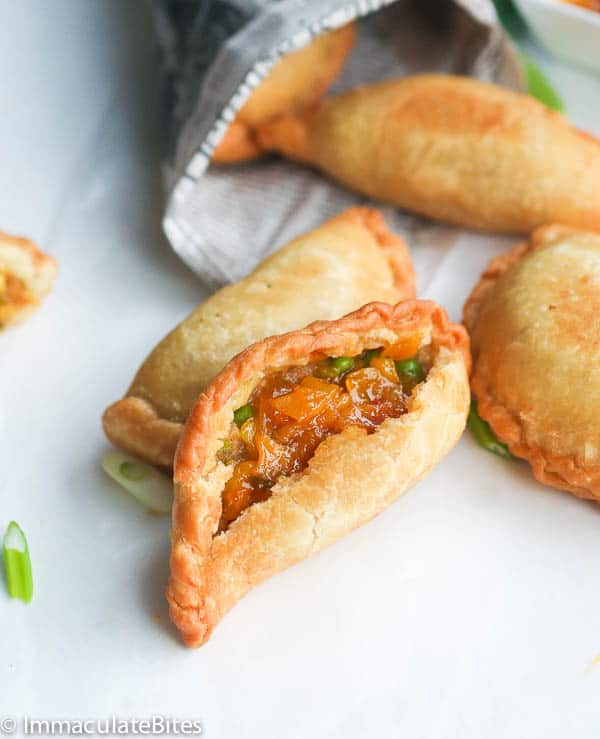 I don't need any excuses or occasion to make pies; I just make them whether it's summer, winter, or spring. Party time or not!  Can't seem to resist them. And after being on a hiatus for sometime now, about 3 months or so, am SUPER EXCITED to make and share these with you guys.
Relax, am not going to take your taste buds far off the coast …this time.  This Aloo pie- aloo – Hindu word for potatoes- is quite familiar. They are a variation of samosas. You've tried samosas right? Crunchy crispy dough stuffed with spicy potatoes, vegetables or protein. Of course you have.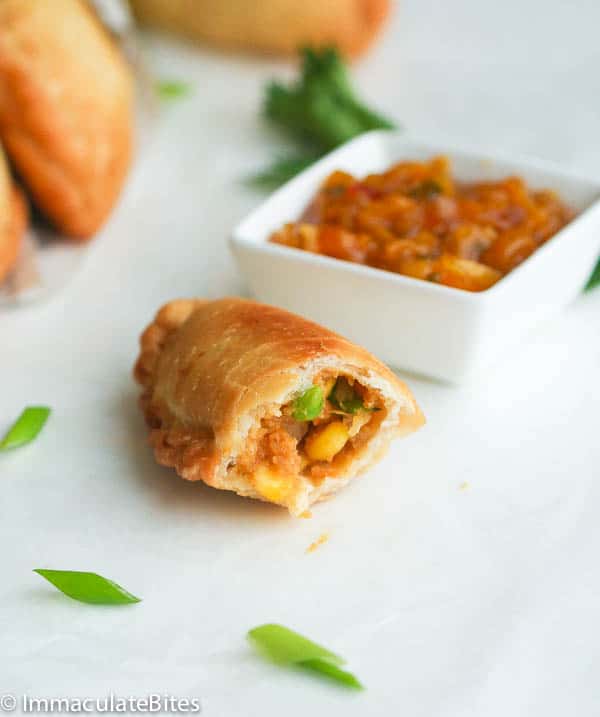 These savory snacks, which hail from Trinidad and Tobago, are made all over the Caribbean Islands. Housewives pride themselves on a delicate touch with the dough but they are often street fare as well, ready for students and workers to grab for a snack on the run.If you have never tried one before you are in for a treat!  These are delicious and the dough, I experiment with dough a lot and so far this is my favorite.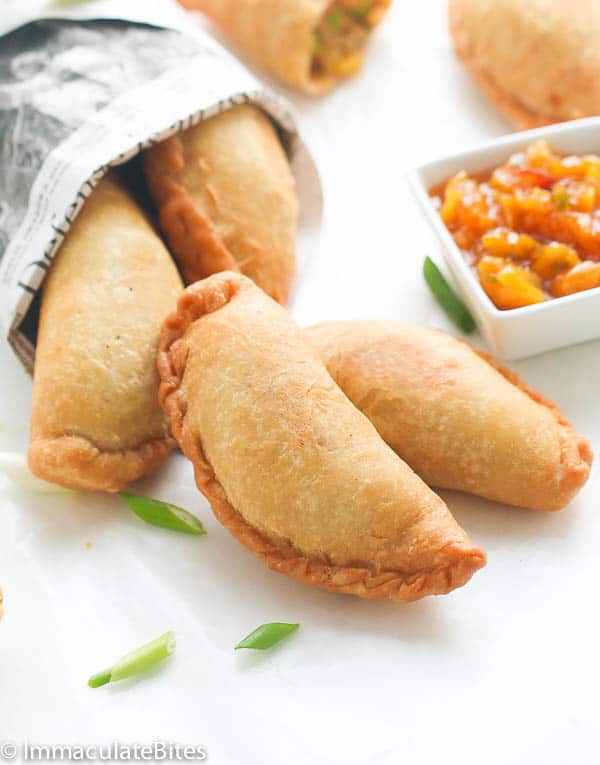 The only drawback (I can't lie to you guys) is that they are a big ol' pain in the behind to make. They sometimes are time consuming and arduous to make from start to finish. BUT you can pull this off in less than no time –AND you will be so thankful when you are done. Even more thankful when you're eating them like crazy, right of the pan.
Or you can make the filling the night before and let the flavors come together or even make the whole thing a week before and freeze.
More short cuts, you can use filo dough, instead of making your own pie dough. In this Aloo pie, I threw in some vegetables and more spice s in the mix. You can do the same or if looking for a traditional aloo pie just go with the potatoes only. I toned done the heat level so that my little one can have some.
 You can make half the size suggested below for interesting cocktail party appetizers. This pie with chutney is Dangerous.  Spicy and sweet together – OH My! They make a perfect pair
Enjoy!
Author: AfricanBites
Recipe type: Appetizer
Cuisine: Caribbean
Serves: 7-8
Ingredients
Aloo Pie Dough
3 cups all purpose flour plus more as needed
1-2 tablespoon granulated sugar
2 teaspoons baking powder
1-teaspoon salt
4 -tablespoon ghee (Clarified butter) or oil
1-cup warm water or more
Aloo pie Filling
1 medium onion, chopped
1-teaspoon cumin
½ teaspoon or more hot sauce
3 tablespoons cooking oil
1-teaspoon ginger, grated
2 teaspoons minced garlic
½ -3/4 pound potatoes, cubed and boiled
1 cup frozen peas, thawed
1 cup frozen corn, thawed
2-3 tablespoon parsley or cilantro
¼ teaspoon cayenne pepper or more (optional)
½ teaspoon ground white pepper
½ teaspoon smoked paprika
½ teaspoon or more curry powder or green seasoning (optional)
Instructions
Pie Filling
In a medium- large skillet, add oil, onions, garlic, ginger and sauté, for about 2-3 minutes, stirring constantly to prevent any burns.
Then add, cumin, hot sauce and paprika, and continue stirring with a heavy wooden spoon, about 2 minutes.
Add boiled potato cubes, and corn. Slightly smash the potatoes, corn and peas then thoroughly mix until ingredients are fully combined, add green onions, and white pepper and a little bit of water to prevent any burns. Simmer for about 2 minutes. Finally throw in cilantro, adjust the seasoning, to taste. Remove from the heat and let it cool. You may prepare this a day in advance.
Aloo pie Dough
In a large bowl add flour, baking powder, sugar and salt, then make a well followed by water, ghee or oil
Knead to form soft and sticky dough.
Place dough on a heavily floured board and knead for about 5-7minutes. Continue to flour dough as needed to facilitate kneading. Be careful not to over do it. Dough should be soft, elastic and smooth.
On a lightly floured surface form the dough into 14 or more
Assembling Aloo Pie
Roll the dough out to form a circle, using a lightly floured rolling pin; Spoon a generous 2 tablespoons or more filling in the center of a the circle; lightly moisten the dough edges with water or flour paste, using your finger. Fold over twist with fingers gently to seal the edges of the pies
Another way of sealing is by pressing the tines of a fork along the edges of the dough.
You may freeze to use later or proceed with cooking method.
Heat up a medium skillet or cast iron with oil up to 2 inch- medium-high heat 350 degrees F. until hot but not smoking.
Gently drop the aloo pie in the fry pan and fry in batches, turning once, until golden brown, about 5-8 minutes. Do not overcrowd the pan (it will absorb excess oil, resulting in a soggy pies)
Using a slotted spoon, remove the aloo pies and place them on paper towels.
Baking Method
Place on a baking sheet and brush with canola oil, then. Bake at 375 degrees
For about 25- 30 minutes until golden brown
Serve warm or at room temperature with this mango chutney or channa aloo
via: African Bites