Ras Hailu Tefari – The Banana Man's Unique Art & Skill in Shashemene
The Banana Art is a unique skill created by Ras Hailu Tefari from the island of St.Vincent and the Grenadines (Caribbean) Now living in Shashemane Ethiopia. At the age of 10 he discovered the endless shades and colours that a banana plant con offer. Once mastered the language of the Banana plant he started creating great works of art.
Bany Payne or Ras Hailu Tafari, a name and a title that he has adopted since he moved to Ethiopia, drew his inspiration from his feelings for land and banana tree which was the chief produce in his home country, St. Vincent, Caribbean Island. The connection to things of the earth natural to life on a farm influenced his work to this day. This source of inspiration is not lacking in the fertile southern Ethiopian town of Shahemene where he lives today and practices his art.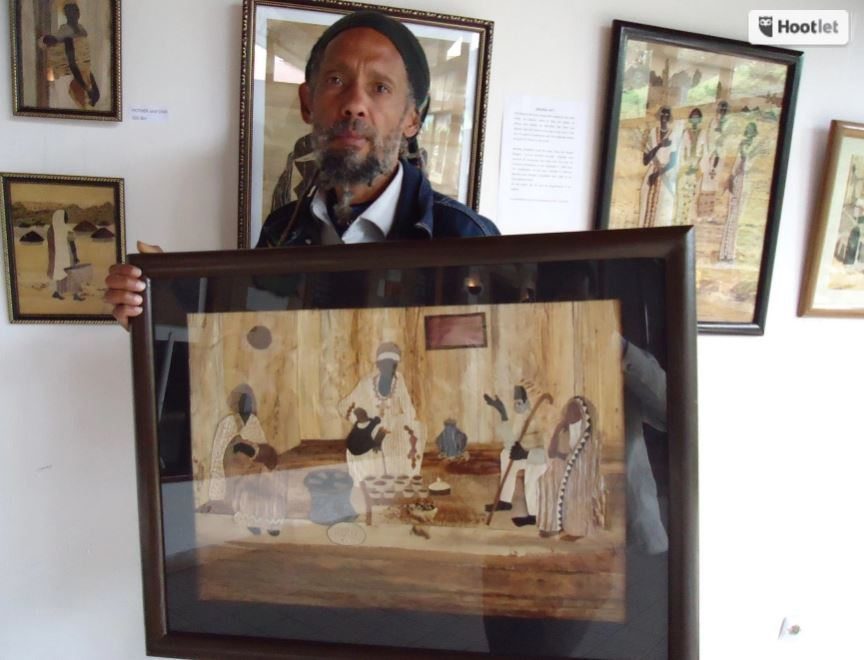 He is simple and has uncanny ability to look casual and almost carless. His sentences come slowly, the ideas carefully exposed to release his inner self. The 60-year-old slight, soft-spoken artist talks of his paintings which are rooted in the soil, filled with images of rural landscapes and vegetables.
His ten 'banana art' pieces made part of the Rastafarian exhibition held at the Alliance éthio-française from March 17 to 19. Taken together, the pieces can be constructed as conveying messages of hope and theology: times may be tough, but look at the brighter side of life anyway. "I don't absorb negative things. You look for beautiful things in life, which are free. I draw what people don't find, what they have forgotten," he says.
The artist says he has started experimenting with this form of art since the age of ten but took him twenty years to bring it to the attention of the world. He creates his art by gluing leaves, barks and flowers of the banana plant to the surface of a wood board. No colors, stains or dyes are added. "All effects and shades are natural," he explains. It took courage to paint the way he does, despite lack of commercial success. He says that he supports his family by sellling art works and raising vegetables in a farm.
Before settling to Ethiopia, Ras Hailu has lived in England for four years and studied art at Greenhill College in Harrow-on-the Hill. In this way, he added European styles to his already considerable repertoire of traditional art.
His drawing quickly attracted attention as it was unique and original. His personal style, which derives from nature, was very different from the usual works of art. The public has loved the works.International recognition followed.Ras Hailu has won the Shell oil company competition in the Caribbean in 1986 from 101 contestants. He was also a finalist in 1988 Bensons and Hedges competitions. Among patrons who owned his works are notable presidents such as former American president Ronald Reagan, Zambian president Kenneth Kaunda, and Luinchi of Venezuela.
Despite the international recognition, Ras Hailu's works are not yet well known in Ethiopia. "I have not had a major exhibition. I only once displayed at Dembel City center for the Ethiopian millennium," he explains. But he is planning to have a grand exhibition in the next two years.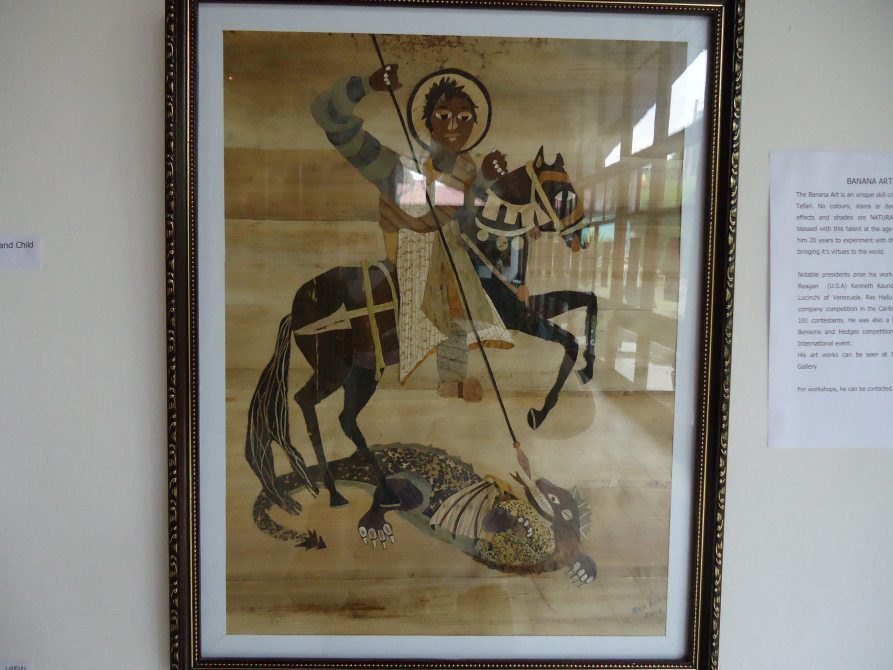 Ras Hailu says life for the Rastafarian in Ethiopia is not plain sailing. He and the community face several problems in Shashemene where they are living. "People don't understand us. They think we came here to take their land. We are branded as people who take jobs," he laments. After a pause he added, "We are not criminals. Everybody in the world has permission to use the product of nature, trees. Why persecute us?" he asks.
By the tone of his voice and his gestures, it becomes clear that the artist has not many happy experiences in his adopted country. He makes a cutting gesture with his hand and says, "We were given land by His Majesty. There was a reason for it. When Ethiopia was conquered by the fascist Mussolini, our forefathers in the Caribbean island gave clothes, medicines. It is a fact which seems to be forgotten today," he adds. "We are living with no residence permit. How can they give us land, not give us residency permit?" he asks poignantly. "We look like Bahetawis (monks). We are one hundred percent Ethiopians, like the ancient people from the Bible, children of Yakob," he adds.
Ras Hailu thinks the present Ethiopia is far cry from what it was. "Ethiopia is not the Ethiopia of yesterday. It is being influenced by European culture. People are becoming obsessed with money. Money is becoming thier god," he muses.
He sees Ethiopia's problems and, indeed the problems of humanity at large in similar and uncomplicated terms. "Forces from outside world are contaminating this country. The world is out of order, in chaos," he claims. "Rastas are the only people who could save the world. We don't look up in the sky for God. We look inside in our hearts".
The artist keeps drawing and promoting love and decency in a world he says is "troubled and materialist". One just hopes that this land will be open to all people who respect the rights and custom of others and where everyone including the Rastafarian community can participate fully in its economic and social activities.
via: Arefe.Wordpress