Promised land no more? Rastafaris struggle in Ethiopia, stateless and not allowed to own property, or even pay taxes
RTV Note to subscribers:  I came across this article and is sharing with you.  Shashemane was given by our Emperor Haile Selassie I with SPECIFIC instructions, including what to build and how to build it and that the land should have been an eco agrigarian society.  This was not done nor were H.I.M. instructions heeded.    Ones and groups began relocating in small groups and even individuals began to build on the land, some doing so without he proper permission of The Ethiopian World Federation, Inc.   Repatriation is a MOVEMENT and not done by only a few, but shall resemble a final EXODUS in these days.  Today, most information coming from the Ethiopian community about modern "Rastas" is not good news, but many have tarnished the name of the Rastafari Movement.  The scriptures declare the rebellious dwell in a dry land.   When blessings turn bitter it's because of disobedience for it is not the will or the Most High for INI to suffer.  I pray it's not too later for our bredren and sistren to RETURN to the original plan ordained by Our Majesty.
———————————————-
Rastafarianism jettisoned to worldwide notice in the 60s and 70s with the music of reggae stars and committed Rastafaris Bob Marley and Jimmy Cliff.
The movement is this month celebrating the 85th anniversary of the 1930 crowning of their messiah, Ethiopian emperor Haile Selassie. (Photos/Justine Boulo/AFP)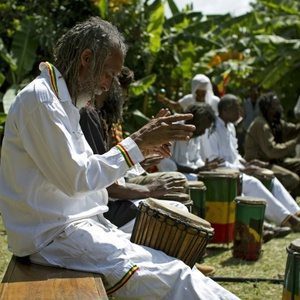 THEY came from across the world to Ethiopia in search of their "promised land", but for many Rastafarians, struggling to win even basic rights, the dream never materialised.
"How did we survive so far? I wonder," said Reuben Kush, the grey-bearded president of the Ethiopian World Federation, a branch of Rastafarianism.
Kush left his home in Birmingham in Britain a decade ago to join a Rastafarian community based in the southern Ethiopian town of Shashamane, 250 kilometres (155 miles) south of Addis Ababa.
But in decades of existence, the settlement's around 500 members have failed to win legal rights to property, education or work.
Celebrating the 85th anniversary this month of the 1930 crowning of their messiah, Ethiopian emperor Haile Selassie, the dreadlocked group sway in a circle chanting to a drum beat "Emperor Selassie I, Jah Rastafari".
Rastafarianism— which jettisoned to worldwide notice in the 1960s and 70s with the music of reggae stars and committed Rastafaris Bob Marley and Jimmy Cliff—first emerged as a spiritual movement in the 1930s among descendants of African slaves in Jamaica, who adopted Haile Selassie as their leader at a time when he stood out as the only independent black monarch in Africa.
They even took their name from his pre-coronation title, "Ras" for "head" and his birth name "Tafari Makonnen". The "King of Kings" was deposed then killed by a military junta in 1974.
A supporter of decolonisation and cooperation among African states then largely under European control, Haile Selassie in the 1950s set aside 500 hectares (1,200 acres) in Shashamane to welcome back descendants of slaves seeking to return "home".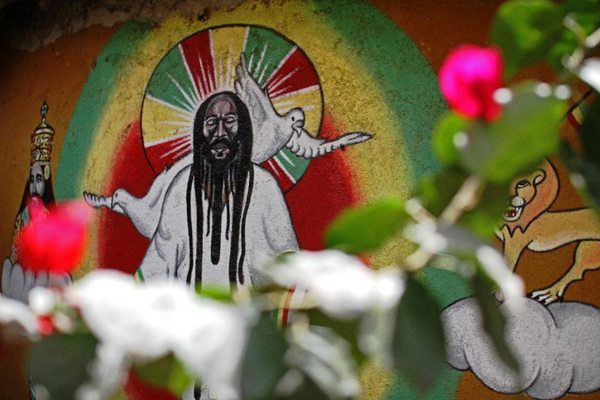 "Ethiopia is our land, for we blacks in the West," said Kush.
Rastafarians say it was the "divinity" of the land that drew them to Ethiopia, mentioned in the Bible more than 30 times and believed to be the birthplace of the Queen of Sheba, who visited the wise King Solomon.
Junta confiscated plot
In the late 1970s, Mengistu Haile Mariam's Marxist-Leninist regime confiscated the Shashamane plot, prompting most Rastas to flee its authoritarian rule.
When Mengistu's rule was toppled in 1991, some returned. But life in the promised land remains a struggle, with exile followed by exclusion.
"The Emperor had given us 500 hectares – today we live on six or seven hectares," said Kush. "Today, we have no control over our property."
Though many turned their backs on their country of origin by not renewing their passports, they have not been granted Ethiopian nationality, leaving them effectively stateless.
In tightly controlled Ethiopia,still run by Communist-inspired ex-rebels, land is a sensitive issue with Rastas neither allowed to file building permits or own property.
Nor can they work, pay taxes or send their children to university.
"What's disappointing is that I have to confess to my relatives back home that we aren't integrated here either," Kush said.
On the recent anniversary of the emperor's coronation, Rastafarians gathered as reggae music played and psalms were sung in a church painted red, yellow and green—the colours of both the Ethiopian and Rastafarian flags.
"We want to be identified as natural Ethiopians now – not as Jamaican, nor American!" said Paul Phang, a Rastafari leader, without fully clarifying what he meant.
In legal limbo
The Rastas' political wing, the Ethiopian World Federation, started in the 1930s but is still lobbying for their basic rights.
"We're here to stay. We haven't been kicked out of Ethiopia after all these years, that means we are accepted," Kush said.
But they remain in legal limbo.
"Our needs are basic human rights needs," Kush added. "We need to be able to tell our children that they have a state. Children are being born here and being classed as stateless—not able to get identification here and not able to get IDs from the countries where their parents come from. So we're in a limbo."
But with each Rastafarian church celebrating its own way, there are political divisions within the movement too.
"If every one of us was in accord, then these natural rights would have been granted to us already," said Phang, a priest from the Bobo Ashanti Rastafari group.
"So because of this different ideology, different thinking, it's like we cannot approach the government in our oneness." (AFP)
Source:  MG Africa