Get to Know The Conquering Lion of Judah
H.I.M. Emperor Haile Selassie I (Ge'ez: ኃይለ፡ ሥላሴ, "Power of the Trinity", born Teferi Makonnen, was Ethiopia's regent from 1916 to 1930 and Emperor of Ethiopia from 1930 to 1974. The heir to a dynasty that traced its origins to the 13th century, and from there by tradition back to King Solomon and Queen Makeda, Empress of Axum, known in the Abrahamic tradition as the Queen of Sheba.  Q'edamawi Haile Selassie is a defining figure in both Ethiopian and African history.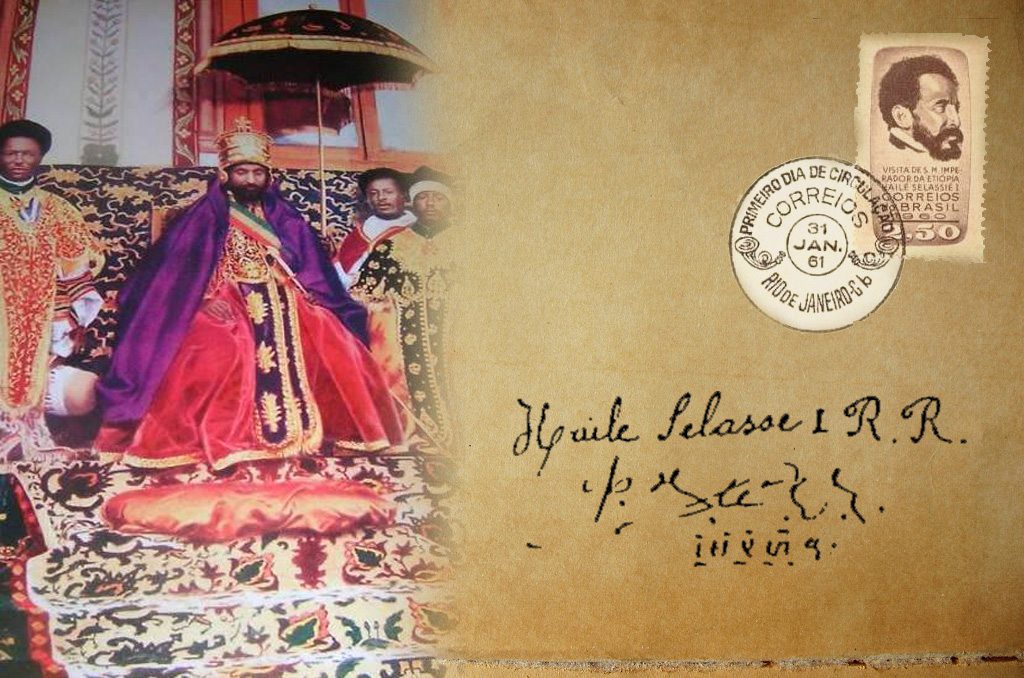 Emperor Haile Selassie (July 23, 1892 – August 26/27, 1975), born Tafari Makonnen, held power for some 50 years, and ruled as emperor from 1930-74. During the Italian invasion and occupation from 1935-41, when he was driven into exile, he became internationally famous as a symbol of resistance to Fascist aggression. In later years he made a major contribution to the cause of African unity.
Childhood and Education
He was born in Harar province in eastern Ethiopia, the son of Ras Makonnen  and of Wayzaro Yeshimbet. His father was from the ruling line of the Shawa dynasty, was a grandson of Sahla Selassé on his mother's side, and played an outstanding role during the reign of Menilek II [reigned 1889-1913].  He was the first governor of  Harar after its reconquest in 1887, and was the envoy of  Menilek to Italy and England. He married Yeshimbet in 1876, after which she bore him nine children, all of whom died within a few years of their birth. The tenth child of the couple, and the only one to survive was named Lej Tafari, Haile Selassie was his baptismal name, and hence later his throne name.  After Tafari's birth, he was abducted from his mother, and given to a nurse in the custody of a trusted general, Kegnazmatch Abba Nada. Yeshimbet was never again allowed to see her son. She died when he was 19 months old, from complications following the delivery of her 11th child.
Tafari was only four when the Italo-Ethiopian war of 1895-96 broke out. Before his departure to the war, Ras Makonnen entrusted his delicate son to the care of Monseigneur Taurin, a Catholic missionary in Harar. Tafari remained at the Mission until the triumphant return of his father, after an absence of about a year.
When he was five, a teacher was assigned to him and to his nephew, Emiru (later Ras) to educate them in the traditional Ethiopian manner. Tafari's first teacher was Walde Kidane, who made a deep impression on him. His second teacher was Gebre Selassie, a monk from Gojam province, for whom Tafari had a special affection and respect. It was he who shaped the young Tafari's character. After receiving a basic education, which consisted of learning to read and write Ge'ez, he was expected as was customary, to be ordained as a deacon. In 1900 Abuna Yohannes, an Egyptian bishop of Gojam province, who was returning to his country via Harar, ordained both Tafari and Emiru. Ras Makonnen was keenly interested in giving his son an education in the European style, but no school which provided this was available in Ethiopia. Makonnen therefore asked Dr. Vitalien, a French medical doctor in a leprosy hospital in Harar, to teach Tafari and Emiru to speak French, in his spare time. The doctor, however, eventually found himself too busy at the hospital. Abba Samuel Walda Kahen, an Ethiopian Coptic priest who knew French, was then assigned to teach Tafari both French and Amharic. This priest devoted his time and energy to educating the young prince, but eventually lost his life in a boating accident.