Free West Papua! More protests held for imprisoned French journalists in West Papua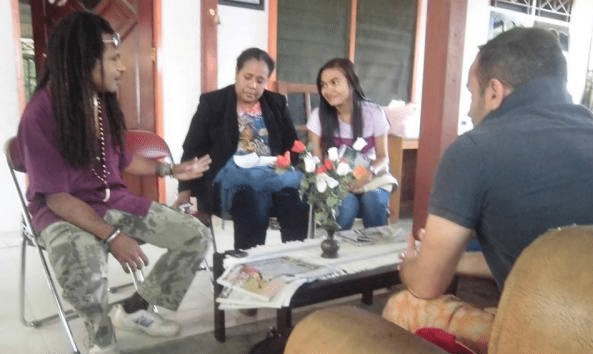 On July 29th 2014, West Papuan independence leader Martinus Yohame (pictured here on the left) met with French journalist Thomas Dandois (on the right) and discussed human rights violations in West Papua.
In less than 25 days time, Thomas along with fellow journalist Valentine Bourrat were arrested by the Indonesian police and are now facing 5 year jail sentences, Martinus was found floating in a sack at sea after being murdered by the Indonesian security forces.
Is this what Indonesia calls freedom of expression?
A man is murdered for telling the truth about what is happening in his country and journalists are arrested just for reporting there.
This is not freedom of expression. This is systematic oppression.
OCTOBER 20, 2014
French journalists Thomas Dandois and Valentine Bourrat are on trial and facing a 5 year jail sentence just for reporting on the genocide being committed by the Indonesian military in West Papua.
In an attempt to cover up the truth of their atrocities, the Indonesian government still bans all foreign journalists, human rights groups and NGOs from even entering West Papua.
Thomas and Valentine have been on trial since August 6th after they were arrested by Indonesian police in Wamena. The prosecution is asking for a 5 year jail sentence just because the journalists were doing their duty in West Papua. A verdict to their trial is expected before the end of this week so please do keep the pair in your thoughts and prayers.
You can find out more about the journalists here: Liberté pour Thomas Dandois et Valentine Bourrat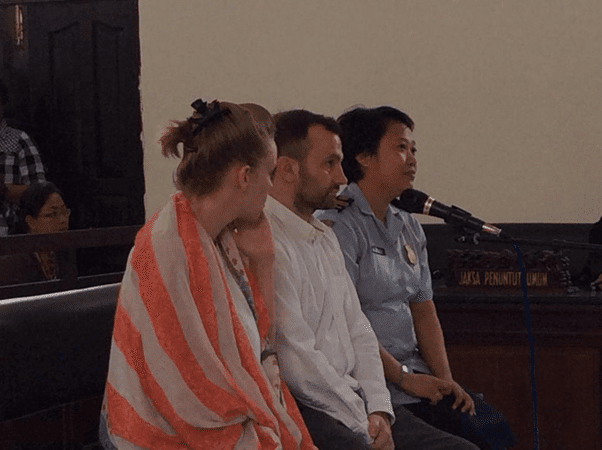 More protests held for French journalists in West Papua
OCTOBER 18, 2014
On 13th October,protests were held all over West Papua in support of the release of French journalists Thomas Dandois and Valentine Bourrat being detained by the Indonesian authorities in West Papua.
The journalists situation
The Indonesian government still bans all foreign journalists from entering West Papua and Thomas and Valentine were arrested there on August 6th simply for reporting on the situation. They now face a potential 5 year jail sentence just for doing their duty as journalists. The Indonesian government is still systematically trying to cover up their atrocities in West Papua by banning all foreign media. They do not want the world to know the truth because they know that when it is exposed, the international community will help to support the West Papuan people and their struggle for self-determination.
By holding this protest, West Papuans pressurise the Indonesian government to stop hiding the truth in West Papua and to let journalists have access so that the world will finally know what is really happening there.
The day of action
This nation wide day of protests, organised by the West Papua National Committee (KNPB) was held all over West Papua and also by Papuan students in Indonesia. The protests brought hundreds of people onto the streets to call for the release of the pair. In Port Numbay/Jayapura the KNPB demonstrated peacefully on the street to call for the release of the journalists but were blockaded by a convoy of Indonesian police vehicles and a large number of armed Indonesian police who forcibly broke up the demonstration and arrested 17 protestors.The names of those arrested are: 1. Eliaser Anggainggom 2. Agus Kosay 3. Ucak Logo 4. Regina Wenda 5. Yimi Broway 6. Marten Suhuniap 7. Rebekah Komba 8. Marice Mambrasar 9. Lazkar Same 10. Isak Salak 11. Peter Petege 12. Manu Mohi 13. David Walilo 14. Palina Pagage 15. Teren Sorabut 16. Wilem Wandik 17. Tinus Heluka

Almost 1000 West Papuans in Timika protest for the release of the journalists
In Meruake, at 06:20 Papuans gathered outside the immigration centre to protest but were forcibly dispersed by Indonesian soldiers, police and intelligence officers. 29 West Papuans were arrested. The names of those who are known to have been arrested are as follows: 1. Gento Emerikus Doop 2. Yosep Novaris Wogan 3. Emelianus Nemop 4. Charles Sraun 5. Yohanes Kayop 6. Petrus Wogang 7. Kristianus Mahuze 8. Emanuel Metemko 9. Yosep Imbanop 10. Yosep Muyan 11. Petrus Katem 12. Ap Moses 13. K Pasim 14. Yermias Kepze 15. Yustinus Airit 16. Emerikus Kakupu 17. Yosep P 18. Muyan 19. Yosep C. H. Imbanop 20. Stevanus Kaize 21. Melkior Kebze 22. Kornelis Yolem
In Timika, almost 1000 Papuans rallied to show their support for the release of the journalists and media freedom in West Papua. They protested down the streets but were met with fully armoured Indonesian riot police and armoured police vehicles.
To find out how you can help the people of West Papua, please visit our website at https://freewestpapua.org
We are delighted to have the exclusive premier of new single and video – ALL NATIONS – from Australia's premier urban roots and reggae band, Blue King Brown. All around the world musicians, artists and writers are using their artistic talents to expose the political fraud and brutal genocide that the Indonesian government has committed against the West Papuan people.