Etana & Mary J. Blige. Are they house Negroes and weak hearts who sold out?
Loading advertisement...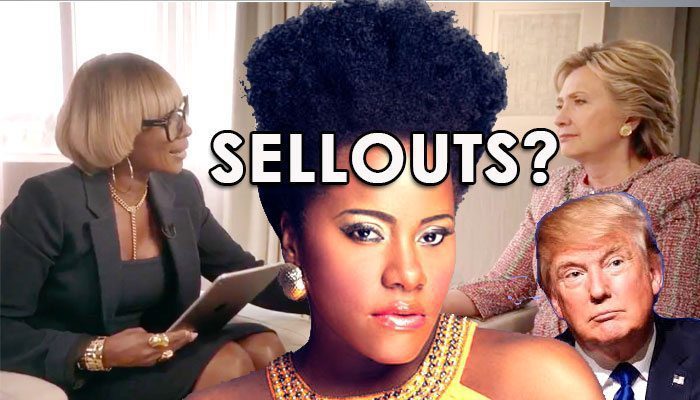 Up next
Ethiopia Reads – Planted over 60 Donkey Mobile Libraries
Cancel
I Like This
Unlike
Like
Please Login to Vote
I Dislike This
Un-Dislike
Dislike
Please Login to Vote
Etana & Mary J. Blige. Are they house Negroes and weak hearts who sold out?
In the light of all Amerikkka's dirty laundry being aired for the world to see, we take a look at two female entertainers who seem to be out of touch with the phrase "Liberation by any means necessary".   Etana, reggae singer first came blazing with a ridiculous endorsement for Donald Trump and fear of  terrorism.  Now she takes it back because social media had a filth storm and blazed some fire.   Wait!  Don't you know that presidents in Amerikka are SELECTED NOT ELECTED?   Hold  up!  Aren't you Jamaican? Shouldn't you be focusing on helping to liberate the people of the island (dictum given by H.I.M. 1966) before you go fanning the flames of illusion during this circus act of a presidential election of a wicked and failed nation?
Now Mary J. Blige serenades Hillary Clinton while urging Black folks to "be polite" if police stops you and then asks Hillary "where do we go from here?."  This is no joke and ones might ask are they sniffing glue?  Have they sold out too, or were they already sell outs? To whom much is given, much is expected so when poor folks place you on top and support your talent, you owe it to your audience to stand on the frontline for liberation and justice.  Those in leadership roles or who are in the spotlight better think twice before opening their mouths because the world is watching and demand more than entertainment these days.   Wake up!  Learn to handle the present crisis in our communities by facing it and being proactive to solutions instead of reaching out to help enemies sited for committing genocide in developing nations.  We are truly seeing who are the real revolutionaries.  These two women are certainly no frontline soul-JAHs and if we can't build with them, we certainly wont endorse or chill with them.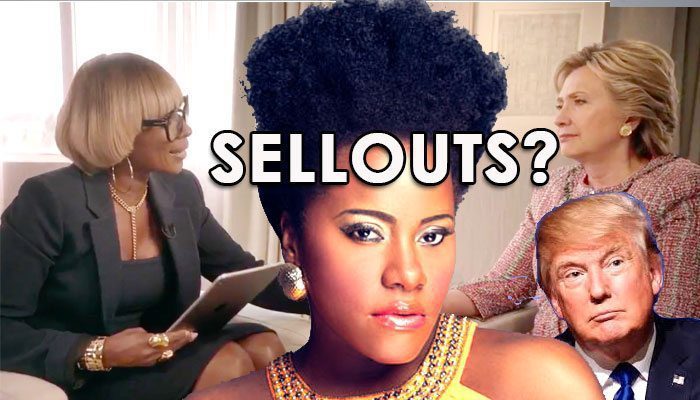 Jamaica Observer reports:
"Etana takes it all back"
Facing backlash over her support for Republican presidential candidate Donald Trump, Etana has apologised to Jamaicans for endorsing the controversial real estate billionaire.
"My recent remarks were made against the background of the real fear of terrorist attacks and acts of random violence that are so pervasive in the US right now. But I realise now that
I cannot give in to this fear…we cannot build walls to lock ourselves in and other people that we fear, or we run the risk of isolating ourselves and losing our humanity, a quality we must protect at all costs. We must not allow fear to allow us to lose the best part of ourselves, the ability to love unconditionally, and to connect with our fellow men and women, regardless of their beliefs, religion, or ethnicity," the singer said in a statement.
In Monday night's first debate against Democratic candidate Hillary Clinton in Hempstead, New York, Trump was repeatedly challenged about his controversial claims that President Barack Obama was not born in the United States.
Interestingly, the 33-year-old Etana is known for songs such as Wrong Address and Roots which tackle forms of racial profiling and promote black pride.
She migrated to the United States in 1992.
Hip Hop Wired Reports:
"We Lost Her: Mary J. Blige Thinks Being "Polite" Will Keep Cops From Shooting Us, And She Sang About It "
Mary J. Blige out here doing the most again. In a promo clip for her new show The 411, the Queen of Hip-Hop Soul and R&B sings a song about police brutality to Hillary Clinton.
Right when we got over her singing about Burger King chicken strips. Right when we thought she was going to deliver her most fire album in years after her divorce gets finalized, Mary done let us down again.
In a short clip for her new show The 411, Mary gives us a sneak peak at an "intimate conversation" that she is set to have with Democratic presidential nominee Hillary Clinton.
Here, we have Mary singing nonsense again. She opens her sonnet with, "If an officer stops you, always be polite" and goes on to advise that we "promise Mama" to keep our hands in the car and not run away from the cops because we can all get shot just for having "American skin." After her song, she asks Clinton "where do we go from here?" As if she has the answers.
Peep how Clinton looks at her with the same "I can't believe she's actually doing this" face that we have.
Have we lost Mary for good this time y'all?