Full title reads: "France – The 16 year-old Crown Prince of Ethiopia – descendant of unbroken line of Kings for 3,000 years – impresses all – with the dignity & composure of one twice his years, during his first sightseeing tour of French capital."
Paris, France.
Crown Prince of Ethiopia gets out of car and walks towards building, a priest stands in the foreground, ready to greet him. Prince leaving building through large door of Notre Dame Cathedral. He is followed by a large group of people. He raises his hat and shakes hands with a priest.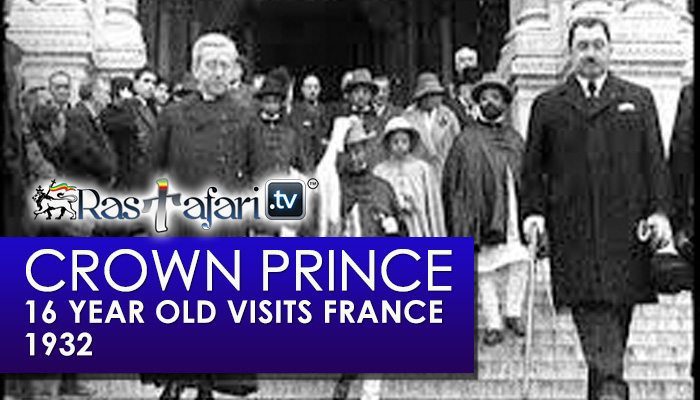 Low angle shot of Sacre Coeur Cathedral, Paris. Crown Prince walking into forecourt of church and is greeted. Prince and party walk out of the main door of the Cathedral. View over city of Paris from in front of Sacre Coeur. The Prince and his party walk down the steps in front of Sacre Coeur.
Cars arriving at Les Invalides. Crown Prince and his party walking up the steps into the building. Interior, Prince and party are shown the military museum by General Guro (sp?) – 'that wonderful old soldier'. Prince and party outside the building look over the exterior with the General. Low angle shot of statue of Napoleon. C/U statue. Crown Prince and party stand outside building.
There appears to have been a shorter, silent version of this item in Gazette 1884. This is currently missing. Ethiopia was also known as Abyssinia.
FILM ID:645.15
Source: British Pathe