Strain Hunters Jamaica Expedition (Full Length)
Loading advertisement...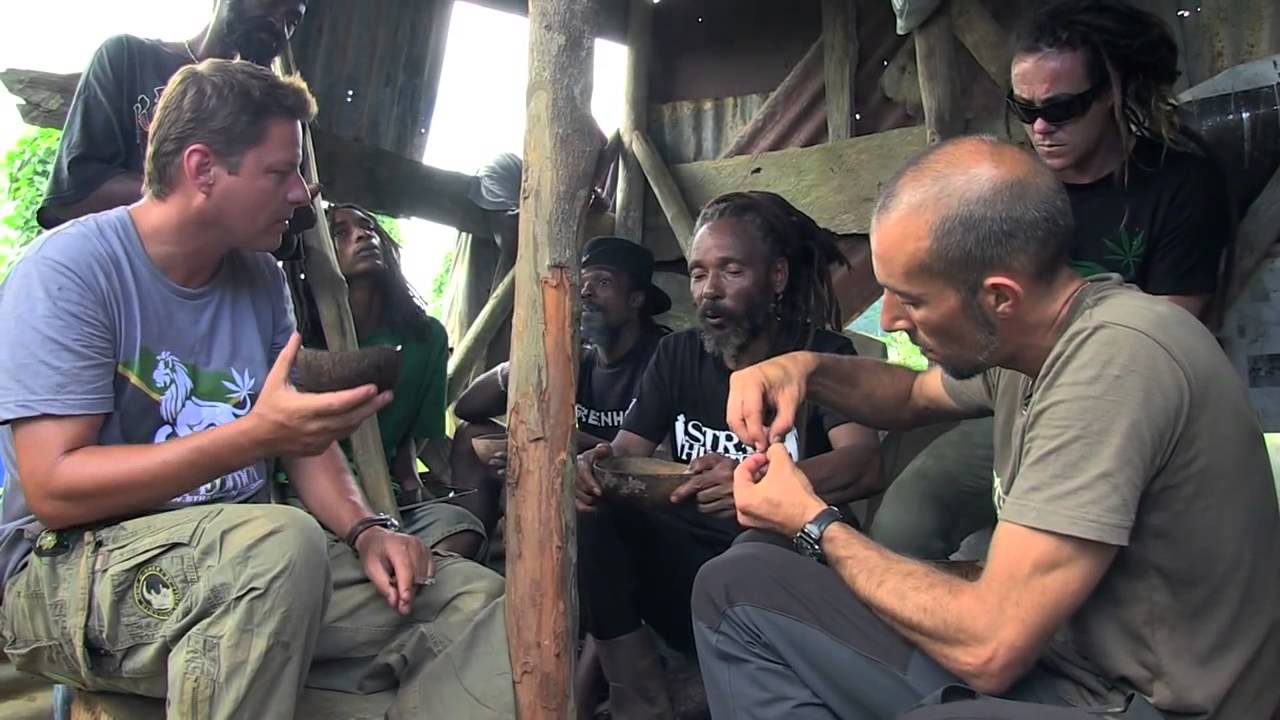 Up next
The Best Of Éthiopiques, Ethio-Jazz, Blues, Tezeta (Ethiopia) mix by DJ Ras Sjamaan
Cancel
I Like This
Unlike
Like
Please Login to Vote
I Dislike This
Un-Dislike
Dislike
Please Login to Vote
Strain Hunters Jamaica Expedition (Full Length)
We board a flight from Amsterdam and in 9 hours we are in the Caribbean. After a layover of just a couple of hours on Curacao, we fly on to Jamaica. We land in Kingston around 11 am local time. The air is hot, but not too humid.
We have a 3 hours layover, so we decide to get out of the airport and go have lunch in Port Royal, half an hour away on the coast. It's a bit of a ghost-town, once a very rich merchant harbor, destroyed at the end of the seventeenth century by a powerful earthquake. It looks like it never really recovered.
We eat lunch in a small fish-restaurant, famous for its snapper. But I eat jerk chicken because I am picky with my fish, and the jerk-spices here are amazing!
Of course we drink some Red Stripe beers, and Simon and myself decide it's time to find some weed. It does not take long before we hit the jackpot: literally on the side of the local Police station, along the seaside, there are some barracks and shacks; inside a group of Rastas is busy cleaning and chopping weed and rolling it up in small balls, using rolling papers as containers.
We ask if we can buy some, and the guys are thrilled. It's cheap, less than 1 Euro per gram. But it's a bit bitter, very leafy, and we enjoy it just because it's been a while since we smoked in Amsterdam! Some of the Rastas in the back are smoking crack cocaine in a glass pipe, the smell is terribly sour. They ask if we like some, and we politely tell them we are just here for the ganja; they nod, and scream "Jah Rastafari"!
We sit and smoke a joint with them, and chat a bit about the local weed, and the cops. It's incredible that this is all happening next to the Police station.
We leave as soon as the joint is over, and we go back to the restaurant to join the rest of the crew.
It's time to get back to the airport and catch a Jamaican Airlines flight to Montego Bay, where our local contacts are waiting. The flight is really short, under half hour, and we arrive in MoBay before sunset. Bigga, Shanti, Nampo and Taleban are waiting for us and it's great to see them again; Arjan and myself spent some crazy days with these guys not long ago, during our scouting trips on the island.
These guys are a tight crew, and they are going to take care of us during the next days of this filming trip.
Nampo is a older Rasta, wise man, with lots of contacts and very respected.
Taleban, his friend, is a grower and a smuggler, a real pirate and one of the funniest guys we ever had with us during our expeditions.
Bigga is our driver/bodyguard, he's a man of the road and he knows who and what you need to know to keep us safe.
Shanti is a local singer, a reggae artist with an amazing talent and a great personality. I know him since he was 10 years old, back in 1994, when I spent a few weeks near where he lived with his father (the man supplying me with fine herb at the time). It was really special to find Shanti during our scouting trips back in July, he's now a grown up man… and I am getting old! Shanti will come along and make sure the soundtrack of our travels is inspiring and inspired.
We get the cars, two Toyota Fortuner, and we load up the mountain of gear we are carrying. Then we drive down to Negril in the sunset light, and when we arrive it's already dark. We decide to spend the first night at the Blue Cave Castle, a really cozy place on the rocky cliffs of Negril.
It's another true 1994-flashback for me, this is one of the places where I stayed when I was a 20-years-old ganja-traveler, already a Strain Hunter without knowing it…. Of course to make the flashback even more intense the same room where I slept then is available, so I take it.
It still looks the same.
We are tired from the long travel, and we decide to go for some food. Unfortunately the chef is sick, so we decide to find something not too far away. We hit a jerk-chicken stand by the side of the road and we eat like there's no tomorrow.
After a few Red Stripes and a few joints we go back to the hotel, where we smoke some good amount of high-grade weed, and some "gum", the local finger-hash.
The weed is definitely an indica-cross, it tastes sweet and strong, and they say it's from a site not too far from where we are. We make a plan for tomorrow, and we go to sleep. Jamaica is great. It's a true privilege to be here again.
Jah Bless!
And now we are back with MisterX pics, the man is a true artist….. enjoy!