RasTakura: Food War | Reggae Eco Poet & Dub Activist
RasTakura, will be in South FL
from Feb. 20 – Feb. 29, 2016
TO BOOK OR MEET RAS TAKURA
WHILE HE IS IN FLORIDA
CONTACT (407) 756 8213 or
CALL BABA PEARSUN (954) 235-2601
Friday, February 19 – Orlando, FL | Showtime Midnight, doors open 9pm


Studio 64 – 6220 All American Blvd., Orlando 32810 
Saturday, Feb. 20 – Miami, FL |  Special Appearance


Haile Selassie I Learning & Community Center, Farmers Market
Market Hours: 11am – 5pm
6301 NW 6th Ave., Unit#4, Miami, FL 33150 
Saturday, Feb. 20 – Miami, FL | 7pm – 9pm
Sophia's Garden.
3450 NW 169 Ter., Miami Gardens FL

Saturday, Feb. 20 – Hollywood, FL | 10pm – 1am
Cultural Expressions
401 S Dixie hwy Hollywood (Jackson and Dixie) Hollywood, FL.
Sunday, Feb. 28 – Hollywood, FL | 7pm – 10pm


Feeding The Nation For The Healing of The Nation Edu-Dinner | Free, Love Do-nation
Haile Selassie I Learning & Community Center, Farmers Market
6301 NW 6th Ave., Unit#4, Miami, FL 33150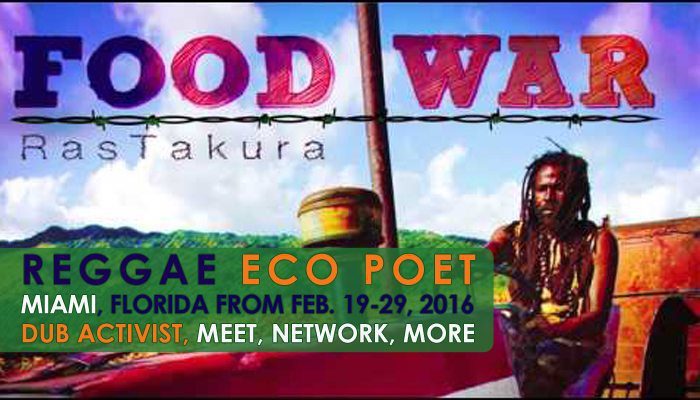 TO BOOK OR MEET RAS TAKURA
WHILE HE IS IN FLORIDA
CONTACT (407) 756 8213 or
CALL BABA PEARSUN (954) 235-2601
BIO:  RasTakura– founding member of Royal African Soldiers, nominated for the International Reggae and World Music (IRAWMA) award in 2011 – Dub Poet of The Year.
His work covers not only modern issues but critical ones that need to be brought to the forefront. He performed on Word Sound Power that was featured on BETJ. He is a Jamaican Reggae Dub Poet, recording and performing artist, Farmer, Painter, conscious Rastaman residing on the country side of the island of Jamaica.
RasTakura gains his inspiration from H.I.M. Haile Selassie I, Marcus Garvey, Mutabaruka, Andrea Williams-Green and Capleton.
RasTakura's agricultural and environmental roots were deepened at the Knockalva Agricultural School, and the College of Agriculture, Science & Education (CASE).
In 2003 Takura was featured on the Multicast Poetz CD – a compilation album with Mutabaruka, I-Nubia, Steppa, alongside Neto & Ginsu – produced by Mackonen Blake Hannah & Eric Dixon.
RasTakura has been featured on IRIE FM's programs – Running African & the Entertainment Buzz. He has been interviewed on the Elise Kelly Easy Skanking program on Irie FM, Jamaican's number one Radio Station, plus numerous international interviews
He has been featured on T.V.J, CVM TV, as well as in several local print medias such as: The Star, The Gleaner and The Observer Newspapers.
He is "A Potent, Afrocentric Political Poet with a cause" – Rooted with two underground compilation CD's, Run-Away-Slaves & Dragon Slayers, and a DVD, produced by C.P.T.C. RAS Poetz.
RasTakura was born, and still resides in the beautiful parish of St. Ann, in a small community neighboring Nine Miles, the home of Reggae Legend Bob Marley. He spent his earlier years growing up on a farm with his Grandparents then later lived with his single mother in a neighboring District. He recognized his talent while attending Bensonton All Age School where he gladly used the opportunities given to perform on every school and community concert as a Dancehall Deejay.
He has performed on some of Jamaica's major shows including Reggae Sumfest, St. Mary Mi Come From, Capleton & Frenz, Fiwi Sinting, Rebel Salute '07, Heineken Startime, plus numerous appearances in schools, Colleges and Universities across the island. He is the founder of Dis Poem Word Fest, now going on its third year on CASE campus.
Look forward to the voice of the future, living in the present. Look forward to the upcoming 'Food War' album. Look for RasTakura.
For booking information please call 1-876-573-1851 or email rastakura@yahoo.com.