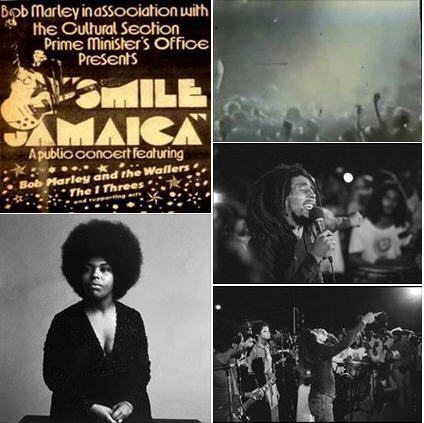 Private Excerpt into Bob Marley's Life & Death From a 5 Part Film & Book "LION": Book Three — The Rat Race by Donovan Hussey
Taken from LION, 5-Film, 5-Book Series. And YES.
It is the culmination of almost a decade of research.
AN EXCERPT.
CONTEMPLATING: 12/5/1976
SCENE:
EXT. STRAWBERRY HILL – DAY
A caravan of CARS pulls up. Guards and assistants usher a caramel-complexioned female, Afro full-blown from the vehicle. 39-year old ROBERTA FLACK, in town for the concert, is rushed into the retreat.
A FILM CREW exits the second vehicle. One of the MEN steps forward to a Rasta guarding the entrance. The FILM CREW LEADER steps forward and approaches the Dread.
FILM CREW LEADER
Hello, I'm David. We are a film crew sent here by Perry Henzell. Uh, we're here to film the concert. Our director, Jeff Walker should have called.
The Dread eyes them suspiciously with his one good eye.
DREAD
Who? Wha ya seh now? Yuh nah pass. Me nuh know nuttin bout no film. Gwan fe me cut yuh.
The camera crew leader keeps the conversation going, showcasing neither fear nor doubt as he speaks.
CAMERA CREW LEADER
Uh, sir, I assure you. We have the express permission of the Prime Minister, uh Mister Manley and Island Records to film this here concert. IF there's still going to be a uh, concert.
The Dread views the crew: Cameras, lights, equipment, dorky white guys. He eases..some.
DREAD
Yes, bredren yuh pass troo. Check in once inside deh.
CAMERA CREW LEADER
Thank you sir, your'e far too kind.
The camera crew hustles into the cottage, past the Rasta, who eyes them one last time. The camera crew leader merely nods graciously.
INT. STRAWBERRY HILL – LATE AFTERNOON
The camera crew hustles inside, walking into a room filled with Dreads, Roberta Flack, and some Jamaican political figures. The Camera Crew Leader spots Nesta, and wanders over to him. A machete-gripping Dread blocks his path like Damocles with a flaming sword.
DREAD #2
You?
CAMERA CREW LEADER
Yes, as I stated before, I'm from the film crew. We were sent here to film the concert. We offer our sincerest apologies for our tardiness. Uh, we come bearing gifts.
DREAD #2
Uh?
CAMERA CREW LEADER
Gifts, for the Rastaman!
He motions towards Nesta who stares at him quizzically. He tries to reach into the bag, but THE DREAD TAPS HIM WITH THE BLADE.
DREAD #2
Slowly now. Wass in de bag? Lemme see. Move!
The Dread inspects the bag and pulls out a wrapped box. The camera crew leader reacts.
CAMERA CREW LEADER
We heard how you love boots, eh? So we brought some. We are saddened to hear about your calamity. Please accept this gift as a token of our appreciation.
Nesta motions for the Dread to pass him the box. Nesta retrieves the box, flips it around his hands. He pulls out a WICKED pair of SOCCER BOOTS. Pele would be jealous.
The camera crew leader nods seeking approval, as a smile flashes across Nesta's face. It is the first we have seen him smile since the shooting. He jumps up and retreats to a room.
INT. NESTA'S ROOM, STRAWBERRY HILL – THAT NIGHT
Nesta kicks off a pair of well-worn sandals as he plops down upon edge of the bed. He reaches under the bed and pulls the SOCCER BOOTS out.
INT. LIVING ROOM, STRAWBERRY HILL – CONTINUOUS
Neville awakens on the couch, almost dropping the pistol laying on him to the floor. He grips it, goes to the window and looks out.
A POLICE GUARD is asleep in a chair on the stoop. Neville yanks the door open, enraged.
NEVILLE
Is so yuh guard a black man! Wake up ya rass!
His admonishment is broken by a YELP coming from inside the house, as Neville and the officer rush inside.
INT. STRAWBERRY HILL – NIGHT
Neville rushes down a hallway into Nesta's room. He finds him curled on the bed, howling in pain, blood pouring from his RIGHT GREAT TOE.
NESTA
Ah! De boot! De boot ah jug me!
A Dread inspects the boot. He withdraws a small length of COPPER WIRE from inside its core.
DREAD #2
Somet'ing ah come from it dat poke out. Fockin' American wit 'im raggedy boot.
He leaves the room with the boots in a hurry.
NEVILLE
All gifts nuh good gifts, bredren.
BLACKNESS.
SUPERIMPOSE:" DECEMBER 5, 1976″
THE BANDAGED FOOT OF NESTA hangs out from covers as we scale his body upward to his EYES.They awaken suddenly, LION-LIKE. He reaches beside him and produces a walkie-talkie.
NESTA
Wha gwan?
A voice blurts from the speaker of the walkie-talkie.
STEPHEN "CAT" COORE
Come down mon! De whole place is ram packed, and everybody still come' fe see yuh! Show WE can ovacome dis!
We hear the ROAR OF THE CROWD through the transmission in the background.
INT. LIVING ROOM, STRAWBERRY HILL – EARLY EVENING
Nesta enters the room, straight into the anticipating faces of band members and entourage. Rita, Neville, and Judy approach.
RITA
So wass da werd Bob, yuh waan fe do it?
JUDY
Ya sure ya wan do it boss?
NEVILLE
We right 'ere fe yuh.
NESTA
Call dem. Tell em fe pickup de rest of de band from de 'ouse Less do it.
INT. VEHICLE #1/ROAD – MOMENTS LATER
WE JOIN a caravan of civilian and police cars, sirens screaming, and hauling ass. At a dizzying speed we bend, and turn along the winding roads leading from the hill towards the city center.
INT. VEHICLE#2/ROAD – CONTINUOUS
THE CAMERA CREW is filming all of the action.
EXT. CITY CENTER – CONTINUOUS
We come upon what first appears to be the dispersing of a large rally, but it's merely a predecessor to the mayhem lining the outskirts of HEROES PARK CIRCLE.
People lining the roads spot Nesta in the car and begin cheering fanatically. A man eagerly screams into a walkie-talkie, as the motorcade reaches the festival site.
MAN
I repeat! Bob Marley and de Wailers are here! Please, clear de circle! He's 'eading fe de stage!
EXT. HEROES PARK CIRCLE – NIGHT
The crowd teeters on the edge of mayhem as the cars halt. Nesta emerges, long sleeved denim shirt. Soon as he exits the vehicle, he seems to be swept away in a tide of people leading him to the stage.
TWO LARGE MEN can barely control the momentum as they pass him like a spliff onto the stage. THE FILM CREW is shooting continuously; they take their positions at STAGE RIGHT.
INT. STAGE, HEROES PARK CIRCLE – CONTINUOUS
A scramble of band members assembles onstage, along with members of another band, THIRD WORLD. Judy and a bandaged, nightgown-clad Rita are on background.
An audacious Manley walks out, holding SELASSIE'S SCEPTOR. He walks straight to Nesta becoming as exposed as he is, and hugs him tightly as THE
CROWD blusters, almost in ANARCHY.
CROWD
Joshua! Joshua! Joshua! Joshua!
Manley then walks off the stage and climbs atop the roof of a van, unafraid of the easy target he instantly becomes. Nesta approaches the microphone, then HE SHAKES HIS DREADS.
Unrestrainedly.
NESTA
When me decided to do dis yere concert two anna 'alf months ago, me was told dere was no politricks! Mi juss wanted ta play fa de love of da people. Me only gonnna sing one tune.
INT. STAGE, HEROES PARK CIRCLE – AN HOUR LATER
TWO DREADS in the crowd behind Nesta watch him perform.
DREAD
De mon a seh 'Im perform one song an gone, de mon been onstage A WHOLE HOUR! No fear, bredren! De devil is a LIE! Rastafari!
AS IF. Fearless as ever, Nesta shows no signs of slowing down as he literally COMMANDS the audience.
NESTA
SO JAH SEH!
He begins a ritual dance, as the spirits of the ancestors rhumba along. We briefly see CUDJOE KWADWO, and other PHANTOM MAROON, ARAWAK, & TAINO WARRIORS DANCING.
They are barely visible, transparent. Strengthening him, guiding him, possessing him, and transposing him. WE SEE THE TRANSFORMATION as they enter him.
NESTA (CONT'D)
Not one of my seeds. Shall sit in the sidewalk, and beg your bread.No, they can't and you know that they won't! Cause puss and dog they get together: What's wrong with loving one another? Puss and dog they get together: What's wrong with you my brother?
He passes the microphone and marches to the edge of the stage. Before 80,000 people, he unrolls his left sleeve, opens his shirt and SHOWS HIS GUN WOUNDS.
After pointing to each of them, he evanesces into the crowd behind him.
EMCEE
Bob Marley come out, sing it! PRAISES! Come on people, de mon come out of his bed ta sing fe yuh tonight, and HE BURST! BOB MARLEY BURST! Brothers and Sisters, when you leave here tonight, we want you to take with you the love and the peace that has been manifest here tonight at Heroes Park Circle!
EXT. AIRPORT, KINGSTON – DAWN
A lone 1975 GULFSTREAM IISP idles on the tarmac. A nondescript vehicle pulls up. Nesta steps out, and removes his shoes. He prostrates and kisses the ground.
He stands and surveys the full skyline of the island waking up before him. Then he boards the plane. After idling a few minutes, the door shuts, the plane taxies and takes flight as CAMERA SNAPSHOTS taken by an INTELLIGENCE OFFICER capture its ascent.
–FROM- "LION: BOOK THREE — THE RAT RACE ©" All RIGHTS Reserved.
Disclaimer:
This message is privileged, confidential and subject to copyright. Any unauthorized use or disclosure is prohibited.