President Obama's visit to Ethiopia: In Pictures and Video
Obama Calls Ethiopian Government 'Democratically Elected'
ADDIS ABABA, Ethiopia — President Obama twice called the government of Ethiopia "democratically elected" on Monday as he stood by the country's prime minister, two months after elections that handed every seat in Parliament to the governing party and its allies.
Though human rights groups had called on Mr. Obama to use his visit to press for change, the president took a mild tone in his public remarks. He gently urged the Ethiopian government to make room for opposition, while stressing his respect for the country and its challenges in emerging from a long era of monarchy and autocracy.
"We are very mindful of Ethiopia's history, the hardships that this country has gone through," Mr. Obama said at a joint news conference with Prime Minister Hailemariam Desalegn. "It has been relatively recently which the Constitution that was formed, and elections put forward a democratically elected government." He added that "there is still more work to do, and I think the prime minister is the first to acknowledge that there is more work to do."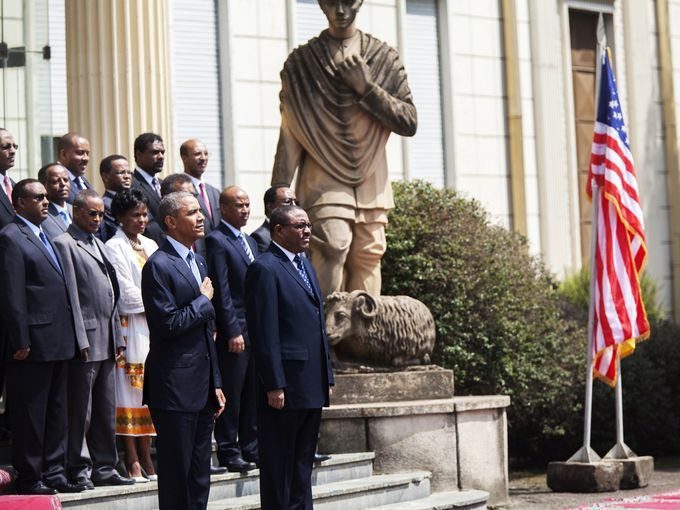 The elections in May were condemned by human rights groups as a sham. The government made it hard for opposition candidates to register, raise money and mobilize supporters, according to watchdog groups. Peaceful protesters were denied permits, harassed and in some cases arrested. News organizations were shut down and reporters harassed, threatened or arrested.
American diplomats were denied accreditation as election observers and prohibited from formally observing the process, according to the State Department, and the only international observers on the ground were from the African Union. The State Department said at the time that it was "troubled" that opposition party observers were barred from some locations.
"The recent election in Ethiopia was anything but a democratic one," said Sarah Margon, the Washington director of Human Rights Watch. "There may not have been widespread violence or blatant ballot box stuffing on Election Day," Ms. Margon said, but "the systematic repression of basic rights" made it "extremely unlikely that Ethiopians would feel safe enough to express themselves, particularly if that expression included criticism of the government."
David J. Kramer, a former assistant secretary of state for democracy under President George W. Bush, said that Ethiopia has a "very repressive regime" in which opposition parties are not given a fair chance to compete. "To suggest otherwise is both to misrepresent the true state of affairs there and to demoralize those struggling to promote human rights and freedom in Ethiopia," he said.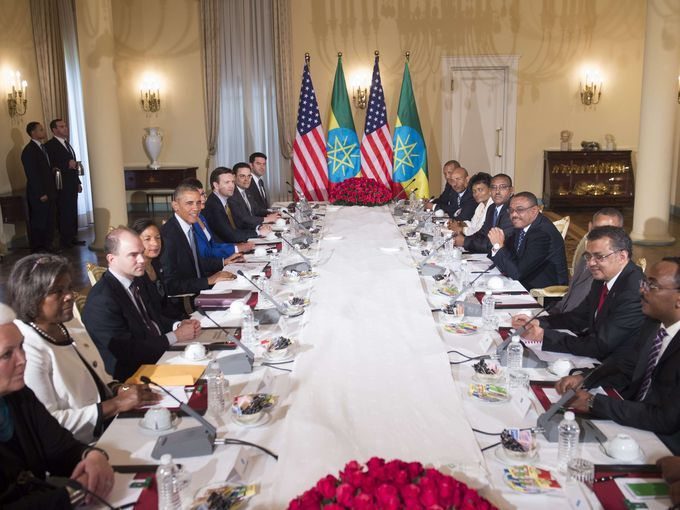 Even Mr. Obama's national security adviser, Susan E. Rice, indicated at a briefing last week that the result of the election was not credible. "The prime minister of Ethiopia was just elected with 100 percent of the vote, which I think suggests, as we have stated in our public statements, some concern for the integrity of the electoral process," she said.
When a reporter at the briefing asked her whether Mr. Obama thought that was a democratic election, Ms. Rice repeated in a sarcastic tone, "One hundred percent," as if no further answer were necessary.
Trips to countries with repressive governments often present a challenge for Mr. Obama as he tries to balance other American interests against the promotion of democracy and human rights. Ethiopia has been an important partner in combating the Shabab, a ruthless Somalia-based affiliate of Al Qaeda. Ethiopia also has an important role to play in resolving ethnic conflict in South Sudan.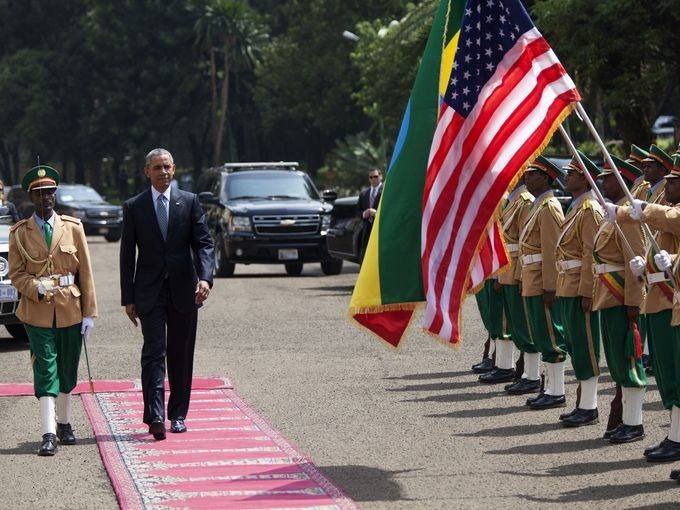 Mr. Obama is the first sitting American president to visit Ethiopia, and he defended his decision to come. "We don't improve cooperation and advance the very interests that you talk about by staying away," he said. "So we have to be in a conversation. And I think the prime minister will indicate that I don't bite my tongue too much when it comes to these issues. But I do so from a position of respect and regard for the Ethiopian people, and recognizing their history and the challenges that they continue to face."
Mr. Hailemariam acknowledged that the country's system needed improvement. "This is a fledgling democracy, and we are coming out of, you know, centuries of undemocratic practices and culture in this country," he said. "And it's not easy, within a few decades — in our case, only two decades of democratization — that we can get rid of all these attitudinal problems and some challenges we face."
"But," he added, "we feel that we're on the right track, and there is a constitutional democracy, which we all are obliged to observe, for the sake of our own people and prosperity."
Asked about the arrests of reporters and bloggers, which have given Ethiopia a reputation as one of Africa's leading jailers of journalists, Mr. Hailemariam said he supported journalism as long as it was "ethical" and not tied to terrorists.
"Maybe those of you who are in developed nations, you can help our journalists, domestic journalists, to increase their capacity, to work in an ethical manner," he said.
After the news conference, aides to Mr. Obama rejected suggestions that the president had gone soft on the Ethiopian leadership, saying that Mr. Obama was merely trying to put the country's journey in context. They said Mr. Hailemariam had acknowledged flaws in Ethiopia's democracy in public and even more so during private sessions with Mr. Obama.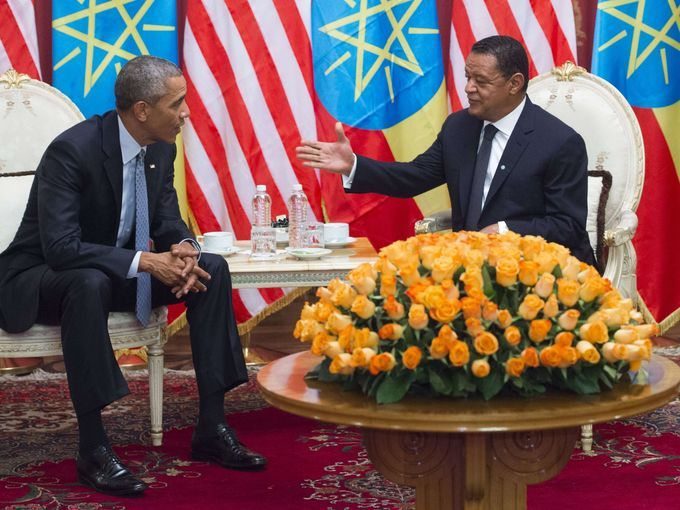 In those meetings, Ethiopian leaders "expressed some discomfort" with the ruling party's sweep of the election because it was "not indicative of the kind of competition they want to have," said a senior Obama administration official who insisted on anonymity to discuss the private talks. After years of working on Africa, the official said, "I've never seen a day like today."
Some Ethiopian journalists were less impressed. Reeyot Alemu, 35, who was arrested in 2011 under an antiterrorism law and then abruptly released on July 9, rejected Mr. Hailemariam's assessment of Ethiopian journalism. "I don't believe him, because we have ethical journalists," she said. "We tried to work like that, and they arrested us because we criticized the government."
She said Mr. Obama should not believe Ethiopian officials who tell him they want to make more room for political opposition. "They just want to pretend in front of Obama and the international community that they are democratic and trying to improve human rights conditions," she said. "When these kinds of meetings happen, it's always like that."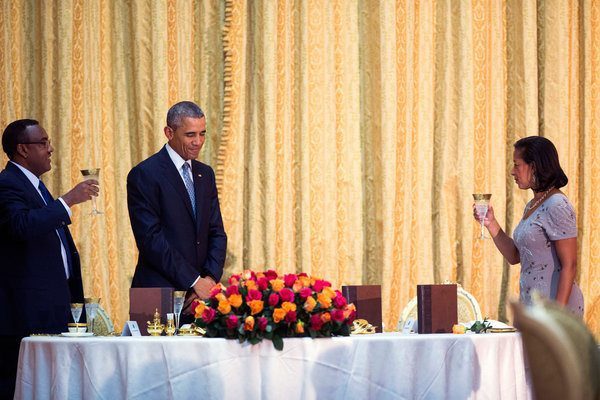 Source:  Nazret.com