A Tragedy in Ferguson — Cops clam up, a witness comes forward, Anonymous Warns, & Obama speaks. Also, an "InI Query" : Is Al Sharpton Credible?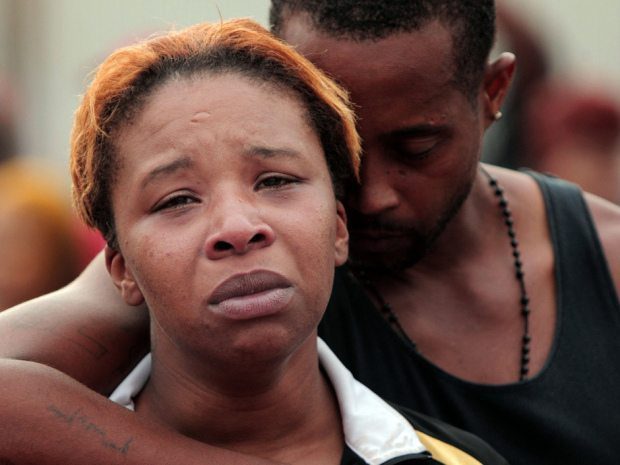 A Community Mourns as Cops Clam Shut.
A Rastafari.TV EXCLUSIVE
FERGUSON, Mo. – The police chief in a Missouri city where a police officer fatally shot an unarmed black teenager said Tuesday he's holding off on publicly identifying the officer because of death threats.
Civil rights leader Al Sharpton, standing with the parents of 18-year-old Michael Brown, criticized the decision, saying the secrecy is fueling mistrust of the police in Ferguson, a predominantly black city of about 21,000 residents where violent protests broke out following the shooting.
Investigators have released few details, saying only that a scuffle unfolded after the officer asked Brown and another teen to get out of the street. At some point, the officer's weapon fired inside a patrol car, police said. Witnesses have said that Brown had his hands raised when the officer approached with his weapon and repeatedly fired.
REMAIN ANONYMOUS?
Speaking of anonymity, the hacker group "Anonymous" claims it has the name of the Ferguson, Missouri, police officer involved in the fatal shooting of an unarmed black teenager over the weekend.
But in a rare display of caution, the group said Wednesday it is waiting to release the officer's name until it can be confirmed.
"We have the name of the shooter;We just can't verify. We need to either talk to witnesses or get a second leak source."
One member of Anonymous stated that the hacker group wanted "to be absolutely positive it is correct."
"There have been instances in the past where anons have released erroneous dox," the Anonymous member "katanon" said in an interview via online chat room, referring to the hacker slang of exposing a person's true identity online.
Ferguson police initially said they would release the name of the officer involved in the shooting, but changed course on Tuesday, citing online threats made against the officer and the police department.
Meanwhile, Anonymous has tried using its hacking skills to pressure the police to release the officer's name. On Tuesday, the hackers posted online the home address and phone number of St. Louis County Police Chief Jon Belmar, as well as a photo of his house.
A Twitter account belonging to Anonymous tweeted: "Jon Belmar, if you don't release the officer's name, we're releasing your daughter's info. You have one hour." The group, however, did not appear to follow through on the threat.
On Sunday, the hackers posted a YouTube video in which a computer-generated voice demanded that Missouri's congressional representatives introduce legislation to "set strict national standards for police conduct and misbehavior."
The video warned that if police disrupted the protesters, the hackers would publicly release the emails and personal information of the police department and "take every Web-based asset of your department and government offline."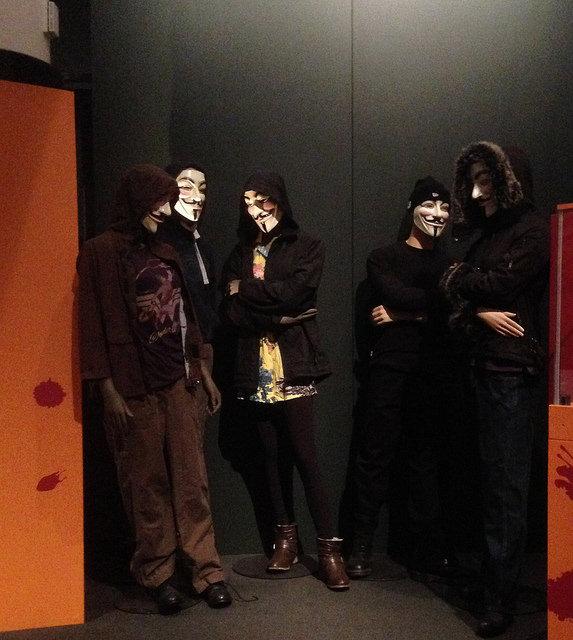 A cyber attack by Anonymous brought down the city's email system Sunday night, and Ferguson's mayor asked the city's IT department to take down all personal information from its website, according to the local TV station KMOV On Wednesday, a reporter for the station tweeted that the city's email system and website were working again.
The Anonymous member "katanon" stated that the group's main goal was to bring more attention to the shooting.
"Personally, I would like nationwide protests and the issue to not be swept under the rug yet again," the member said. "'Just another dead black kid' is getting very, very old." Whispers are abound that the officers name is Darren Wilson.
Anonymous has joined previous protests triggered by allegations of police brutality. In 2011, after the murder of Oakland Teen Oscar Grant the group hacked "myBart.org", a website for San Francisco's Bay Area Rapid Transit riders, and leaked personal information of users. The attack was in retaliation for a decision by BART to cut off underground cellphone service to shut down a protest against police violence.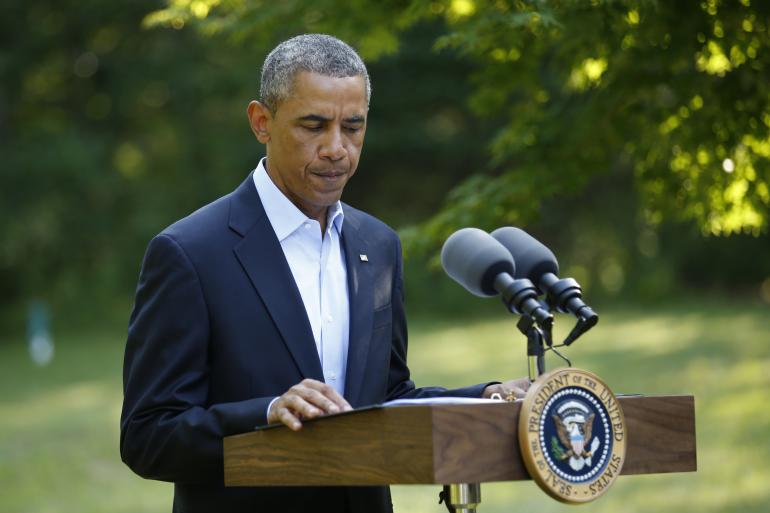 OBAMA SPEAKS
President Barack Obama, who is vacationing on the Massachusetts island of Martha's Vineyard, said that while the case has prompted "strong passions," people should remember Brown through "reflection and understanding." He called on people to comfort each other "in a way that heals, not in a way that wounds."
Missouri Gov. Jay Nixon told people at a community forum Tuesday night that the shooting feels "like an old wound torn fresh" in a nation still struggling with race relations.
The forum was organized as an alternative response to two nights of unrest in which crowds have burned stores, vandalized vehicles, assaulted reporters and taunted officers. Ferguson's mayor and police chief also attended the meeting and were welcomed with applause.
Police said death threats prompted them to withhold the name of the officer, who was placed on administrative leave after the shooting.
"The local authorities have put themselves in a position – hiding names and not being transparent – where people will not trust anything but an objective investigation," Sharpton, standing with Brown's mother and father, said during a news conference outside a St. Louis courthouse.
But he also echoed pleas by Brown's parents and the NAACP civil rights group for peaceful protests in Ferguson, where the case has stoked racial tension, protests and looting.
"I need all of us to come together and do this right," said Michael Brown Sr., with Sharpton standing at his side. "No violence."
SHARPTON UNDER SCRUTINY
Regardless of the pleas for calm, and the rhetoric of Sharpton, many in the community felt as though it was business as usual, the typical political grandstanding that seems to be par for the course when a black body lies dead in the street, an officer gets paid leave, and the community is left to smolder. Many youth question Sharpton's validity as a true activist, due to the revelation earlier this year that he has worked for the F.B.I., most notably to nab organized crime figures, as well as an aid in an operation against Freedom Fighter Assata Shakur. Sharpton was known to FBI agents as "CI-7"–short for confidential informant #7–in secret court filings. In those documents, investigators vouched for him as a reliable, productive, and accurate source of information about underworld figures.
The Rev. Al Sharpton may claim he wore a wire for the Feds because he had been threatened by the mob — but a new report says he turned rat to save himself after a federal drug sting.
The FBI "flipped" the bombastic reverend after agents confronted him with a surveillance video showing him discussing cocaine with an ­undercover agent, thesmokinggun.com Web site stated earlier this year.
During that March 1983 conversation, Sharpton wore a cowboy-like hat that was garish even by the rabble-rousing preacher's 1980s standards.
He later showed up at a Manhattan apartment for another meeting that June with the agent, who was posing as a "former South American druglord seeking to launder money through boxing promotions," the report said.
Instead, Sharpton was met by G-men who were not undercover — and who showed him the "drug" video, the Web site said, citing a source familiar with Sharpton's secret FBI file.
"The panicked reverend agreed — on the spot — to cooperate with federal agents," The Smoking Gun said.
The Web site said that, at the FBI's direction, Sharpton initially targeted boxing promoter Don King for undercover recording. King was the principal target of the FBI operation that netted the reverend in an operation called "Crown Royal," The Smoking Gun said.
According to New York Activist Brother Ahmed Obafemi, Sharpton tried to set up a meeting with Shakur in 1983, this was also confirmed by several other activists who said they were approached by Sharpton as well.
Earlier this year, Obafemi spoke about a sitdown he had with Sharpton at a lower Manhattan restaurant in 1983.
And the briefcase that Sharpton brought with him.
"It was the way he sat it down," Obafemi recalled.
Sharpton, according to Obafemi, set up the meeting to seek information about the whereabouts of Shakur, who was a fugitive after being convicted (read "framed") in the killing of a New Jersey state trooper.
Sharpton thought Obafemi, an activist with ties to black revolutionaries, might be able to help, Obafemi said.
In an interview last week, Obafemi recalled the unusual attention Sharpton paid to that briefcase — how Sharpton kept it close to them, and between them.
Obafemi's instincts — the hyperalert feelings of someone who was in touch with imprisoned and on-the-run black radicals — made him deeply suspicious, he said.
Eventually, he decided to break ties with Sharpton.
Now, after The Smoking Gun website last week quoted secret court papers detailing how Sharpton used a bugged briefcase to record mobsters for the FBI in the 1980s, Obafemi said he feels vindicated.
"All our suspicions were true," said Obafemi, who now lives in Atlanta, where he administers youth programs for the New Afrikan People's Organization.
Although the circumstances of why Sharpton became a federal informant are in dispute, he has long acknowledged that he secretly recorded mobsters for the FBI in the 1980s.
Sharpton's attempt to contact Shakur began when he ran into New York photographer and activist Kwame Brathwaite.
Sharpton said he would give $50,000 to Chesimard if she could be located, Brathwaite recalled, adding that Sharpton claimed the cash came from sympathizers who wanted to help Chesimard and other underground radicals.
Brathwaite then told his friend Obafemi of the offer.
In phone conversations last week, Obafemi said that he had fairly detailed memories of two of his meetings with Sharpton.
One was at an apartment complex across the street from Lincoln Center, where Sharpton tried to make his case that he wanted to help black radicals hiding out from authorities, Obafemi said.
"He told me to sit right in front of a TV," Obafemi recalled, adding that, even at the time, he had strong suspicions there were recording devices in the appliance.
And then there was the meeting at the downtown Manhattan restaurant where Sharpton showed up with the briefcase.
"He was just so meticulous in situating it," as if there was a camera or other recording device in it, Obafemi said.
People often accused Obafemi and his associates of being "paranoid," he said, but with Sharpton "there were too many things" that raised red flags, and Obafemi and the radicals he went to for advice decided they had no choice but to stay away from Sharpton in the future.
Perhaps residents of Ferguson may want to take note.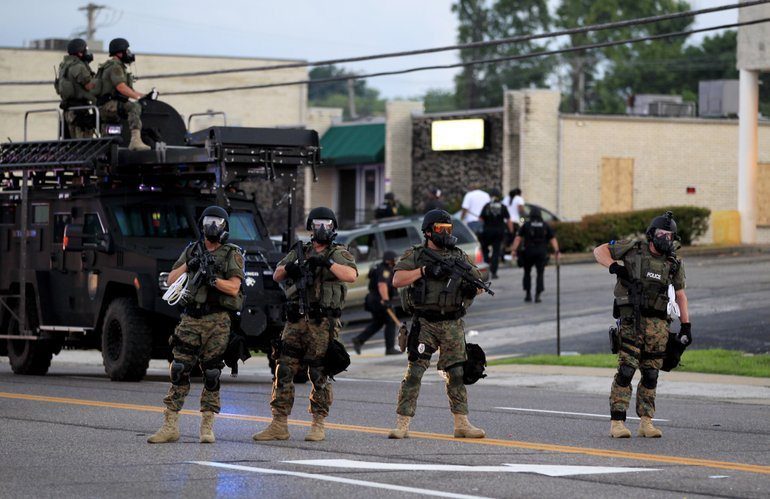 SIMILAR TO TRAYVON?
Some civil rights leaders have drawn comparisons between Brown's death and that of 17-year-old Trayvon Martin, who was fatally shot by a Florida neighborhood watch volunteer who was later acquitted of murder charges.
The case has provoked a broad discussion on social media sites about the death of young black men in racially tinged shootings. On Twitter, a campaign using the hashtag #IfTheyGunnedMeDown prompted many black users to post photos of themselves and ask how they might be portrayed in news reports if they became shooting victims.
Ferguson Police Chief Tom Jackson said he had planned to release the officer's name Tuesday but changed course after death threats were called into the police department and City Hall, and posted on social media. He said it could be weeks before he releases the name.
The race of the officer involved in the shooting also hasn't been disclosed, but witnesses said he was white. Brown was black.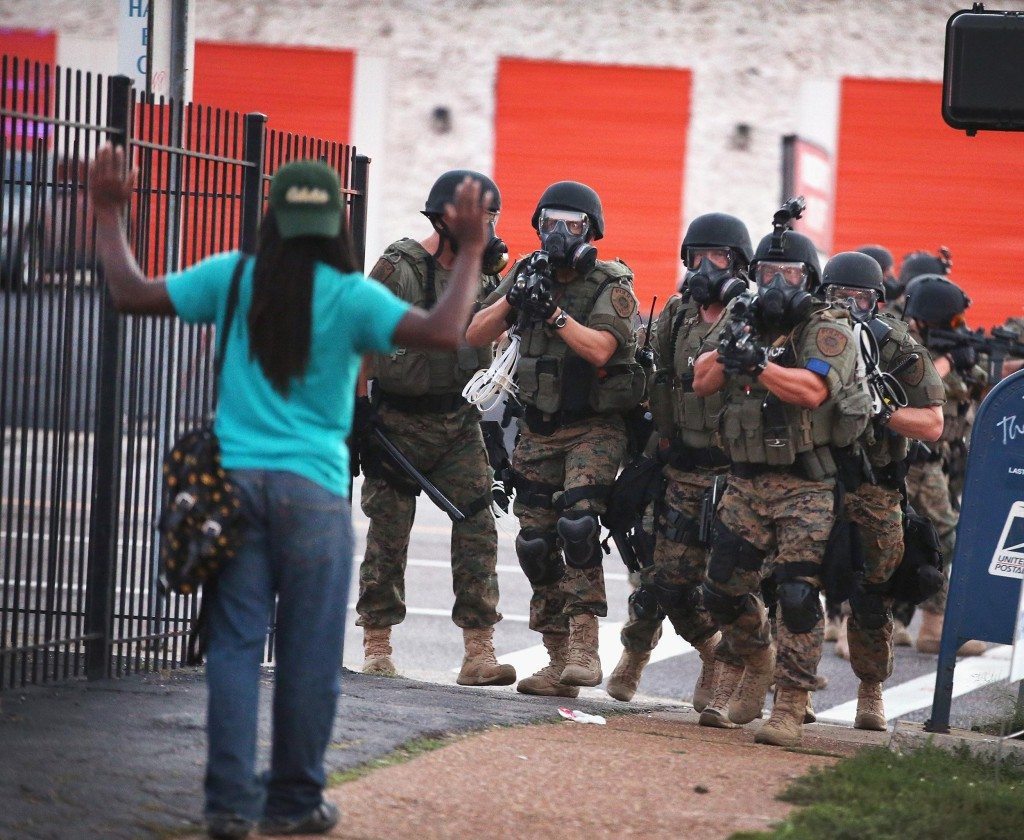 The officer had been with the force for about six years and was on a routine patrol when he encountered the two young men, Jackson said.
The Ferguson police force has 53 officers, three of which are black. Jackson said the city has had trouble recruiting and retaining black officers.
Nearly three dozen people were arrested following a candlelight vigil Sunday night as crowds burned stores, vandalized vehicles, assaulted reporters and taunted officers. A large crowd that gathered Monday at a burned-out convenience store turned rowdy at nightfall, with people throwing rocks at police, Jackson said. Officers used tear gas and shot "beanbag rounds" meant to stun them.
There were at least five arrests from Monday's unrest but no reports of looting, said Brian Schellman, spokesman for the St. Louis County Police Department.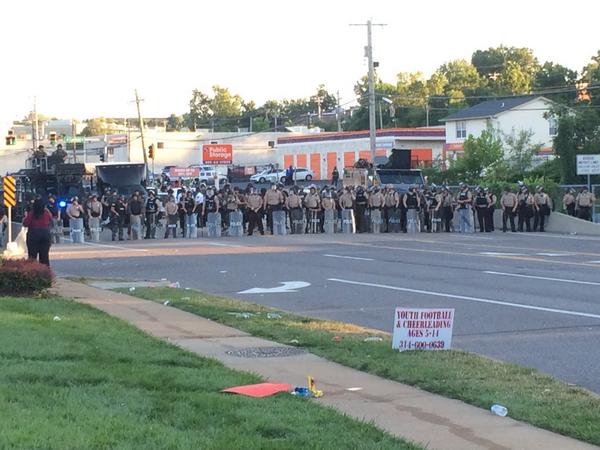 WITNESS COMES FORWARD
A witness to the shooting of 18-year-old Michael Brown has come forward to tell his side of Saturday's events.
Dorian Johnson was walking with Brown Saturday afternoon when the shooting happened. NewsChannel 5's Farrah Fazal was the only local reporter he spoke with.
Here are excerpts of Johnson's interview: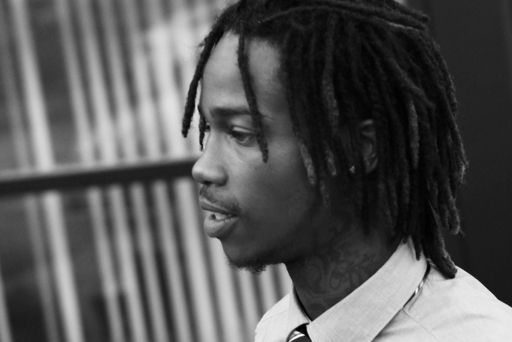 "It was around 1:40, two o'clock. We were walking down the street, empty street. We were just walking down, minding our business. We're both headed home, and the officer's approaching us, and as he pulled up on the side of us, he didn't say 'freeze,' 'halt,' or nothing like we were committing a crime. He said, 'Get the f*** on the sidewalk!' I told the officer we were not but a minute away from the destination."He never once attempted to grab for this officer's weapon."
"The first car I see, I ducked behind for cover because I feared for my life. I'm scared. I don't know what's going on. I don't understand why this officer is shooting his weapon at us."
"My friend stopped running, his hands went immediately in the air and he turned around towards the officer, face-to-face. He started to tell the officer he was unarmed and that you should stop shooting me. Before he can get his second sentence out, the officer fired several more shots into his head and chest areas."
"It was definitely like being shot like an animal. It was almost putting someone execution."

Indeed.

Stay tuned to Rastafari.TV for this developing story as it unfolds.

"An injustice anywhere…" A Ferguson resident takes a stand.