NAACP President Rachel Dolezal Caught Lying About Being Black (FULL VIDEO)
Some say she is likened to "black face" for denying her race. I ask, does she fulfill a part of prophecy that says the children of our former captors shall willingly come and serve us?" Is she a new generation of Caucasians that denounce white privilege, and recognize they and the WORLD are children of The Motherland?  Afterall, the whole WORLD is Africa!
——-
A controversy is raging over whether a prominent Washington state civil rights activist and Howard University graduate who claimed she was African American is actually white.
Rachel Dolezal, 37, is the president of the Spokane NAACP and has claimed to be the victim of a number of hate crimes. As questions were raised about the veracity of some of her reports this week, a white couple from Montana came forward to claim that Dolezal is their daughter.
Earlier this week, KXLY4 asked Dolezal about a photo posted to the NAACP chapter's Facebook page of a black man identified as Dolezal's father.
"I was wondering if your dad really is an African American man," Jeff Humphrey of KXLY4 asked Dolezal.
"That's a very … I mean, I don't know what you're implying," Dolezal said.
"Are you African American?" Humphrey said.
"I don't understand the question," Dolezal said. She walked off-camera as Humphrey asked: "Are your parents, are they white?"
Dolezal did not return requests for comment.
In a telephone interview with The Washington Post and others, Lawrence and Ruthanne Dolezal of Troy, Mont., said Rachel Dolezal is their daughter, and that they are Caucasian.
"There seems to be some question of how Rachel is representing her identity and ethnicity," Lawrence Dolezal said. "We are definitely her birth parents. We are both of Caucasian and European descent — Czech, German and a few other things."
The Dolezals provided The Post with family photos of Rachel as well as what they said was her birth certificate.
Lawrence and Ruthanne Dolezal, a Christian couple who adopted four young children — two of whom are black — while Rachel was a teenager, said her decision to misrepresent her racial background, if that's what she's doing, may be related to her family and social justice work.
"The adoption of the children definitely fueled her interest as a teenager in being involved with people of color," Ruthanne Dolezal said. "We've always had friends of different ethnicities. It was a natural thing for her."
Lawrence Dolezal said his daughter was involved in Voice of Calvary, a "racial reconciliation community development project where blacks and whites lived together," while at Bellhaven University in Jackson, Miss.
"You speak and sound and act and take on the mannerisms of the culture you live in," he said. When Rachel applied to Howard University to study art with a portfolio of "exclusively African American portraiture," the university "took her for a black woman" and gave her a full scholarship.
"You've got a white woman coming in that got a full-ride scholarship to the black Harvard," Lawrence Dolezal said. "And ever since then she's been involved in social justice advocacy for African Americans. She assimilated into that culture so strongly that that's where she transferred her identity."
He added: "But unfortunately, she is not ethnically by birth African American. She is our daughter by birth. And that's the way it is."
In telephone interviews with The Post, two of the Dolezals' adopted sons confirmed she is white as well.
Ezra Dolezal, 22, compared his sister's decision to conceal her race to blackface.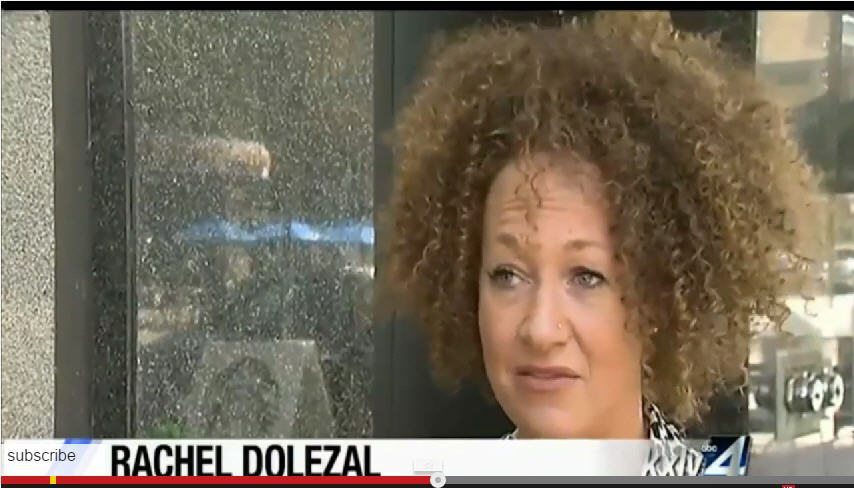 "Back in the early 1900s, what she did would be considered highly racist," said Ezra Dolezal, who described himself as "25 percent black." He added: "You really should not do that. It's completely opposite – she's basically creating more racism."
Zach Dolezal, 21, said when he visited his sister in Spokane, he was told not to speak of Lawrence and Ruthanne as their parents.
"It's a farce, really, is what it is," he said, adding he thought Rachel had posted a photo of a black couple from Spokane on her Facebook page and referred to them as her parents.
The Dolezals, it should be noted, are a family divided. Parents Lawrence and Ruthanne and brothers Ezra and Zach do not speak with their sister because, they say, she alleged abuse in the family and obtained custody of her 21-year-old brother Izaiah. Izaiah, who is black, lives with Rachel Dolezal in Spokane — and Rachel says he is her son, the family alleged.
Source: Washington Post