More than 30 killed in Ethiopia: Massive Addis Ababa, Bale and Shashemene Protests
Opposition party says at least 33 protestors shot dead by security forces in Oromia region and dozens detained.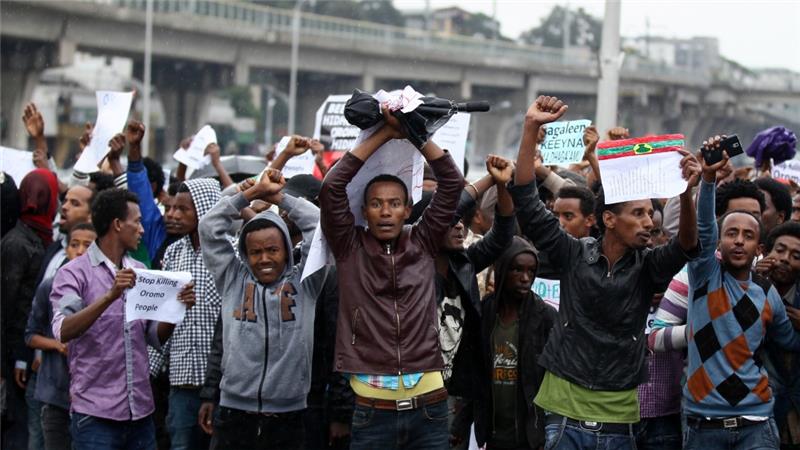 At least 33 people were shot dead by security forces in Ethiopia at the weekend in protests linked to an aborted government attempt to commandeer local land, opposition party officials said.
Police fired tear gas and blocked roads to several towns in the vast Oromia region as demonstrations erupted after a call from a spontaneous social media movement.
Ethiopian authorities had imposed a blanket internet blockade over the weekend.
Oromia saw unrest for several months until early this year, sparked by plans to allocate farmland in the region surrounding the capital for development.
Authorities scrapped the land scheme in January, but protests have flared again over the continued detention of opposition demonstrators.
At the weekend, protesters chanted anti-government slogans and waved dissident flags. Some demanded the release of jailed opposition politicians.

---
---
"So far, we have compiled a list of 33 protesters killed by armed security forces that included police and soldiers but I am very sure the list will grow," Mulatu Gemechu, Deputy Chairman of the opposition Oromo Federalist Congress, told the Reuters news agency.
The deaths took place in at least 10 towns across Oromia, he said, including Ambo, Dembi Dolo, and Nekemt – areas that were engulfed by previous rounds of protests.
"Twenty-six people have also been injured, while several have been detained," Mulatu said. Three members of his party were also being held, he said.
Government officials were not immediately available for comment, Reuters said.
The state-owned Ethiopian News Agency said "illegal protests" staged by "anti-peace forces" had been brought under control, but it did not mention casualties.
Oromia is the second region to be hit by unrest in the past few days. In Amhara, at least two people were killed in the ancient city of Gonder in clashes over the status of a disputed territory.
Tensions have been rumbling for two decades over the status of Wolkayt district – a stretch of land that protesters from Amhara say was illegally incorporated into the neighbouring Tigray region to the north