Mengistu & others say H.I.M. followers more Ethiopians than native Ethiopians
Loading advertisement...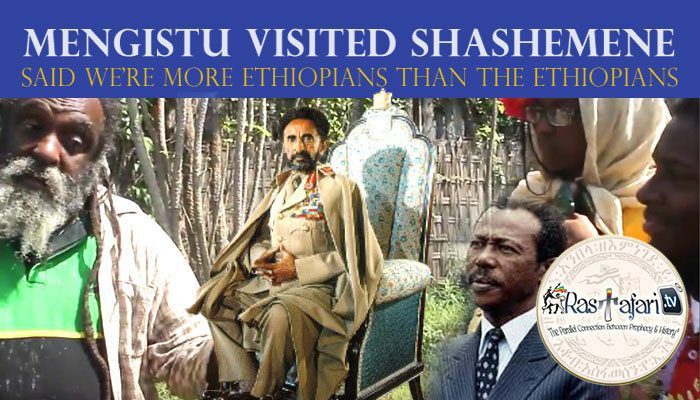 Up next
Blog Abroad: The 5 Most African-American Friendly Countries
Cancel
I Like This
Unlike
Like
Please Login to Vote
I Dislike This
Un-Dislike
Dislike
Please Login to Vote
Mengistu & others say H.I.M. followers more Ethiopians than native Ethiopians
"Are ye not as children of the Ethiopians unto me, O children of Israel? saith the LORD. Have not I brought up Israel out of the land of Egypt? and the Philistines from Caphtor, and the Syrians from Kir?" Amos 9:7
RasTafari TV Presented Our First Inaugural "Footsteps of Our Emperor" Tour and Pilgrimage to Ethiopia July 14-29, 2016.   On day 9, on the birth of our esteemed Emperor, H.I.M. Haile Selassie I, we visited Shashemene, the land grant livicated to all repatriates and returnees home to Ethiopia, through the Ethiopian World Federation, Inc., 1937.
Here, our blessed elder DES-I who arrived with his wife straight out of high school from Jamaica 42 years ago have not left since.  He gives a testimony of when the late ruler Mengistu visited Shashemene and proclaimed that Rastafari peoples and those who follow and love His Imperial Majesty are more Ethiopians than the native born Ethiopians.
This is not the first time we have heard this statement from Ethiopians nationals.  The late and great Abune Yesehaq, the High Priest and Archbishop of the Ethiopian Orthodox Tewahido Faith who was sent to the west by Our Emperor used to say the same thing. As a matter of fact, Abune Yesehaq believed this so much that he requested that his body be buried in Jamaica where it lies today at the Ethiopian Orthodox Tewahedo Church in Maxfield Avenue, Kingston. Abune Yesehaq requested that his remains stay in Jamaica until we all begin to repatriate, then we must take his bones with us when we return to Ethiopia.
Other monks, bahatawis (holy hermits) and clergy who visited us in the west used to proclaim the same thing that we were more Ethiopians than the Ethiopians themselves.  While many were running out of Ethiopia, the faithful children of Janhoy and Rastafari people were going INTO Ethiopia!
We witnessed growing up in the Ethiopian Orthodox Tewahido Church, many native Ethiopians who relocated to the west, would attend services in western garments instead of the sacred clothing of Ethiopia.  Women are supposed to keep their heads covered as a sign of honor and holiness, yet we witnessed Ethiopian sisters were attending with well made up faces, western clothing and heads uncovered.  While our children were taught to stand still during holy services, we witnessed Ethiopian children playing on smart devices and playing games during church. While we wore modest Ethiopian clothing, we saw Ethiopian females, mostly teens attending services in tight jeans and even workout tights, causing distraction during prayer.   Not ALL Ethiopians were like this, but we did see a fair share of this lack of honor for the ancient faith and break away from the ancient tradition. These Ethiopian clergy and monks who were sent to teach us was awed by our faithfulness and devotion to learn and teach our children the ancient languages of Amharic and even more ancient, Ge'ez along with the songs of St. Yared, the holy saint who composed the liturgical songs.
We've witnessed many Rastafari faithful and Orthodox members livicate their children to learn the language and attend Bible study until these same youth have now become clergy in the church.  Some of our youth used to be summoned to travel to teach the Ethiopian clergy in the west the ancient Ge'ez language and chants because some Ethiopian clergy who had moved to the west long ago had not learned or had forgotten this sacred language.
This is not a time for us to run away from our ancient Ethiopian culture and surrender to Vatican and Greco-Roman influence.  It's not a time to add false teaching or take away from our faith but to EMBRACE and PRESERVE this Divine Heritage.  We must learn all about our true culture and rich traditions and teach it to our children.  We firmly believe that we children of the exiled, born in the west are true Ethiopians and both native Ethiopians and those born outside of Ethiopia have much to learn and share with one another.  WE ARE ONE PEOPLE AND CALL FOR ONE UNITED AFRICA NOW!
Upon his 1966 visit to Jamaica, Our Emperor proclaimed that Jamaicans and Ethiopia are blood relatives.  We know this is true.  Read this interesting article on the connection of Jama Province Ethiopia and Jamaica.
This is a time to UNIFY ALL ETHIOPIANS/AFRICANS at home and abroad, with one mind, one heart, one aim, under ONE GOD over us all.  This is a time of blessings and woes and those who follow the Lion (Germawi Q'edemawi Haile Selassie) and the Lamb (Messiah Iyesus Kristos) wherever they go will be given a feast in famine time.  We shall be protected from the storm and pestilence and taken triumphantly out of the land of our captors, and brought back Divinely into the land of our ancestors.  This is a time to seek Our Creator more than ever and get it right with Our Divine.
Clean up our hearts and come.  If we relocate to Ethiopia with a foul spirit, we will die!  No sin shall enter into Zion! No sin shall enter in!  Repatriation is a SPIRITUAL MOVEMENT, orchestrated by Our Great Divine ONLY.  Not by fame, earthly government, might or riches shall we be chosen to participate in the final EXODUS home, but by FAITH and allegiance to the One True and Living God and obedience to His Teaching and LAW.
WAIT I SAY ON THE LORD!  BE OF GOOD COURAGE AND WAIT, WAIT ON THE LORD!