MEMORIAL: Nanny M.I.S.T.I.K. murdered in home in front of her children
Loading advertisement...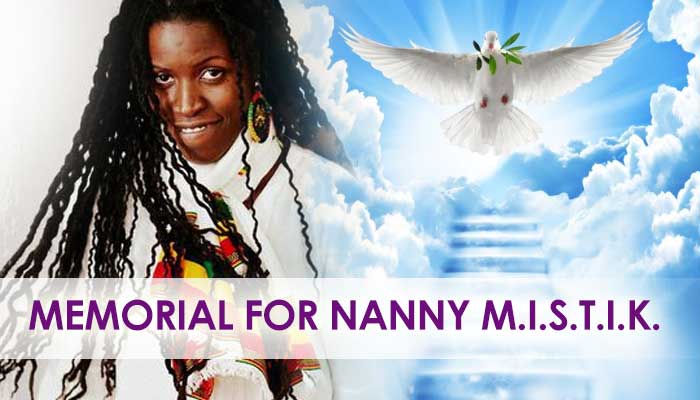 Up next
Are Ethiopians a Mixed Race? Results of Shocking Genetics Test
Cancel
I Like This
Unlike
Like
Please Login to Vote
I Dislike This
Un-Dislike
Dislike
Please Login to Vote
MEMORIAL: Nanny M.I.S.T.I.K. murdered in home in front of her children
Dacia McCalla, artistically know as Nanny M.I.S.T.I.K was a reggae sing/chanter, on the cusp of accomplishing her life long goal as a musician. That dream ended tragically on November 14, 2016.  She was brutally murder in her own home; a blow to her face/head left her unrecognizable. Her family are left with just questions, totally distraught. Her 2 young sons (5 and 10 yrs old) who she loved dearly, unfortunately had to witness their mother being bludgeoned to death; now motherless.
Due to the untimely manner of this tragedy, we have started a GoFundMe Campaign solely for the purpose of the covering expenses associated with laying her to rest; any balance with go towards the care of her children. We appreciate your kindness in advance.
It's alleged she was a victim of domestic violence and her life was taken in front of her precious children.   Our family at RasTafari TV Network send heartfelt prayers and condolences to the family, friends and fans of Nanny M.I.S.T.I.K.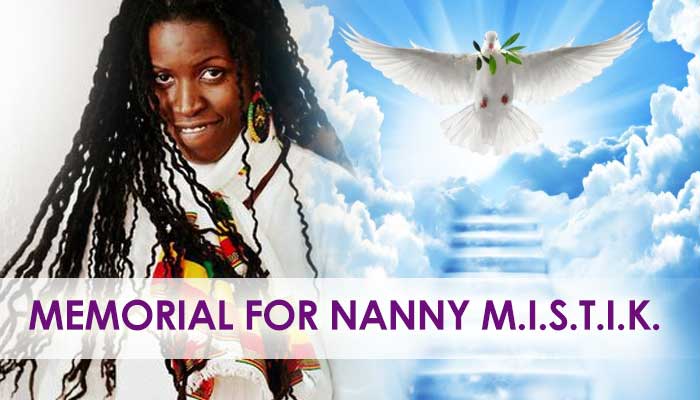 Nanny M.I.S.T.I.K. is known for tracks such "Rasta Luv", "Single Mother Story" and "Can We Go" which went #3 on Galaxy Radio Station in Europe. She has shared the stage with the likes of Lutan Fyah, General Trees, Marcia Griffiths, Exco Levi and Leroy Gibbons.
ABOUT NANNY M.I.S.T.I.K.
Dacia McCalla AKA Nanny M.I.S.T.I.K. is a singer/songwriter, chanter, poet, actress and radio personality who hails from Jamaica – the birthplace of Reggae music. Currently based in Toronto, her childhood in the Caribbean served as the foundation of her creative talents. As a teen, she would spend her lunch hours at the back of the classroom pounding out riddims on her desk while chanting her original lyrics.
When she left the island for Toronto, Canada her artistic expressions continued to flourish. Drama classes led to a personal discovery of her acting and poetry skills. So much so, that she began posting her poems online. Like many great artists, the written word could not be confined to poetry alone. Her writing expanded to form melodies, verses, and a rhythmic language of its own. Unlike her early years chanting, a beat was no longer needed.
The songs flowed from within. A proud Rastafarian, Nanny Mistik's spirituality is the guiding force behind the message in her music.The first part of her artist name is inspired by one of Jamaica's most-loved freedom fighters: Nanny of the Maroons. Meanwhile, M.I.S.T.I.K. is an acronym for Musically Inspired Spiritual Thought Increases Knowledge. Her passion for social change led her to pursue a career in International Development at York University in Toronto in 2009.
However, that goal was cut short when a teacher's strike and car accident forced Nanny to place her plans on hold. These life-changing events caused her to face her inner fears and boldly take her natural gifts in music to wider audiences. In just a few short years she has been steadily building an industry buzz both locally and internationally.
To date, some of her most notable performances and projects include:
2012
· Debut single – Rasta Luv / produced by Andrew 'Yardie' Evans / released on Yardie Muzik
· Single – Can We Go / co-written by Empress Minott / charts at #3 on Karma Reggae Radio Show / UK
· Performance – Durham Caribbean Festival, Toronto ON / Over 1,000 in attendance
· Performance – 12 Tribe of Israel H.I.M. Earthstrong Celebration, Montreal PQ
· Nominee – 'Best Newcomer' / Youth in Progress Talent Reggae Awards
· Co-host – Reggae Golden Staircase Radio show / with Puggy Simeon on CHRY 105.5 FM / Thurs. 4-7 p.m.
2013
· Performance – Rasta Nuh Ramp Roun' Here / Portland, JA
· Performance – Kings and Queens Royally and Loyally / featuring Marcia Griffiths, Leroy Gibbon, Loyal Flames
2014
· Single – Single Mother's Story / Judgement Day Riddim Compilation
· Ackeefest / Annual Toronto-based festival / 500 in attendance
Since its inception, Reggae music has been at the forefront of both politics and popular music. Nanny credits legends such as Peter Tosh, Burning Spear and Jacob Miller as her inspirations. When asked about why she does what she does – the artist responds, "Music is a powerful source of healing and truth."
MANAGEMENT: 1-647-504-7003