Year: 2008 Racism white supremacy in fashion
LeBron James was the FIRST "Black man in HISTORY to make the cover of Vogue.  Look closely, what movie does the cover remind you of?  If you said the big gorilla on King Kong, you're right!   Vogue Magazine said it was just coincidence and the editor resigned because of too much controversy.   He says he sees nothing wrong with the cover.  Others say he is helping to perpetuate a stereotype by representing the "Black" male as angry, savage and "White" woman as damsel in distress.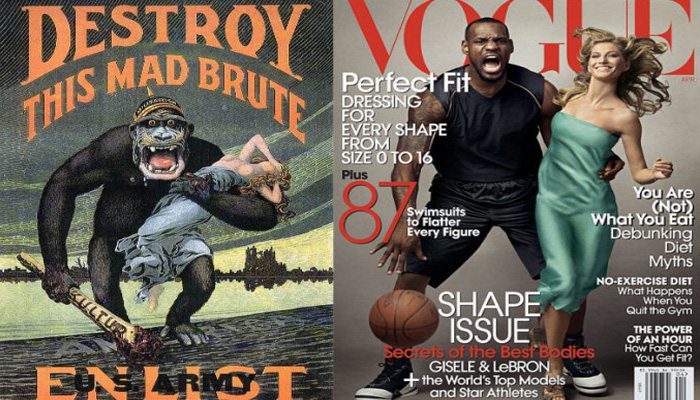 Sure, LeBron's a magnet for controversy, and he even acknowledged as much when asked about his appearance on the cover of Vogue. A beastly and intense King James appears next to the ethereal Gisele Bundchen in an image that ruffled feathers for playing into a variety of stereotypical depictions of black manhood. Some saw King Kong in the photo, some saw a generalized depiction of a dangerous black male and an angelic white woman. Whatever the case may be, there is something troubling about the fact that they styled LeBron like he was on the cover of a basketball magazine instead of a fashion magazine to me.  LeBron is not conscious of his roots, nor does he know himself.