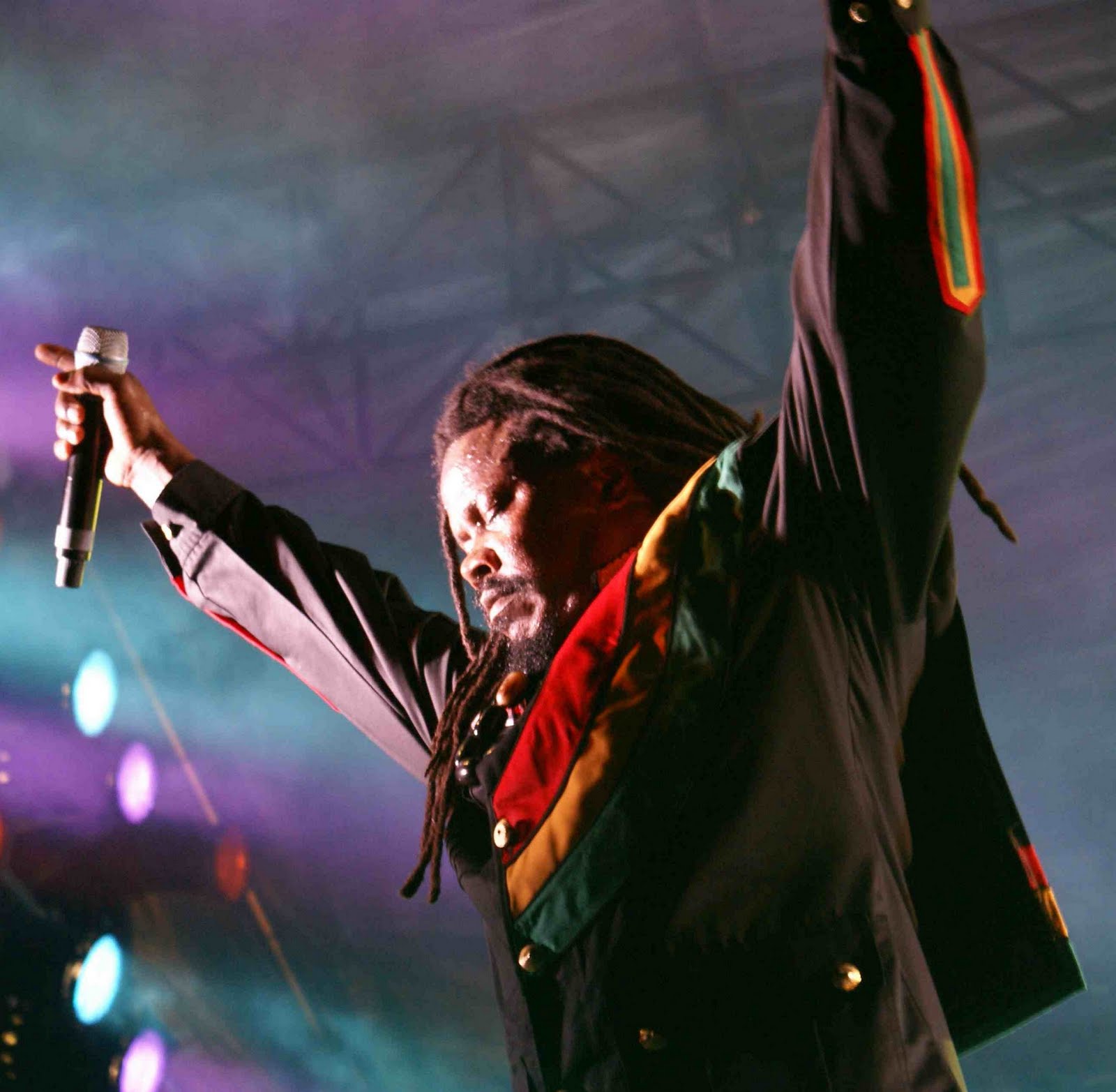 Jamaicans, Africans clash after Reggae star Luciano Cancel African Tour, contracts Chik-V, fears Ebola
Please read these three different articles, on why Luciano cancels African Tour and you will see why RTV is filtering out the filth!
The first article was published by The Herald Zimbabwe and then published by All Africa and the final by The Jamaica Star.  Both African newspaper did good reporting.  However, The Jamaica Star omitted very important information about Luciano's health, hence the cancellation. Seems the yellow fever shot he took days before did him no good and on top of that, he contracted the terrible Chik-V virus!
Question?  Why did The Jamaica Star omit such important information? Why make the public read to believe Luciano was scared and betrayed his fans?   His immune system was compromised, and under strict doctors orders he is advised not to travel ANYWHERE!   Why publish to cause strife among our people?  I'm sure Africans would've sympathized more knowing our bredren was recovering from chikungunya.
On another note, some Africans are right.  Jamaicans and (People in general) need to strop believing everything Babylon publish about The Motherland.  Jamaicans also need to look to Africa, the fastest growing economy and not their failing economy, now a nation of instability and rampant violence.  Let's not mention the garbage and sewage disposal hazards lurking on the beautiful island still controlled by colonial pirates.  Reggae Music hail Repatration as a must and thus reminds us not to trade and little island for Our Continent, our Biblical Inheritance.
Our RTV family continue to send prayers, healing and protection to all children of the Most High, especially those suffering from dis-ease and genocide.  We will keep you posted on our End Ebola Campaign and please guard your immune system as we are under attack by man made bio-chemical warfare!   Do your research people and find the TRUTH.  Stop subscribing to diluted news.

Reggae star cancels Zimbabwe tour over Ebola fears
Source 2: 

All Africa

 

Published Below:
October 9, 2014 — 

Luciano, the Jamaican roots reggae artist, has cancelled his upcoming Zimbabwe performance scheduled for the November 1 due to being "not in the best of health" and his home country's travel advisory against visiting Africa

"Luciano is still in the island; he has changed his mind about going to Africa. I can confirm that as of this morning, he is not going to Africa. Luciano was all set to go on Saturday, but he has been doing his research about the disease and changed his mind," Sonia Sterling, the artist's booking agent said.

She explained that he is not in the best of shape, healthwise and this may have played a major role in his decision.

"Luciano did the yellow fever shot the week before, and the thing with it is that the shot pulls you down for a few days because it introduces a virus in your body. Then, to make matters worse, he got chikungunya the next day, so we had to change the ticket from Tuesday to Saturday. He recuperated and then began to start read up and said "this thing is dangerous". I offered to cancel Ghana, and just do South Africa, but he doesn't want to do it,"

She added that promoters would be losing a lot of money due to the cancellation of the Zimbabwe gig AND the scheduled Malawi tour and subsequent South Africa performances.

"We had seven dates lined up, this tour was booked from February for shows in Zimbabwe, Malawi and South Africa. We are trying to work things out with the promoters, like possibly doing the shows without paying the balance.

The promoters are trying hard for it to happen, they even sent up clippings with Shaggy in Uganda, they want to save the shows, but Luciano is not going, I can confirm that this morning," Sterling said.

*********************************************

Artiste's cancelled tour causes online dispute
Source:  Jamaica Star
Reggae artiste Luciano is currently caught in a tug of war situation between his Jamaican and African fans after pulling the plug on his African tour because of the Ebola outbreak. The artiste, who received backlash from many Jamaicans on social media, after he announced that he was going to perform in Malawi, is now under attack from African fans who claim that the self-proclaimed 'messenger' betrayed Africa.
Luciano intended to perform in Malawi on October 19, however, following an article published in the Malawi Nyasa Times newspaper which alleged that the country had two suspected Ebola cases and a stern warning from the Jamaican Ministry of Health, Jamaican fans urged the singer to reconsider travelling to the continent. His booking agent, Sonia Sterling, later made an announcement that the singer was not going to leave the island for Africa.
Expressing betrayal
As news spread on social media about the cancellation of Luciano's performances in Africa, several seemingly upset Africans took to THE STAR's Facebook page, expressing feelings of betrayal.
"So discouraging; you talk about repatriation then live it. What if it was in the USA, am sure you would neva have cancelled. As an African from Kenya, I feel so betrayed by the fact that a big man like Luciano turned down his fans and chose to let babywrong control him mind. You let Africa down during this critical time that the western countries are spreading rumours that Ebola virus is in the whole African continent while dem know that pure lie," James Mofaya said.
Rampant Violence
Another African, Tolbert Mundu, took jabs at Luciano's moniker, 'The Messenger', saying that a real messenger would still travel to the continent to spread his message through music. He also said bashed Jamaica in his rant.
"Jamaica is faced with rampant violence, immorality, spiritual distortion … yet Africa looks up to it for guidance. Just like the elephants that Burning Spear saw. Africa and Jamaica should depend on each other. This is the message that a true messanger should send. Really disappointed by Luciano," he said.
Some of the upset Africans also threw jabs at Jamaica's economy.
"Such an ignorant bunch of people … smh. Ebola is basically in Liberia and just one or two other west African nations, not the whole continent as you're misguided to believe … anyway what good can a Jamaican bring to the fastest growing economy in the world? Africa. You don't hear us saying we can't go to Jamaica because the economy is in shambles, no water in the drainage pipes and the insecurity is high … every place has its problems … Ebola is a containable issue just like any other problem can arise," said Peter Mwanje.
One particular African was so upset that he even rejected prayers from Jamaicans, stating that the island's poor economy needed prayer more than Africa.
"Pray for yourselves in Jamaica; Africa we are safer than ever, pray for your downing economy pray for your people pray for the island," Abdi Di'genius said.
Some Jamaica's however came to Luciano's defence, stating that the singer made the right decision for his own safety.
"I understand that there are some Africans on here, I still haven't heard any sense of remorse from any of them for the West Africans. Instead y'all bashing Luciano, the choice was his. He has been going to Africa for many years now he's very smart too, so it must be something he understands that you people failed to #Wecantcontrolebola," Shan Bryan posted.
CURTIS CAMPBELL, STAR Writer
Source: Jamaica Star