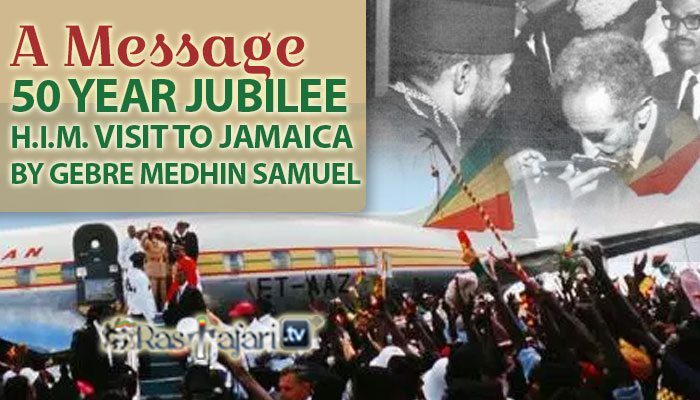 Gebre Medhin Samuel Message to RasTafari People regarding 50 Year Jubilee
April 21, 2016 marks the Jubilee/50 Year Anniversary of H.I.M. Emperor Haile Selassie I's visit to Jamaica in his historic Caribbean Region tour. We have been seeing some very disturbing emails from the many "houses" of the Rastafari faith, arguing about the order of celebrations of this day. It seems nothing concrete has been organized and community leaders cannot seem to agree on appointing a worthy delegation to oversee the various festivities.
We are sharing this important message from Bro. Gebre Medhin Samuel a member of The Ethiopian Orthodox Tewahido Faith in Jamaica with our with my Rastafari Brethren & Sisters:
"Beloved sons and daughters of Rastafari. The 50th anniversary of the visit of His Imperial Majesty Emperor Haile Selassie will be celebrated in Jamaica with great pomp and ceremony it is hoped.
What though brothers and sisters is the true significance of such a historical visit when thousands upon thousands from all over the island made their way to the airport to welcome His Majesty on that day 50 years ago? A State event became the people's day for the Elect of God, 225th descendant of King David, walked amongst us, talked to and with us and even gave some of us Gold medals as a token of his appreciation of our zealous love for him.
The Rastafari community who has been keeping the fire of redemption and repatriation alive, truly believed God in flesh was with us and true it was for God through his anointed Head Servant, Seyoume Egziabhier Atse Haile Selassie, came amongst us and gave us all hope for the future Rastafari and all.
What will the 50th anniversary yield for us? Will it be another opportunity for the University of the West Indies who failed Rastafari from the first Report, amongst other agencies and individuals, to continue treating Rastafari like a ridiculed yet interesting group worthy of study? What tangible things has the university made available to Rastafari after all these years of studying and interactions? Do they for example offer scholarships to a number of Rastafari?
Will those determined to make ganja sacramental to Rastafari whilst it's real commercial potential benefit only a few amongst In I succeed? Or will it provide funding for necessary sustainable institutions such as Care centers for the Elders, Education, Economic development etc? Has the Marley Foundation made any such commitments? What of the Mansions?
Will the gathering commit to set the records straight and address the issues surrounding EWF Inc, Pinnacle, Shashamane, Fairfield House, and other places of historical significance to Rastafari? What of our brothers and sisters considered stateless in Ethiopia?
Will it commit to convening a International Conference where the fundamental Pillars of Rastafari will be reasoned upon and declarations passed?
Will it address and act against the increasing effort to add more confusion to the Movement and thereby bring more disruption and ridicule to the good name of our Negus Atse Haile Selassie?
Will it commit to universal recognition of the Church of Ethiopia of which the Emperor is the Head? Of which he never failed to worship in and promote? Of which at his Coronation he swore to defend the Orthodox Church of Ethiopia and which he also enshrined in the country's first constitution that all future Emperors including himself would uphold and defend the Faith?
Or will we continue to add confusion to confusion so you have today those who are disciples of His Majesty as God and Prince Emnanuel or Primus St.Croix or Berhane Selassie as Christ? Or Romans attempting to write the theology of Rastafari as though we forgot both Adowa and the more recent 5 year exile of Atse Haile Selassie?
I humble submit the the real significance must be amongst other issues the introduction of His Church to provide us with spiritual guidance whilst his teachings along with Hon. Marcus provide the political and economic teachings.
Don't be deceived. He came to give us hope and he sent his emissary Abune Yeshaq to introduce the Church and to encourage us but did we miss HIM? Yes he came and many of us missed HIM.
His Majesty visited Trinidad and Tobago a few days before he visited Jamaica where besides addressing parliament he also lay the foundation stone for a new church in Tobago and he prayed both there and in Medhane Alem in Trinidad. He also visited Haiti the first independent black nation outside of Africa.
The major challenge is we are not strong enough to admit that we made mistakes and begin to set it right?. It is not too late for a shower of rain as Mama Baugh one of the early pioneer settlers in Shashamane said.
This 50th anniversary can truly be a time to commit to putting things right but first we must agree to come together as one and work towards that goal unity he has not only encouraged us Rastafari but all Africans and all people's of the world."