Ethiopia declares official mourning after stampede killed 52 in political protest
Loading advertisement...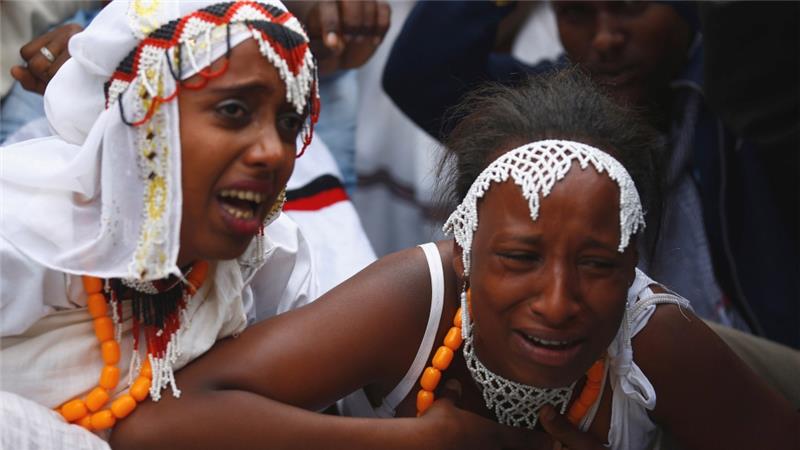 Up next
Internet Takeover by the U.N. Started Oct 1st 2016, some concern of global censorship
Cancel
I Like This
Unlike
Like
Please Login to Vote
I Dislike This
Un-Dislike
Dislike
Please Login to Vote
Ethiopia declares official mourning after stampede killed 52 in political protest
Protests continue in Oromia after 52 people killed in a stampede after police fired tear gas and warning shots.
Ethiopia has declared three days of national mourning after a stampede at a religious festival in Oromia, which started after police fired tear gas and warning shots, killed at least 50 people.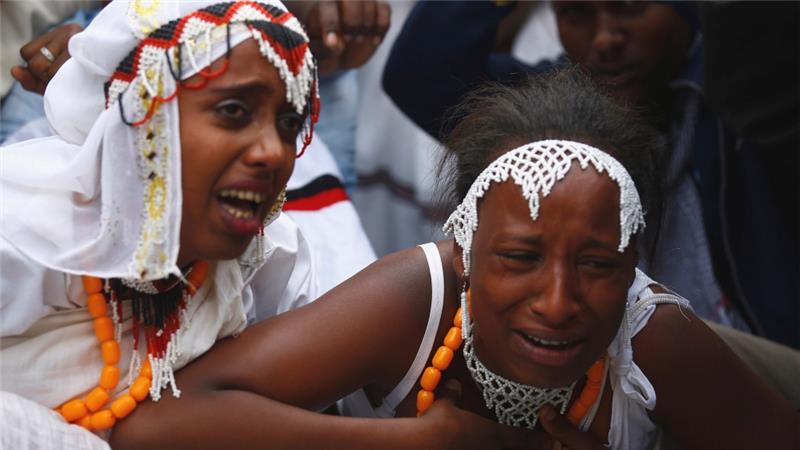 ETHIOPIA PROTESTS:
Protests in Oromia started in November last year when the government announced a plan to expand the capital – a city-state – into the surrounding Oromia region.
Many Oromos saw that as a plan to remove them from fertile land. The scheme has since been dropped, but the unrest spread as demonstrators called for the release of prisoners and for wider freedoms.
In the Amhara region, demonstrations began over the status of a district – Wolkait – that was once part of Amhara but was incorporated into the neighbouring Tigrayan region more than 20 years ago. Those demonstrations have also since widened.
The ruling Ethiopian People's Revolutionary Democratic Front is a multi-ethnic coalition made up of four parties. The opposition and political analysts, though, say it is dominated by the Tigrayan People's Liberation Front.
The Government Communication Affairs Office said in a statement that flags across the country and at Ethiopian embassies and consular offices would be lowered to half-mast starting from Tuesday, the state news agency reported.
"The country declares the mourning following the death of people who lost their lives because of the violence instigated by anti-peace elements," the government said.
Oromo opposition leaders say the stampede was sparked by police firing tear gas and shooting in the air to disperse people at the festival. Sections of the crowd had started to shout anti-government slogans and make anti-government gestures, according to media reports.
Witnesses said people were crushed, and others fell into ditches as they tried desperately to escape the police.
The Associated Press news agency reported clashes between security forces and protesters on Sunday evening and on Monday morning in the towns of Bishoftu and Ambo after the incident.
"Some people tried to come out en masse this morning to protest the deaths of holiday-goers on Sunday and also demand the release of people arrested during the celebrations," said Nimona Negash, a tuk-tuk driver in Bishoftu, where Sunday's disaster happened.
"Today's protesters were peaceful but dispersed by police violently."
He said family members of people who died in Sunday's stampede and others looking for their relatives were flocking to Bishoftu, creating tension there.
According to the New York-based Human Rights Watch group at least 500 people have been killed by security forces since anti-government protests began in November. Though demonstrations started among the Oromo, Ethiopia's biggest ethnic group, they later spread to the Amhara, the second most populous group.
Both groups say that a ruling coalition is dominated by the Tigray ethnic group, which makes up about 6 percent of the population.
Authorities have blamed rebel groups and dissidents abroad for stirring up the protests and provoking violence.
The government has denied that violence from the security forces is systemic, though a spokesman has previously told Al Jazeera that police officers "sometimes take the law into their own hands", pledging an independent investigation.
The Ethiopian People's Revolutionary Democratic Front ruling party in August rejected a United Nations request to send in observers, saying it alone was responsible for the security of its citizens.
A government statement on Sunday said "those responsible would face justice".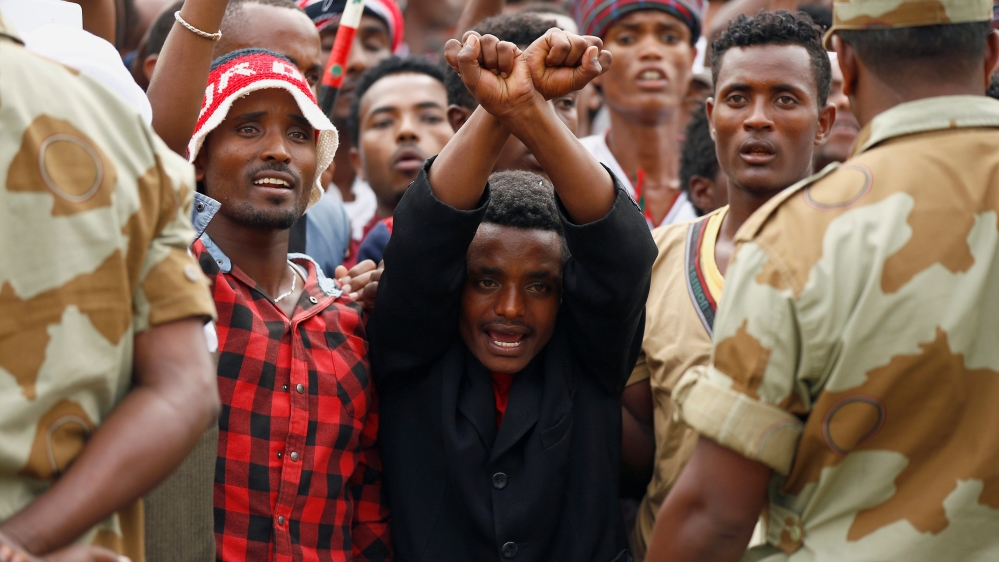 Experts say that a fter 25 years of control over the country's public life, the ruling party is facing its biggest political challenge yet [ Reuters]