The Greenhouse for dew harvest & rain water collector
In many parts of the world, droughts and an increasingly dry, arid climate have lead to water scarcity and in tandem, food scarcity too. A group of researchers in Northern Ethiopia are tackling the issue by creating a very low-tech solution that could have a huge impact.
The Roots Up project, a non-profit organization affiliated with Ethiopia's University of Gondar, has developed a dew collecting greenhouse that could help farmers grow fresh vegetables even in times of drought and also act as a source of clean drinking water.
The simple design uses low-cost materials to both improve plant-growing conditions inside and act as a water harvester, making it an attainable technology for area farmers. The initiative wants to support highland farmers who've been facing low crop yields and food insecurity because of drought.
The greenhouse traps hot air and humidity during the heat of the day, creating a better atmosphere for plant growth and then at night, a rope can be pulled that opens up a latch at the top of the greenhouse that lets cool air in, eventually reaching the dew point and creating condensation. The water droplets are channeled into a collection cistern and can be used for drinking water or for irrigation.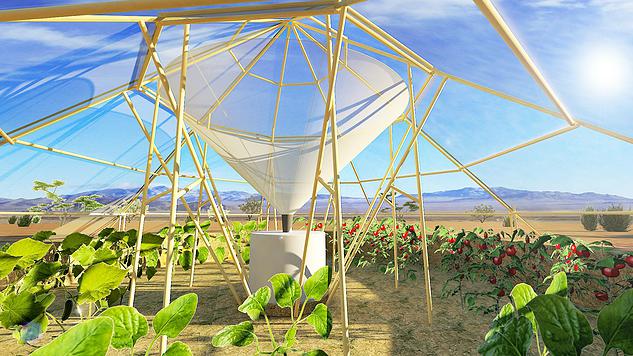 In times of rain, the design can also be used as a rainwater collector.
Roots Up plans to deploy these greenhouses in Northern Ethiopia soon and will offer training to local farmers on how to maximize their crop yields using the technology. To see more about the project, watch the video below.
Source:  Treehugger.com