Call for Emperor Haile Selassie's statue to be erected outside OAU and those who object
Loading advertisement...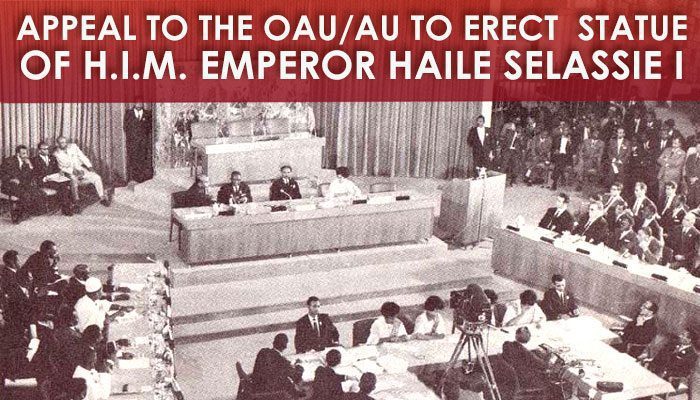 Up next
St. Elias Congregation Ethiopia CONFESS to being an anti-Christ movement
Cancel
I Like This
Unlike
Like
Please Login to Vote
I Dislike This
Un-Dislike
Dislike
Please Login to Vote
Call for Emperor Haile Selassie's statue to be erected outside OAU and those who object
CALL TO ACTION: As Addis Ababa prepares for grand festivities, galas and events in celebration of the 50th Anniversary of the establishment of the African Union (AU), formerly known as the Organization of African Unity (OAU), on May 25, 2013, we, Africans, and peoples of African descent, pay homage to the visionary leader of the OAU, His Majesty Emperor Haile Selassie. We honor the "Father of Africa," Emperor Haile Selassie, for his visionary leadership and everlasting contributions to the freedom and independence of Africa and African peoples, and for the key role he played in establishing the OAU/AU.
We, Africans and peoples of African descent, appeal to the OAU/AU to build and erect, center front of the OAU/AU building, a statue of Emperor Haile Selassie in symbolic honor and respect for his unparalleled dedication, commitment and contributions to African independence and unity, and to the establishment of the Organization of African Unity.
It is a well-known fact that prior to the establishment of the OAU/AU, a major rift existed between African nations on how the concept of African Unity should be implemented. This divide resulted in the establishment of two main separate factions: The Monrovia and Casablanca groups. These two groups had opposing philosophical beliefs regarding the implementation of African Unity. The Monrovia and Casablanca groups also differed in opinion on the autonomy or scope of authority that should be warranted to an organizing body tasked with the responsibility of making the vision of African Unity come to fruition. As the philosophical differences between these two groups in the late 50s and early 60s continued to grow, the prospects of achieving African Unity appeared bleak.
It was not until after the relentless diplomatic efforts of the then Foreign Minister, His Excellency Ketema Yifru, and under the visionary leadership of Emperor Haile Selassie, that the Monrovia and Casablanca groups reconciled their differences in Addis Ababa, Ethiopia culminating in the establishment of the OAU/AU on May 25, 1963. History can neither forget nor deny the riveting and compelling speech made by the "Father of Africa," Emperor Haile Selassie, who, in uniting the two splinter groups by hosting the First Conference of African Heads of State, also declared in his address:
This Conference cannot close without adopting a single charter. We cannot leave here without having created a single African organization possessed of the attributes We have described. If We fail in this, we will have shirked our responsibility to Africa and to the people we lead. If we succeed, then, and only then, will we have justified our presence here.
It was this call of duty Emperor Haile Selassie bestowed upon African Heads of State, many of whom were assembled out of the great admiration and respect they had for him and the gallant history of Ethiopia, that a single unifying charter was drafted and ratified enabling the vision of African Unity to become a reality.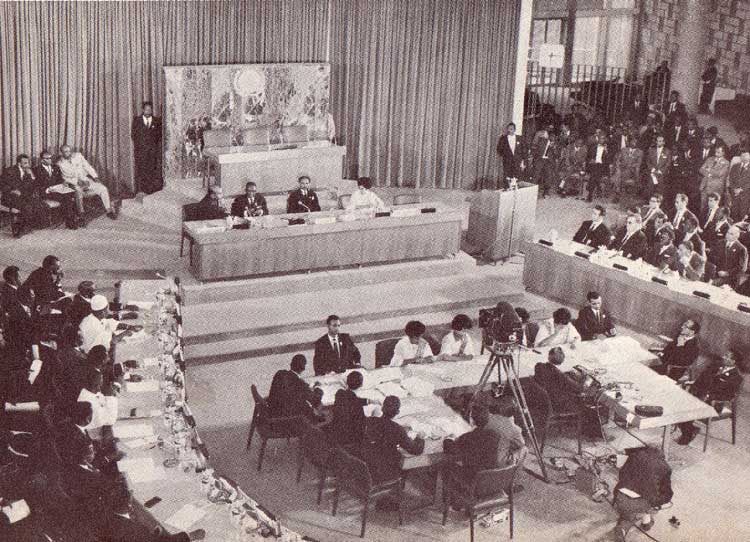 It is an undeniable fact that Ethiopia and, particularly, Emperor Haile Selassie played a pivotal role in the establishment of the OAU/AU more than fifty years ago. In reflecting on the Ethiopian contribution to the creation of the OAU, Gwendolyn Carter, in her book entitled, National Unity and Regionalism in Eight African States, affirmed that "What Nasser or Nkrumah or the Casablanca or Monrovia… grouping could not do, [Emperor] Haile Selassie accomplished with little difficulty." Carter further attests that during Emperor Haile Selassie's era, "Ethiopia committed itself to Africa…[and that] the Ethiopian government [was] an important spokesperson for Africa not only in the United Nations, but also in diplomatic exchanges with the United States and other countries." This may also be said about the role Ethiopia and Emperor Haile Selassie played on an international level as well.
As recorded in history, Ethiopia joined the League of Nations on September 28, 1923. This was seven years after Emperor Haile Selassie was appointedRas, one of the highest rankings in the Ethiopian nobility, and approximately forty years prior to the establishment of the OAU. Emperor Haile Selassie's conscientious decision for Ethiopia to join the League of Nations, and the subsequent role Ethiopia assumed in the UN representing not only itself, but the interest of Africa and Africans as well, arguably served as the impetus towards the establishment of the OAU, in which Emperor Haile Selassie undeniably played a formative and leading role.
Emperor Haile Selassie was a firm believer in and strongly committed to the principles of collective security and world peace. Despite being abandoned by the League of Nations when Ethiopia was invaded by Fascist Italy in 1935, Emperor Haile Selassie demonstrated his commitment to collective security when Ethiopia was called for duty. In 1951, in support of the United Nation's (UN) mission during the Korean War, Emperor Haile Selassie sent over 3,000 Ethiopian troops, including those from his own Imperial Guard, to fight as part of the American-led UN force supporting South Korea. The Ethiopian troops gallantly fought as part of the US 7th infantry division, at a time when the US military just started to become racially de-segregated. The heroic Ethiopians fought in 253 battles, including the Battle of Pork Chop Hill, against the communist North and its ally, China. Ethiopia was the only country in which not one of its citizens was taken prisoner of war.
Emperor Haile Selassie demonstrated his unwavering commitment to the principles of collective security and the independence of Africa and Africans in the case of Congo as well. In an effort to liberate the Congolese from Belgian rule and ensure the existence of a unified and independent Congo, Emperor Haile Selassie sent 3,000 Ethiopian troops, constituting ten percent of Ethiopia's military resource at the time, to Congo from 1960-1964. The outcome resulted in the restoration of independence, peace and stability including the prevention of Katanga's secession from Congo. There is a section in Addis Ababa Stadium that was named in honor of the Ethiopian patriots sent to Congo by Emperor Haile Selassie as part of the UN peace – keeping force. That section to this day is known as Katanga and represents the area where the Ethiopian troops sent to Katanga previously sat.
Ethiopia and Emperor Haile Selassie, in particular, played an instrumental role in supporting liberation movements in Africa to ensure freedom, independence, stability and lasting peace. The highly adorned freedom fighter and African leader, former South African President, Nelson Mandela, confirms this assertion as well. In his Autobiography, Long Walk to Freedom, President Mandela asserts the significance of Ethiopia and Ethiopianism as the inspiration for his political party, and the struggle for freedom in South Africa:
"[The] fundamental tenets of the Ethiopian movement were self-worth, self-reliance and freedom. These tenets drew the advocates of Ethiopianism, like a magnet, to the growing political movement. That political movement was to culminate in the formation of the ANC in 1912. It is in this sense that the ANC traces the seeds of the formation of our organization to the Ethiopian Movement of the 1890s."
Prior to the establishment of the OAU in 1962, Nelson Mandela met with Emperor Haile Selassie, and explained the plight of South Africans under Apartheid rule. During his time in exile, Nelson Mandela received military training in Ethiopia, and was provided with a Bulgarian made handgun. He was also issued an Ethiopian passport and given the chance to re-enter South Africa under an alias name and Ethiopian identity to continue the struggle for freedom and independence.
In his Autobiography, Nelson Mandela stated, "Ethiopia always has a special place in my imagination and the prospect of visiting Ethiopia attracted me more strongly than a trip to France, England and America combined. I felt I would be visiting my own genesis, unearthing the roots of what made me an African." As the former President of the last African country to gain its independence from White colonial rule, and Africa's de-facto Spiritual leader, Nelson Mandela is unarguably the most respected leader in Africa since Emperor Haile Selassie. As an African leader of Nelson Mandela's stature, morality and contributions, despite being deserving of accolades and admiration in his own right, Nelson Mandela demonstrates the utmost respect and deference to the "Father of Africa," Emperor Haile Selassie, and to Ethiopia as his spiritual homeland. The same sentiment about Emperor Haile Selassie and the significance of Ethiopia expressed by Nelson Mandela and countless others in the Black Political movement and beyond is also shared by millions of Africans and peoples of African descent around the world.
There are many other examples that demonstrate why Emperor Haile Selassie has been dubbed the "Father of Africa." During the repatriation or back to Africa movement, to his children of African descent that had been dispersed in foreign lands, Emperor Haile Selassie, the "Father of Africa," provided a spiritual homeland. To his sons and daughters throughout Africa, Emperor Haile Selassie, the "Father of Africa," provided scholarships to the then Haile Selassie I University, now known as Addis Ababa University, so that the dream of African Unity could be realized.
In 1937, under the direction of the "Father of Africa," Emperor Haile Selassie, Dr. Melaku Bayen, an Ethiopian foreign-exchange student, established the Ethiopian World Federation, Inc.  (EWF) in Harlem, New York. The EWF was arguably the first international organization encompassing of all peoples of African descent that physically linked Africans and the Black Diaspora for a common purpose in Africa. This organization galvanized African Americans to sign up and actually fight alongside their Ethiopian brethren for Ethiopia's independence against Fascist aggressors. It was an unprecedented event in history, the first of its kind, which physically linked the struggle of African Americans and Africans towards collective action.
If it has been established by history that Ethiopia, and, Emperor Haile Selassie, in particular, played a key, formative and instrumental role in establishing the OAU/AU, then why is it that Emperor Haile Selassie was denied the symbolic honor of a statue in front of the newly built African Union building? Was this intentional or indicative of a conscientious decision made by African Heads of State, a particular committee, sub-committee or the idea of a select few? What was the criteria and process for selecting the former President of Ghana, Kwame Nkrumah, another great African leader also deserving of recognition for his contributions to the OAU? Did his selection rule out the possibility of a statue being built in honor of Emperor Haile Selassie or for that matter other founding fathers of the OAU? What was the rationale behind building a statue in the first place? We, Africans and peoples of African descent, want to know the details.
More importantly, we Africans and peoples of African descent, with utmost conviction compellingly call for a statue of Emperor Haile Selassie to be erected center front of the OAU/AU building in Addis Ababa, Ethiopia. Emperor Haile Selassie is more than deserving of this honor for his demonstrated vision and leadership in establishing the OAU/AU, and for his everlasting contributions to the freedom and independence of Africa and African peoples.
Let us all join hands in supporting this initiative and appeal to luminary African Leaders, like-minded institutions of the world in general and the OAU and its leadership in particular, to see to it that His Majesty, Emperor Haile Selassie's statue be erected and take its rightful place alongside President Nkrumah, front and center of the AU/OAU headquarters in Addis Ababa, Ethiopia.
Please click the link below to sign SelassieStandUp.org's petition:
https://www.change.org/petitions/the-african-union-au-build-statute-of-his-majesty-haile-selassie-center-front-of-au-building
The author can be contacted at: SelassieStandup@gmail.com
For more information, please visit https://www.SelassieStandUp.org
SOME OPPOSE THIS STATUE READ ON:
Emperor Haile Selassie was no pan-Africanist. In fact there is overwhelming evidence of his autocracy and rejection of the Black cause. It will be an injustice to African history to erect his statue at the new AU headquarters in Addis Ababa.
H.E. Mr. Erastus Mwencha
Acting Chairperson of AU Commission
African Union Head Office
Addis Ababa, Ethiopia
Chairperson@africa-union.org
Your Excellency,
The Ethiopian Pan-African Society would like to express its views on the demands by Ethiopian individuals forwarded to you to consider the erection of the statue of ex-emperor Haile Selassie along with that of Dr. Kwame Nkrumah at the premises of the new AU headquarters. We strongly urge you not to consider this demand as the ex-emperor was neither a pan-Africanist nor a model head of state to be emulated.
Whether or not the ex-emperor of Ethiopia has contributed to Pan-Africanism cannot be judged:
• out of abstract sentiment or out of opposition to the current regime in Ethiopia
• through the songs of Bob Marley, other Rasta reggae singers or through the Ethiopian singer, Tewodros Kassahun
• through sentimental anecdotes on such as what happened at the founding conference of the OAU in 1963 as a certain Mismaku did recently.
1. Africa is in a deep crisis emanating from a prevailing system of governance that is corrupt and dictatorial through and through. That calls for an egalitarian system of governance that takes the crying plights of the ordinary African into consideration. Cultivating the new generation of Africans imbued with the spirit of Pan-Africanism that springs from the plight of the poor and with freedom and democracy in the first place is an absolute pre-requisite. Construction of Africa's own history can be part of this process of cultivating such a new generation. The place we give to past heads of state in the contemporary history of Africa is as crucial. This is where our serious objection to the eulogy paid to the ex-emperor of Ethiopia.
Anybody who has contributed to Pan-Africanism must be judged by the person's contribution to the construction of the very thought of Pan-Africanism; or by what they did in practice to advance Pan-Africanism be it in the area of liberating Africa from colonisation or by a construction of ideas towards an egalitarian (democratic and free) system of governance for the continent. To that extent, the ex-emperor of Ethiopia or his government had not done anything exceptionally more than what the rest of independent states of Africa did at the time. The support the ex-emperor rendered to the Kenyatta family during Kenya's struggle against British colonisation and the military training given to Nelson Mandela before his imprisonment were not exceptional at all as other African governments, the front line state to Southern Africa in particular, had done more to the extent of being attacked by the apartheid regime. Tanzania and Zambia have been attacked and Mozambique in particular was subjected to regular aerial bombardment by apartheid forces, which finally shot down an aircraft killing the country's president, Samora Machel. (Speaking of statues, Samora Machel, Edwardo Mondlane, Amilcal Cabral, Patrice Lumumba were real heroes of Africa's liberation and who stood for Pan-Africanism and sacrificed for it. These are the ones who deserve statues along with Nkrumah.)
2. At the beginning of the second millennium, the BBC held an opinion survey and collected votes from its listeners in Africa as to who their 'African of the Millennium' was. Kwame Nkrumah was voted first by a huge margin followed by Nelson Mandela in the second place. It is for their monumental contribution to Africa's liberation and to the thought of Pan-Africanism as well as for their exemplary role that Kwame Nkrumah and Nelson Mandela were voted as 'my African of the millennium'. This is a prototype of African perception of leaders who contributed for Africa.
3. Apart from issues of construction of ideas and direct contribution to Africa's liberation, another crucial element is the leaders' own internal policies on governance. What were their policies particularly as regards the various ethnic groups within their own countries? Pan-Africanism is an African outlook and is deeply rooted on the identity of Africans as black people because of the dehumanisation by colonisation. This is indeed the bottom line as nobody can be a pan-Africanist disregarding black identity.
The record of the ex-emperor of Ethiopia in this regard is shocking to say the least. First, slavery was practiced in Ethiopia widely. People of the border regions who are physically Nilotic or Bantu were taken in custody by the monarchy, nobility and feudal lords under his regime and kept forcibly as slaves. In fact, in order to prevent escape, tissues from the hamstrings of most of the male 'slaves' were cut out. Ethiopia had difficulties in joining the League of Nations precisely because of the practice of slavery. After the war, chattel slavery continued to the final days of the emperor in 1974. The ex-emperor of Ethiopia had not lifted a finger to end slavery in his own country. On the contrary, he was one of the big owners of chattel claves.
Secondly, the nobility at the time of his rule never considered themselves as black and African. For political reasons, being African was 'accepted' particularly when the OAU was about to be established. But, being black has never been accepted. No wonder when the ex-emperor visited Jamaica in 1967, he said in an interview with a journalist that, 'We Ethiopians are not black'. The ruling ideas of a given society at a given point in time are also the ideas of the ruling class. That includes negative ideas filled with all sorts of bigotry. But if such ideas are not deconstructed thoroughly, they persist for too long. This notion of 'not being black' is still widespread in Ethiopia. It is even noticeable today among members of the Diaspora, who refer to Nilotic or Bantu Africans as 'black'. These are undeniable facts that can be proved so easily.
Thirdly, one can also look at the ex-emperor's policy on Ethiopian ethnic groups other than the Amhara. Discrimination and political as well as economic marginalisation was the daily companion of millions and millions of non-Amhara Ethiopians. Their lands were taken over by the feudal lords and were treated as second-class citizens. Many were forced to change their names to Amharic ones to be accepted. Those who resorted to rebellions were met with fierce punishment including outright massacres as in the case of Tigray (1943), Eritrea (1961-1974), Ogaden (1960-1974), Bale (1967), Sidamo and many other places. The ex-emperor's 'Imperial Body Guard' shot in the crowd of university students on December 29, who assembled to pay the last respects to their leaders assassinated the previous day by the ex-emperor's secret police. The repressive rule also clamped down against trade union activists and student leaders. Trade unionists such as Abera Gemu and student leaders such as Tilahun Gizaw were assassinated in broad daylight. (Incidentally, Tilahin Gizaw was a champion of Pan-Africanism who received a gun shot by police during a demonstration against Ian Smiths' Unilateral Declaration of Independence and he was also instrumental in organising a rally in solidarity in 1969 with the struggling people of South Africa and Zimbabwe.)
The ex-emperor was also known for his cruelty and viciousness. Apart from the massacres committed in the Ogaden, Eritrea and so on, his regime had also practiced the most heinous crimes. Lands were confiscated from the rural population (poor farmers and nomads) without compensation; political opponents or conscientious objectors were met with police brutality including torture. Political suspects were banished to remote areas. The ex-emperor is even accused of practicing witchcraft orgies in which he sacrificed children for a spirit called Korit at Lake Bishoftu. In 1961, he personally ordered the corpse of Girmame Neway, the slain coup leader, to be hanged and displayed in public. When all these crimes were committed, the ex-emperor appeared extremely calm and 'dignified'. Needless to say, sir, we simply cannot list all the crimes of the ex-emperor.
We hold that the current regime in Ethiopia is as autocratic as ex-emperor Haile Selassie's and Colonel Mengistu's. We applaud the struggle of the people of Ethiopia for justice and freedom. We understand that the Ethiopian Diaspora is also active in this struggle. But fighting against injustice with injustice done to Ethiopia's history is something that won't work.
Sir, we fully support the erection of Kwame Nkrumah's statue at the premises of the new AU headquarters and strongly demand that you ignore the demand to have a statue for the ex-emperor Haile Selassie alongside it. If other African heroes are to be included in the list deserving their statue in the AU premises, we suggest the inclusion of Nelson Mandela, Patrice Lumumba, Amilcar Cabral, Samora Machel and Edwardo Mondlane.
Sincerely yours,
Asrat Deferes, Chairperson, The Ethiopian Pan-African Society, Addis Ababa.
 LET YOUR VOICE BE HEARD.
YOU CAN MAKE A POSITIVE IMPACT!