Blend Turmeric + Ginger with Coconut Milk. Drink Before Bed to Flush Liver Toxins While You Sleep
Golden milk is actually a combination of herbs and spices with coconut milk and coconut oil warmed up to create a delicious and health-packed drink that you can have anytime of day, although popular times to consume this beverage are upon first waking and before bed.
Golden milk is actually called Haldi ka doodh, which translates to turmeric milk. Believed to have originated in India as part of the Ayurvedic system of healing, golden milk was taken as for anti-inflammatory, detoxification, healthy blood sugar, and many, many more health benefits (as we will soon see!)
Golden milk is rather magical and can help your liver detoxify itself before going to sleep. This creamy drink has so many different health benefits! Let's learn some more about golden milk and what it can do for you.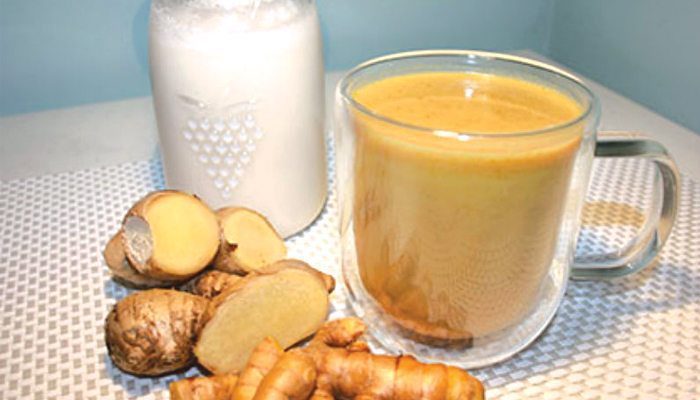 What's in Golden Milk?
This milk is generally a combination of turmeric powder, coconut oil, coconut milk, black pepper, and ginger root. You could also add honey if you like the taste. The most notable and powerful spice turmeric is responsible for the wide variety of health benefits that golden milk offers to its drinkers. However, the coconut, black pepper, and ginger root all have health benefits to offer as well.
It is traditionally made as a milk and heated up, but you could also make teas, pastes, and other variations of this popular drink in order to add to meals or simply to store until you want to drink it again! Let's look at some of the great health benefits of golden milk and what ailments its been used to help in medicine.
Health Benefits
Are you ready to discover the amazing benefits of this milk? We'll look through each ingredient to see what they have to offer by drinking this succulent beverage.
Turmeric has been shown to improve and stabilize blood sugar, detoxify the liver from environmental toxins by neutralizing free radicals, treating food allergies and intolerances, preventing degenerative cognitive illnesses such as Alzheimer's and dementia, and even treating cancer and depression. Do you need any more reasons to start cooking with this spice?
Source:  Health Team Advisor