A day after protests brought down two University of Missouri officials, reports of racially charged threats permeated social media — as well as a rumor the Ku Klux Klan had arrived on campus.
University police said they investigated and determined the reports Tuesday night were false. But the rumors had already spread far and wide.
"I'm going to stand my ground tomorrow and shoot every black person I see," a widely shared Yik Yak post said.
Another post contained a veiled threat.
"Some of you are alright. Don't go to campus tomorrow," the post said.
Yik Yak is a social media app that allows users to share anonymous messages, or Yaks, with others in a 5-mile radius. However, the man police say they arrested early Wednesday for posting threats on Yik Yak and other social media — Hunter M. Park, 19 — was "contacted" in Rolla, more than 90 miles south of Columbia.
Black Missouri football players boycott playing over school chief
Park, who is from Lake St. Louis and is not a Mizzou student, was transferred to the campus police department, charged with making a terrorist threat and transferred to Boone County Jail where he was held on a $4,500 bond, police said.
It was unclear how police homed in on the suspect. One of the app's developers, Brooks Buffington, told CNNMoney earlier this year that while federal law prohibited the sharing of personal information, "in cases of imminent threat or harm or something like that, we work with law enforcement to do what we can."
Yik Yak stirs trouble in schools
Even before the arrest was announced, campus police had said there was no imminent danger.
"Students need to be aware of what is going on, but right now there is no active threat on campus," police spokesman Maj. Brian Weimer said.
"The campus is not on lockdown. There is heightened awareness due to the national attention we are getting, but again the reports you are seeing on social media are largely inaccurate."
Source:  CNN
Black students around US complain of casual, everyday racism
It's not always the slurs and the other out-and-out acts of racism. It's the casual, everyday slights and insensitivities.
Sheryce Holloway is tired of white people at Virginia Commonwealth University asking if they can touch her hair or if she knows the latest dance move. At Chicago's Loyola University, Dominick Hall says groups of white guys stop talking when he walks by, and people grip their bags a little tighter. And Katiana Roc says a white student a few seats away from her at West Virginia University got up and moved to the other side of the classroom.
As thousands of students took part in walkouts and rallies on college campuses across the country Thursday in a show of solidarity with protesters at the University of Missouri, many young black people spoke of a subtle and pervasive brand of racism that doesn't make headlines but can nevertheless have a corrosive effect.
There's even a word on campuses for that kind of low-grade insensitivity toward minorities: microaggression.
"It's more the daily microaggressions than the large situations," said Akosua Opokua-Achampong, a sophomore at Boston College.
When Opokua-Achampong tells other students that she's from New Jersey, some ask where she's REALLY from. "When you're not white, you can't just be American," she said. (She was born in the U.S. to parents from Ghana.)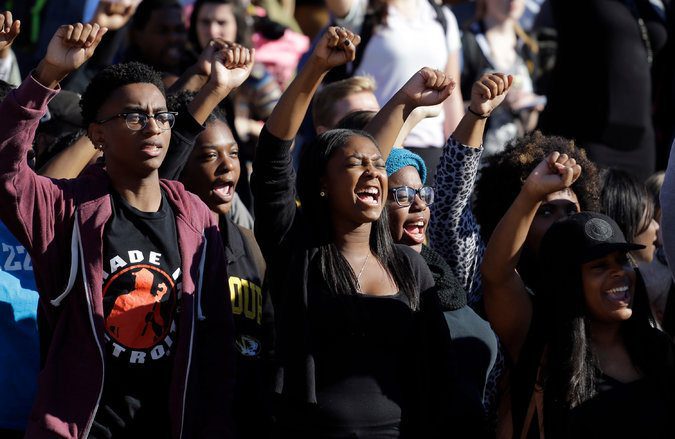 A member of the black student protest group Concerned Student 1950 gestures while addressing a crowd …
Janay Williams, a senior at the University of California Los Angeles, said she is the only black person in her biology class and is routinely among the last picked for group assignments.
"Students don't want to be in the same group as you with a group project, because they're afraid you're not going to do your share," she said.
Jioni A. Lewis, a psychology professor at the University of Tennessee, said research has shown that the stresses of being a minority, on top of the usual pressures of adjusting to college, can cause some students to leave school.
Roc, a junior at West Virginia, said she can't forget the day that student moved across the room.
"He looked uncomfortable. I'm pretty sure he moved because of the color of my skin. It didn't hurt my feelings," she said. "What disappointed me was his ignorance."
Protestors encourage students to lay down as part of a 'die-in' this afternoon at Ithaca College in …
She added that just being on campus can be a day-to-day struggle.
"But instead of me saying that I'll transfer where I feel more comfortable, I'd rather stick it out here," she said. "I'm not here for how people look at me; I'm here for my education."
Stories like that aren't new, students said. But many said the revolt at Missouri — and the Black Lives Matter movement that was set in motion by the shooting of a black man in Ferguson, Missouri — have finally driven them to talk about it and confront it.
On social media, students are sharing their personal experiences with racism, using the hashtag BlackOnCampus.
Students at some colleges have also presented administrators with lists of demands in recent days, inspired by those of the protesters at Missouri, who brought down the university president and chancellor this week over what they saw as a sluggish response to racial slurs and other incidents on campus.
Among other things, the student protesters around the U.S. are calling for greater diversity on the faculty, more spending on scholarships for minorities, more instruction on tolerance and sensitivity, and more resources such as cultural centers.
University administrators have responded by hosting diversity forums in recent days, or meeting to hear demands.
Students at some schools, such as the University of Michigan, said the Missouri case has emboldened them to take a harder stance against administrators if they don't keep their promises.
Holloway, the Virginia Commonwealth student, said she used to try to ignore subtler instances of racism. But she has decided not to keep quiet anymore.
"It's hard when it's something you see every day," she said. "It's exhausting. It's fatiguing and, you know, we're frustrated."
Source: Yahoo!