Azealia Banks calls for reparations for slavery: 'America owes black people over $100 trillion'
The rapper took to Twitter and urged others to speak out
Azealia Banks has called for African-Americans to receive reparations for slavery – and quoted a figure of $100 trillion.
The rapper took to Twitter to air her response to an article about a documentary called Traces of the Trade: A Story from the Deep North, which was made by Katrina Browne, seventh-generation descendant of slave trader Mark Anthony DeWolf.
The "212" singer's Twitter account displayed a series of tweets in which it was claimed that black people were owed significant sums because the US economy had been built on slavery.
These included: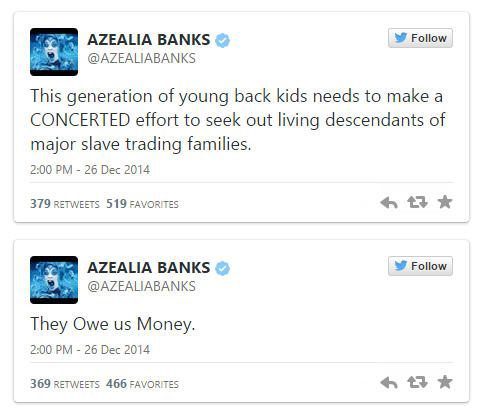 Banks went on to suggest that a precedent had been set by the reparations previously paid to Native Americans and to Jews after the Holocaust, and pleaded with her fans to "please please please do not get distracted with reality TV and rap music and fashion and all that other dumb s**t."
She said she would be prepared to give up her music career for the cause and added: "We are the children of the people who perished in the name of modern capitalism and we deserve a piece of that f**king pie."
Her tweets were picked up by James DeWolf Perry, another descendant of the DeWolf family, who is executive director of the Tracing Centre and speaks and writes on slavery, race, and privilege.
Perry sought to clarify the work he carries out and widely expressed support for Banks' sentiments. He posted a series of tweets including: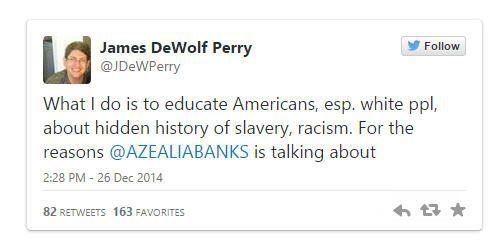 Banks retweeted a number of his responses and went on to say: "It's my money and I want it nowwwww!!!!!!" before posting the following:
She suggested that reparations would improve educational prospects for black people, who she said had been "locked out of society" and continued to state her case in a series of further tweets.
Banks is known for speaking out for civil rights. Recently, in a continuation of her highly-publicised feud with Australian rapper Iggy Azalea, Banks criticised the white singer for ripping off black culture in what she called a "cultural smudging".
"I feel just like in this country whenever it comes to our things – like black issues or black politics or black music or whatever – there's this undercurrent of kinda like a 'f**k you'," she said.
Source: TheIndependent.co.uk