African Renaissance Monument in Senegal is Tallest Monument in Africa caused religious stir
The African Renaissance Monument (French: Le Monument de la Renaissance Africaine) is a 49m (160.761 feet) tall bronze statue located on top of one of the twin hills known as Collines des Mamelles, outside of Dakar, Senegal. Built overlooking the Atlantic Ocean in the Ouakam suburb, the statue was designed by the Senegalese architect Pierre Goudiaby after an idea presented by president Abdoulaye Wade and built by Mansudae Overseas Projects, a company from North Korea. Site preparation on top of the 100-meter high hill began in 2006, and construction of the bronze statue began 3 April 2008. Originally scheduled for completion in December 2009, delays stretched into early 2010, and the formal dedication occurred on 4 April 2010, Senegal's "National Day", commemorating the 50th anniversary of the country's independence from France. It is the tallest statue in Africa.
Construction
The monument is made of 3-centimetre thick metal sheets and depicts a family group emerging from a mountaintop: a full-length statue of a young woman, a man, and held aloft on the man's raised left arm, a child resolutely pointing west towards the sea. Construction of the bronze statue group was carried out by the North Korean firm Mansudae Overseas Project Group of Companies.
The project was launched by then Senegalese president Abdoulaye Wade who considered it part of Senegal's prestige projects, aimed at providing monuments to herald a new era of African Renaissance.
Unveiling
On 3 April 2010, the African Renaissance Monument was unveiled in Dakar in front of 19 African heads of state, including President of Malawi and the African Union Bingu wa Mutharika, Jean Ping of the African Union Commission and the Presidents of Benin, Cape Verde, Republic of Congo, Ivory Coast, Gambia, Liberia, Mali, Mauritania and Zimbabwe, as well as representatives from North Korea, and Jesse Jackson and musician Akon, both from the United States. Everyone was given a tour.
President Wade said "It brings to life our common destiny. Africa has arrived in the 21st century standing tall and more ready than ever to take its destiny into its hands". President Bingu said "This monument does not belong to Senegal. It belongs to the African people wherever we are".
Criticism & Expense
Thousands of people protested against "all the failures of [President] Wade's regime, the least of which is this horrible statue" on the city's streets beforehand, with riot police deployed to maintain control. Deputy leader of the opposition Ndeye Fatou Toure described the monument as an "economic monster and a financial scandal in the context of the current [economic] crisis".
The colossal statue has been criticized for its cost at US$ 27 million (£16.6m). The payment was made in kind, with 30 to 40 hectares of land that will be sponsored by a Senegalese businessman.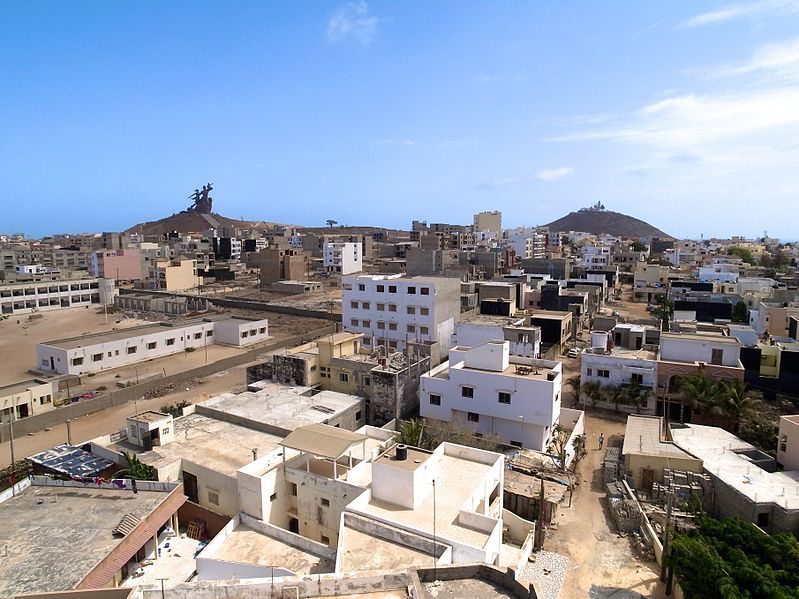 Style
Senegalese opposition leaders have also questioned the style of the project, labelling it "Stalinist", while art critics have pointed out that the body shapes are cartoon-like, with only vaguely African facial features. It has also been suggested that the monument is a stark representation of the macho sexism of African authoritarian rulers. The statue's design has been derided internationally because of false claims of its Senegalese origin, actually having been designed by a Romanian architect and built by a North Korean sculpting company famous for various projects and large statues throughout Africa since the 1970s. It was a poorly received piece by art critics around the world after its much-delayed unveiling in 2010, and has been compared by some to the infamous (and now-abandoned) Christopher Columbus statue project that was underway in Cataño, Puerto Rico in the late 1990s and early 2000s. Local imams argue that a statue depicting a human figure is idolatrous, and object to the perceived immodesty of the semi-nude male and female figures.
In December 2009, president Abdoulaye Wade apologised to Senegal's Christian minority for comparing the statue to Jesus Christ.
Revenue
The project has also attracted controversy due to Wade's claim to the intellectual property rights of the statue, and insisting that he is entitled to 35 percent of the profits raised.[12] Opposition figures have sharply criticised Wade's plan to claim intellectual property rights, insisting that the president cannot claim copyright over ideas conceived as a function of his public office.
Local artists
Ousmane Sow, a world-renowned Senegalese sculptor, also objected to the use of North Korean builders, saying it was anything but a symbol of African Renaissance and nothing to do with art.