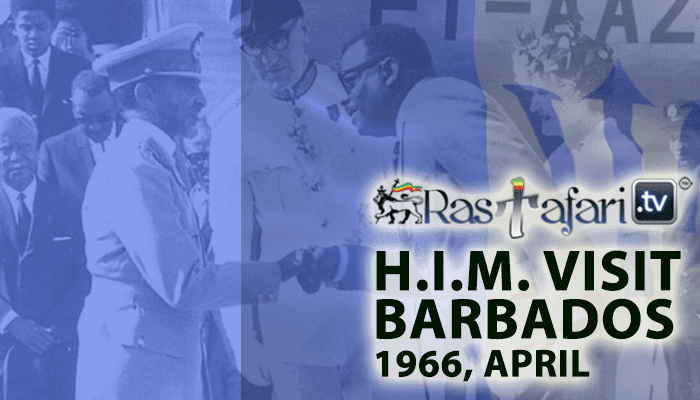 1966, April 21: Emperor Haile Selassie I Visit to Barbados
2016 also signals the 50th anniversary of the visit of His Imperial Majesty Haile Selassie 1st to this island and other Caribbean nations, namely Trinidad, Jamaica and Haiti. After visiting the twin-island state of Trinidad and Tobago on April 19 and 20, 1966, the Ethiopian Airways plane touched down at the then Seawell Airport around 8 a.m.on the 21st, where he was met by Governor Sir John Stow and Premier Errol Barrow. According to reports from both of the local newspapers at that time, he received a red carpet welcome and was greeted by many Barbadians along the way through Oistins and the Garrison until the procession reached to Trafalgar Square, where His Majesty and his entourage encountered "thunderous cheering".
Being the monarch of the only independent nation in Africa it was only fitting that he could rearrange his busy schedule to spend about two hours in Barbados and then proceed to Jamaica the same day. The then Premier Barrow and his government would no doubt have been inspired by the Conquering Lion of the Tribe of Judah ashe wished Barbadians of all walks of life, congratulations on their "soon-to-be-achieved hard-won independence".
Proud and confident Rastas strut and stand up for their rights, their hair long, knotted in dreadlocks in the image of the lion of Judah. The movement spread quickly in Barbados and was hugely attractive to the local black youths, many of whom saw it as an extension of their adolescent rebellion from school and parental authority. With it came some undesirable elements, but all true Rastas signify peace and pride and righteousness.
Here is an excerpt ( the last paragraph of his speech ), of his address to PARLIAMENT on his visit to Barbados. Premier Errol Walton Barrow was present.
"I am confident that the people of Barbados are going to live up to expectations and in their independence work even harder for THE PROSPERITY AND UNITY OF 'THEIR' NATION. May God bless Barbados. Thank you."
Source: NationNews