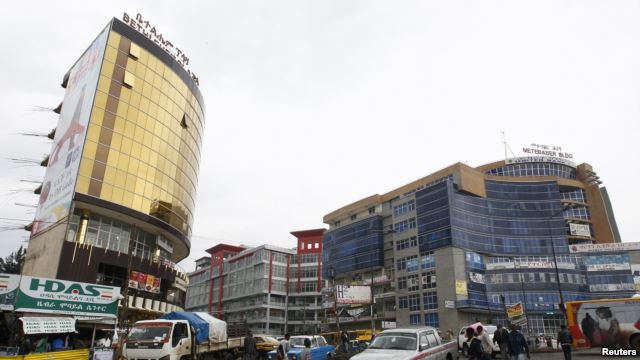 UPDATE: Ethiopia Protected From Possible al-Shabab Attacks
ADDIS ABABA — Ethiopia's Ministry of Foreign Affairs says the country is protected at all times from attacks by the Somali militant group al-Shabab but is asking its citizens to be vigilant. The American Embassy in Addis Ababa issued a terror warning earlier this week.
Ethiopia's government says that despite the terror alert issued by the U.S. Embassy this week, the country is safe.
Ambassador Taye Atske Selassie, of Ethiopia's Foreign Affairs Ministry, spoke to international diplomats in Addis Ababa Friday morning.
"We would like to assure our diplomatic community in Addis that we are taking every step that al-Shabab will not have foothold, not only in the city but also in this country," he said.
The U.S. Embassy in Ethiopia's capital warned Tuesday it had credible reports that the Somali militant group al-Shabab may be planning an attack in the Bole area of Addis Ababa. Bole is an upscale neighborhood with many hotels, shopping malls, restaurants and bars frequently visited by both Ethiopians and foreigners.
US security warning
The warning – posted on the U.S. State Department website – said it had no exact targets by but warned American citizens to avoid public places in Bole. The alert said al-Shabab may be targeting Addis Ababa in retaliation for Ethiopian troops taking part in AU military operations against the Islamist group in Somalia.
Africa Union forces have been successful in breaking al-Shabab's grip on Somalia during the past three years and have liberated close to 70 percent of areas under the group's control. The latest success was in Barawe – the last strategic town held by al-Shabab.
U.S. Ambassador to Ethiopia, Patricia Haslach says the embassy is not trying to undermine the Ethiopian government on security issues.
"If we have access to information we need to share it with the American public, that is law and that is what I operate under. I can also assure you that we work extremely closely with the Ethiopian government and they were notified ahead of time of our intentions," she said.
Ethiopia's government is also asking its citizens to be vigilant at times against any group that wants to harm Ethiopia as the country remains in a state of high alert.
Ethiopia has not had large scale terrorist attacks compared to other countries in the region contributing troops to the AU military mission in Somalia.
Kenya has been hardest hit with multiple attacks and kidnappings; the most recent being the 2013 terror attack on Nairobi's Westgate Mall in which 67 people were killed.
VOA News
By Marthe van der Wolf
October 17, 2014
Source: Tadias.com