Free Health Fair Haile Selassie I High School Mon. Jan. 16, 2023
Loading advertisement...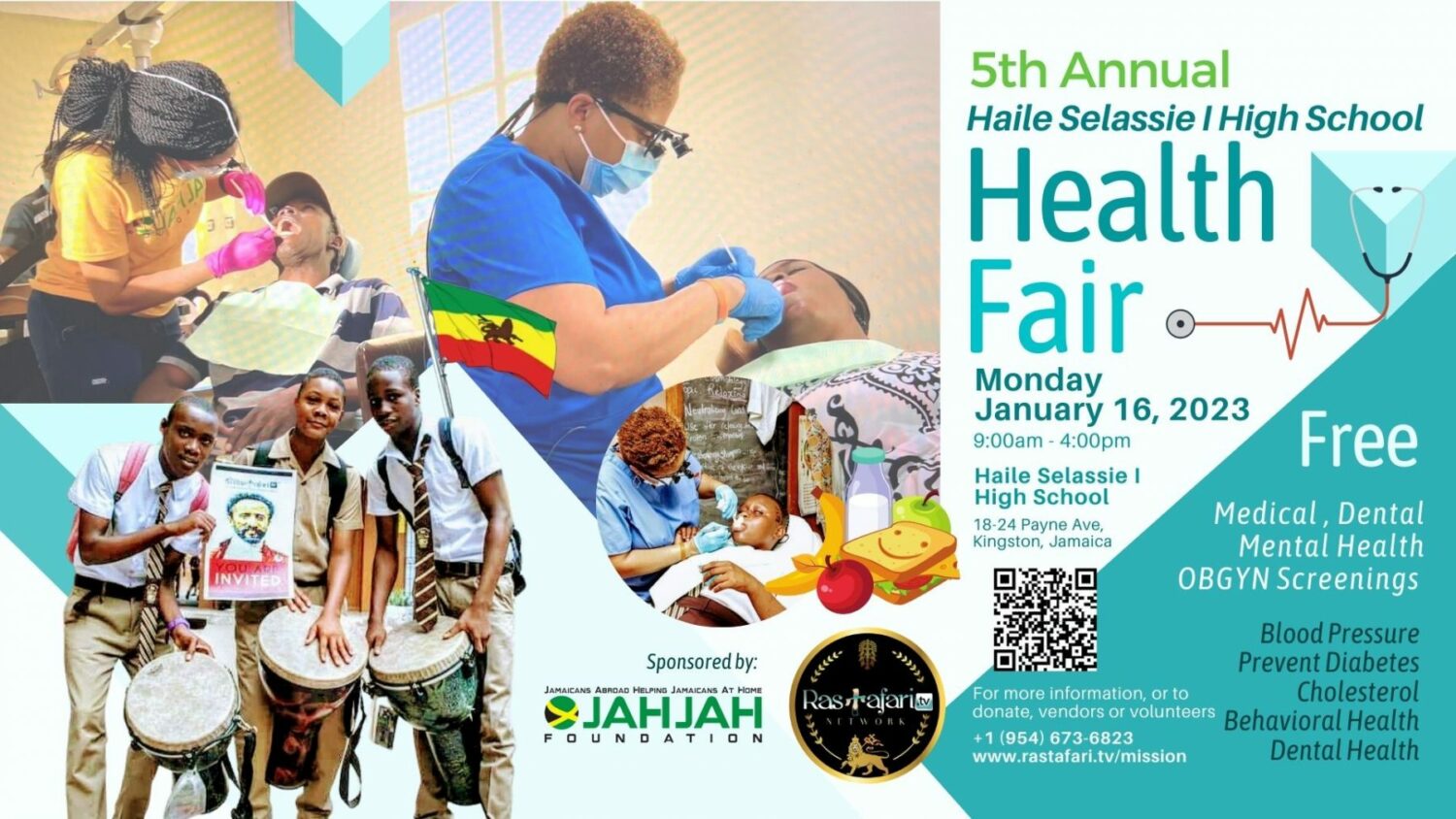 Up next
Harar, Ethiopia, Oct 23, 2022 Consecration of 116 Year Old St. Raphael Church, resting place of Royal Family.
Cancel
I Like This
Unlike
Like
Please Login to Vote
I Dislike This
Un-Dislike
Dislike
Please Login to Vote
Free Health Fair Haile Selassie I High School Mon. Jan. 16, 2023
FOR IMMEDIATE PRESS RELEASE
November 29, 2022, Miami Florida
On Monday, January 16, 2023, from 9 am to 4 pm, S.I.T.E. Media and RasTafari TV Network, Inc. in partnership with Dr. Trevor Dixon and JAHJAH (Jamaican's Abroad Helping Jamaicans at Home) Foundation Mission For Change 2023 keep our commitment to being of service to the Haile Selassie I Technical High School, in St. Andrew, Jamaica. We will sponsor our 5th Annual Free Health Fair for all students, faculty, and the surrounding Payne Land community. The theme will be "Reignite The Village", inspired by Ms. Jaqueline Bryan, the school's guidance counselor. JAHJAH foundation conducts these health fairs each January during their "Mission for Change" and provides health, dental, and wellness screenings and consultations for all attendees.
Since 2014, Rastafari TV Network and friends have been in service to the Haile Selassie High School, sponsoring free health and education mission with Rastafari TV donating over 600 pounds of school supplies. We established an environmental club, organized field trips, including beach clean-up days, and sent funds for top-ups for students to continue their online classes during the pandemic. Due to a lack of support from the community and the recent pandemic, we were unable to continue this vital mission. However, we have great news! Dr. Trevor Dixon has reached out to us to pledge their medical team's support for 2023. Rastafari TV will be reaching out to the global community to support the Haile Selassie I High School Health Fair in an extraordinary way to contribute well-needed donations to make the upcoming health fair a great success. Our Rastafari TV Network team will provide free lunches and workshops for students during this time. Rastafari TV will be working closely with members of the faculty to provide support to the school and the surrounding communities. This effort will benefit students, teachers, and members of the community and need all hearts and helping hands to rally around HSHS.
We look forward to a beautiful health fair and to collaborating with everyone to make this well-needed event a great success.
For more information, to donate, become a vendor, or volunteer please contact +1 (954) 673-6823, email info@3.224.94.255 or visit www.rastafari.tv/mission.