Film: If Only I Were That Warrior addresses unpunished war crimes in Ethiopia
Loading advertisement...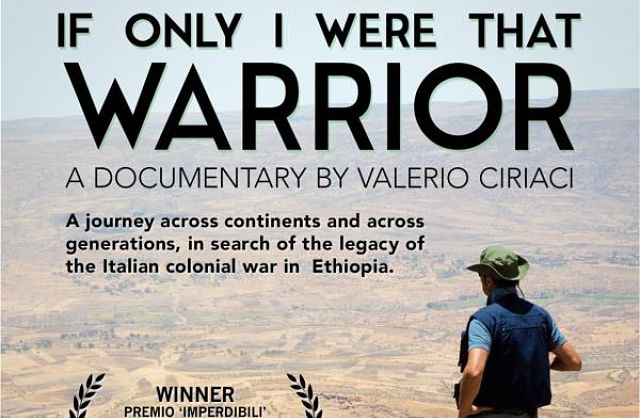 Up next
WATCH! War Is Hell | Music For Reason | International Music Video
Cancel
I Like This
Unlike
Like
Please Login to Vote
I Dislike This
Un-Dislike
Dislike
Please Login to Vote
Film: If Only I Were That Warrior addresses unpunished war crimes in Ethiopia
If Only I Were That Warrior is a film about the Italian occupation of Ethiopia in 1935 and its unresolved legacy today. Driving this investigation is the story of a recently constructed monument to Rodolfo Graziani, a Fascist general remembered for war crimes committed during the invasion and occupation of Ethiopia, which sparked international protests and brought this chapter of history back to the forefront of public discourse.


The film's primary aim is to offer an unprecedented glance at the controversial memory of the Fascist invasion in Ethiopia. Italy's uncomfortable relationship with its colonial past has been a matter of discussion in academia, but the general public never engaged in a critical discourse on the real events that took place during Mussolini's campaigns in Africa. No court ever reviewed the crimes committed. Graziani, a main player during the Ethiopian campaign and later the viceroy of the new colony, was never put on trial for his crimes. To this day many remember him as a hero in his hometown of Affile, the small town not far from Rome where the monument was erected in 2012.
News of the Graziani monument in Affile quickly spread around the world, sparking protests especially among the Ethiopian Diaspora. The film follows the stories of those involved in the controversy surrounding the monument to Graziani. They represent different communities: Italians in Ethiopia, Ethiopians in Italy, and Italian-Americans. Though these communities have their roots in the history of Italian colonialism, their stances on this common past differ nowadays. As we follow the characters, a chronological narrative of the Ethiopian occupation emerges. The present day action is linked to the past through interviews with historians and the use of previously unreleased archival photographs and documents.
Unexpectedly perhaps for those behind its construction, the monument to Graziani has brought the subject of Italian colonialism back into the press and into a wider public conversation. If Only I Were That Warrior aims to contribute to this conversation by shedding light on the facts of the past and dispelling some of the myths accumulated over decades of revisionism.