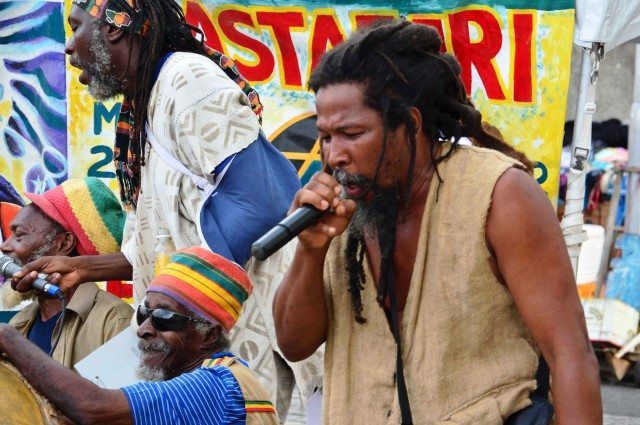 Cultural Mapping & Nyahbinghi Symposium, Trench Town, Sun. Feb. 14
Presented by Nyahbinghi Ancient Council + Rastafari Millennium Council presents Cultural Mapping – Trench Town Nyahbinghi – Trench Town Jamaica
This is the ultimate challenge. Where are we to look for our survival, for the answers to questions which have never before been posed? We must look first to Almighty God, who has raised man above the animals and endowed him with intelligence and reason. We must put our faith in Him, that He will not desert us or permit us to destroy humanity which He created in His Image. And we must look into ourselves, into the depths of our Souls. We must become something we have never been and for which our education and experience and environment have ill prepared us. We must become bigger than we have ever been: more courageous, greater in spirit, larger in outlook. We must become members of a new race, overcoming petty prejudice, owing our ultimate allegiance not to nations but to our fellow men within the human community." Emperor Haile Sellassie I (United Nations Oct. 6, 1963).
The genocidal impact(s) from colonialism and slavery will demand the NEED TO LOOK WITHIN to be RE – EDUCATED into our own Indigenous Faith and Culture; drawing on NEW EXPERIENCES learnt from our NEW BEING; and creating the necessary New Environment – A VILLAGE to final overcome the ILL PREPARATIONs that the white world left in its wake in uprooting Indigenous Faiths, Systems, and Settings.
RASTAFARI CREED [EXODUS! Chapter 20; Psalms 68.]
Prince and Princess shall come out of Egypt [House of bondage, Repatriation!]; Ethiopians shall stretch forth InI hands and heart unto JAH [Ethiopia Liberation Day, May 5th 1941]. O JAH of Ethiopia His own Divine Majesty, Thy Spirit comes to all dwelling paths of Righteousness. Lead InI; Help InI to forgive that InI must be forgiven. Teach InI love, loyalty on earth as it is in Zion. Endure InI with Thy Wisdom, Knowledge and Iverstanding to do Thy will. Thy blessing to InI: the hungry (humble) be fed, the naked clothed, sick nourished, aged protected, and infants cared for [RasTafari Trust Fund!]. Deliver InI from the hands of InI enemies that InI shall be fruitful in these last days; when InI enemies have passed and decayed in the depths of the seas, in the depths of the earth, in the bowels of the beast.
******************************
As we move forward into 2016, the major events and issues that traditionally confront the Rastafari Community have been amplified to invoke the pledge of THE RASTAFARI CREED of Collective Benefit for Repatriation with Reparation, Welfare, and Development. This as the Year 2016 represents the 50th ANNIVERSARY – THE JUBILEE, OF THE VISIT OF EMPEROR HAILE SELLASSIE I, JAH RASTAFARI, to Jamaica from April 1966!
"Ethiopians and Jamaicans are bounded by Blood!"
The Nyahbinghi Ancient Council/Royal Judah Coptic Church/RMC are using this Reggae Month platform to identify the critical intersection and interception of Rastafari Intellectual Property within the Jamaican music and developing Ganja industry in Trench Town. Trench Town is culturally linked to Back A Wall/Ackee Walk/Davis Lane-Trench Town/Wareika Hill/Welcome Avenue as the collective of Rastafari Heritage Sites that exist within Kingston for recognition following the JNHT declaration of PINNACLE in St. Catherine, and its recent UNESCO Music City designation that must be identified, represented, and beneficially preserved as the foundation for all that was presented for this august titling.
Similarly the recent Coral Gardens Report from the Public Defender with its wide sweeping recommendations related to Rastafari Right to Reparation only pertains to the roughly 200 persons that are specifically named in that 'atrocity' and references only Montego Bay. The other 'atrocities' therefore require the type of testimonial representations to widen the gap between Pinnacle and Coral Gardens, which is majorly the footprint of West Kingston.
The Youth Black Faith in Trench Town and the Issembly Of Elders at Welcome Avenue that transformed into the Royal Judah Coptic Church, are the center of reference for the Nyahbinghi Order and the Nyahbinghi Ancient Council as also the EABIC (Bobo Shanti) in Bobo Hill from the days of Back A Wall, and so collectively contains some of the most poignant testimonials that make immediate need for current archiving in the contested spaces that exist internal and external for the Rastafari Community.
Therefore:
The Nyahbinghi Ancient Council (NAC) / Royal Ethiopian Judah Coptic Church / Rastafari Millennium Council (RMC) will be documenting via
Video Recording our CULTURAL MAPPING by staging a Nyahbinghi Symposium in
TRENCH TOWN on SUNDAY, February 14th 2016
at the Multi – Purpose Center,
10 -18 FIFTH Street between 10:00 am – 10:00 pm!
The Rastafari Unconquerable Exhibit and the 40th Anniversary celebration of the BLACKHEART MAN Album by the Hon. Bunny Wailer headlines this CULTURAL MAPPING of the RASTAFARI FAITH and CREED
in what have been designated Reggae Month and the
UNESCO City Designation of Kingston.
Come witness the Recount
of the RASTAFARI FAITH that created
and shaped the Culture and Music in Trench Town,
Kingston, Jamaica, the Caribbean, the World over with liberating force!
And Roadmap for the 50th Anniversary Visit of Emperor Haile Sellassie I !!!
Admission: One Perfect Love!
Refreshments on Sale.
 
THE NYAHBINGHI ANCIENTS
GANJA, MUSIC, CREED REASONING
AT THE TRENCH TOWN MULTI-PURPOSE CENTER
10 – 18 FIFTH STREET, TRENCH TOWN.
FEBRUARY 14TH 2016!
PROGRAMME
10:00 a.m. – 10:00 p.m
10:00 – 10:25 a.m.      GATHERING AT THE MULTI-PURPOSE CENTER (NYAHBINGHI ISES)
10:25 – 10:30 a.m.      SPEECH BY H.I.M. HAILE SELLASSIE I – by Ras Rocki
10:30 – 10:45 a.m.      WELCOME & INTRO. OF NYAHBINGHI ANCIENTS– Bongo Wake I, & Irie Lion
10:45 – 11:00 a.m.      WELCOME & INTRODUCTION BY RMC DIRECTORS – Sis. Maxine Stowe
Indigenous Knowledge Holder Systems – Music/Ganja/Economic Development
11:00 – 11:30                NYAHBINGHI ANCIENTS ADMINISTRATION/CREED/ROYAL JUDAH COPTIC
Bongo Wake I, Priest Kelly
11:35 – 12:05 p.m.       RMC ADMINISTRATION – Sis. Maxine Stowe, Prophet Greg
12:10 – 1:10 p.m.          Nyahbinghi History Communities Music – IP – Ganja (Ancient Panel)
1:00 – 1:30 p.m.     R E F R E S H M E N T    B-R-E-A-K
1:30 – 2:30 p.m.          GANJA BILL ADMINISTRATION – Sacramental Spaces, Cultivation, Land Trust
                                                Fund, South Africa Bilateral, Creed, Maroon & Revival Communities
 2:30 – 3:00                           Legal Way Forward – Indigenous Rights Treaty – Empress Nannah 
                                               Harris Barrington
3:00 – 3:30                Rasta Ganja Global – Rastafari Growers Association/Ganja Growers Association
                                     Presentation – Applications                                       
3:30 – 4:30 p.m.          50TH Anniversary Visit of H.I.M. Program Outline
4:30-5:00                   Open Mike Presentations
5:00 – 7:00 p.m.           Video Of Testimonies – Back A Wall – Ackee Walk – Davis Lane/Trench Town
                                    Welcome Avenue – Wareika Hill 
5:00 – 7:00 P.M.        REFRESHMENT B-R-E-A-K
7:00 – 8:00 p.m.          HOST PRESENTATION – Hon. Neville O. Livingston CD, OJ (Ras Bunny Wailer)
Audio-Video Musical Family and Personal History In Nine Miles, Trench Town, St. Thomas: Ganja, Wailers, Nyahbinghi, 40TH Anniversary Blackheart Man
8:00 – 8:30                  Nyahbinghi Ancient Certificate Acheivement Award to Hon. Bunny Wailer                                                                                                                                                                   
From the Executive Directors of the RMC.
EADUMC
Rastafari Millennium Council
Kingston Jamaica
876-868-7863
850-4403
482-7571