We would like to share with you, to watch one of the most important court cases in UK history(1980's).  This 59 min documentary Drama based on the true story of Ras Seymour McLean, a Rastafarian who chose to make a political gesture through the British courts and was charged with 'liberating' nearly 2000 books from The British and other libraries to return them to their true Ethiopian home. 
Rest In Peace Our Bredren, and May Our Lord Keep You in Grace.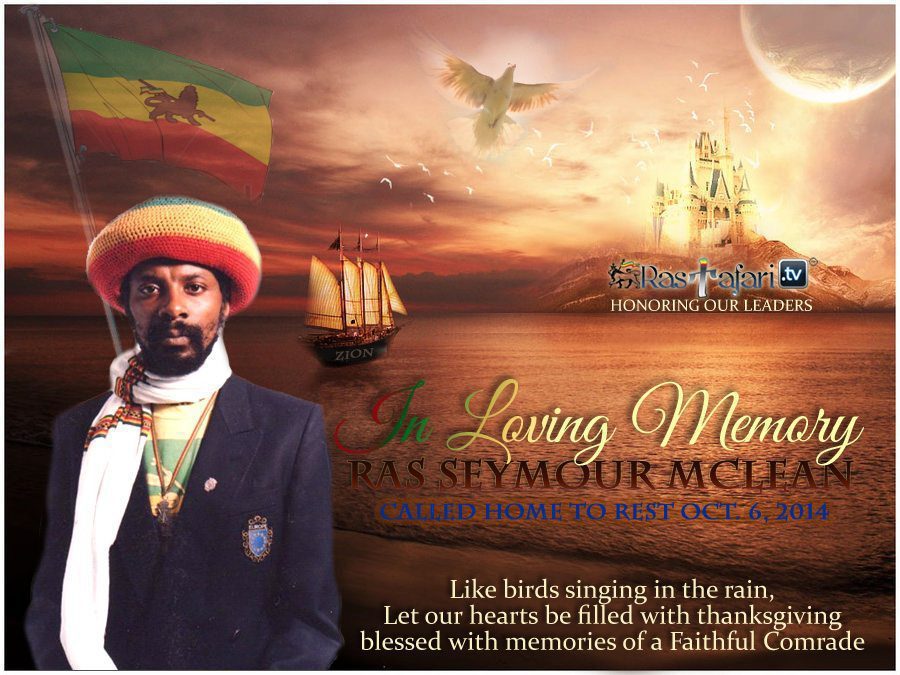 RAS SEYMOUR MCLEAN – DIED- October 6th, 2014. In London (England)
Out of the flesh, closer to His Majesty. We would like to inform everyone in The Ras Tafari movement that our beloved bredren Ras Seymour Mclean, passed forward this morning, October 6, 2014.   He will be remembered as one of the greatest Rastafarian's in the movement for the part he played in recovering stolen books, manuscripts and artifacts stolen by the British in the Battle of Magdala in 1868, and which gave him the title of The Book Liberator!!
Thanks and utmost respect to Ras Seymour McLean for the i's exalted example of eruditious fortitude and  standing up for ones and ones rights and cultural inheritance.
Jah's light personified as a living illuminated manuscript; an abundance of well-spring of knowledge, wisdom and overstanding.  We appreci-love you for all the natural giving to the community.
View Ras Seymour's Youtube Playlist of his personal videos uploaded to share with the world.
View Videos from Ras Seymour cleaning of the Diamond and Golden Jubilee horse, Windsor Great Park. (See Levitcus 25 vs 8-17 or the Law of the Jubilees), "It shall be holy unto you" prayers start on 23rd July at Windsor Great Park to Bob Marley Dubs and more of Ras Seymour's energy to keep his memory alive. May His Great Soul Rest Among Igziabier/God of The Universe and among the Living Legends!
"Rejoice thou, O pure and bright soul, and be glad, for behold, we all rejoice in thee, and thy Creator rejoiceth in thee. Get thee on; -O pure, bright soul, for thou hast conquered this fleeting world, and hast reduced to shame the Devil and all his evil hosts. And the angel also rejoiceth with it because thereof, saying, ' On the First Day thou hast given me rest.' Remember what David the Prophet saith, "Tell me how few shall be my days."
 Background:
Ras Seymour McLean:  –  was born in Clarendon, Jamaica, West Indies and migrated to London, England in 1966. He was  the Executive Director of Ras Tafari International Consultancy, member of the EWF and The Association for the Return of the Ethiopian Maqdala Treasures (AFROMET) that was looted by the British in 1868. He also compiled a bibliography  of over 2,500 books and documents relevant to Africa culture, many of which were not accessible to the public.
In the 1900s – Ras Seymour was imprisoned for the mysterious removal of books and documents from Libraries and Institutions in the UK (United Kingdom) . In 1991 – TV film, "The Book Liberator" chronicled court case that resulted in the prison sentence. 
Ras Seymour McLean was one of the UK most prolific researcher on AFRICAN HERITAGE – with a special emphasis on ETHIOPIAN CULTURE AND HERITAGE – he was also a tireless campaigner for the return of Ethiopia manuscripts , relics and stelae – that was stolen from Ethiopia by the Europeans and held by Institutions, governments around the world and the UK Royal Family. 
HE was a Freedom fighter – for justice – equality – discrimination – segregation – Repatriation and Reparation – social and political injustice – inflicted on African , in particular Ethiopian and Black people in the diasporas – seeking to empower themselves spiritually and culturally.  
"Without access to vital heritage, how can school children gain effective education" –
—————————————————————————————-
OUR BELOVED – BROTHER:  Seymour  McLean – have gone to see the ancestors and may his name be written in "THE BOOK OF LIFE" – HIS MEMORIES/LOVE FOR HIS PEOPLE AND JAH – ABIDETH FOR EVER.
————————————————————————————————————–
Paul saith, ' The dwelling in this world – is a fleeting thing. And those who eat shall be like those who eat not, and those who drink like those who drink not, and those who rejoice like those who rejoice not, and those who marry like those who marry not, and those who are worthy like those who are un-worthy, for fleeting is the dwelling in this fleeting world' (compare 1 Corinthians vii, 29, 31). And all – this do thou remember. Thou hast rejected and thou [Fol. 95a] hast hated this world, which growth old and decayeth. And thou hast treated it like an old rag, and like dung, and like an enemy of thine – and thou hast loved Him whose joy abideth – for – ever and ever.
————————————————————————————————————–
The Earth as we know it will not last forever, after JAH great judgment; he will create a new earth. (Roman 8:18-20) The "New Jerusalem", is where JAH – lives among his people, Instead of going up to meet him, he comes down to be with us, just as JAH – becomes man in Jesus Christ (H.I.M) and lived among us(John1:14). Where-ever JAH reigns, there is peace, security and love. No deaths, pain, sorrow or crying, JAH has written the final chapter and eternal joy for those who love him.    (Read Revelation 20 and 21 Chapters) 
'Ras Tafari Global Reasoning' conference attracts Rastas abroad
published: Monday | July 21, 2003
THE RAS Tafari Global Reasoning 2003 conference being held on the Mona Campus has welcomed several Rastafarians from around the globe, including some Jamaicans who reside abroad.
One such individual is Ras Seymour McLean.
Ras McLean who was born in the district of Beckford Kraal, Clarendon, left Jamaica in 1966 for Britain and since then has become a consultant in African affairs, specialising in the Ancient History of Ethiopia and its Culture and is the chief executive of Ras Tafari International Consultants Limited.
He has done years of extensive research, which includes a bibliography of over 2,500 books and even more documents.
Over the past decade Ras Seymour has been spearheading a campaign to return to Ethiopia priceless relics and several books and manuscripts of Ethiopian history, which were stolen from the Ethiopian church during the British invasion of the African nation in 1868.
His struggle was chronicled in a 1991 television movie, "The Book Liberator" which was based on his trial after he had stolen several of the manuscripts from the British museum ­ including the Kebra Nagast (Prayer of the Virgin Mary) from the Pankhursts' museum – an offence for which he spent nine months in prison. He sees the British act committed in 1868 as sacrilegious, one which if committed today would see a quicker response.
"The Ethiopic Manuscripts are part of the core collection of the British library," Ras Seymour said reading an official document in his possession.
"I feel that it is important that we make the first billion to show that what we are doing, as in attempting to regain stolen property, is practical. But it is not private money that I am fighting for, but public money." This money, he says, will be earned from the educational uses of the information.
McLean over the years has written several letters to members of the political heirachy in Britain, including British Prime Minister Tony Blair and former Prime Minister John Major. He has even written letters to the Queen, whose representatives have cited an inability or unwillingness to respond to his request that these artefacts be returned to Ethiopia.
"The Ethiopian people must recover their property; they're asking the Jamaican people for help, and Jamaican school children must have access to these things as of they're next school lesson," said the researcher.
Ras Seymour McLean was scheduled to speak yesterday at the Rastafari conference on the topic 'Protection of Ras Tafari Movement including I&I Intellectual Property/Ras Tafari Music, Arts and Culture'.
Source: Jamaica Gleaner